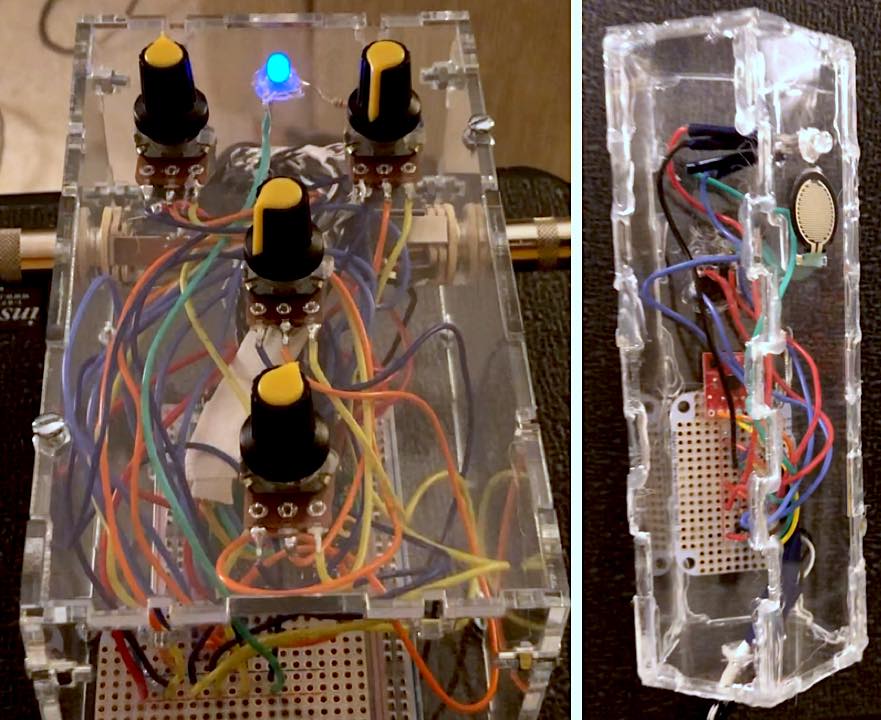 Palo Alto, CA
The Vocomote is a vocal processing pedal along with a wired remote. The pedal features a 4in x 6 in box design with 4 knobs and a power LED. The remote features a pentagonal prism design with an accelerometer, an FSR synced to an LED, and a button. On the box, the 4 knobs control pitch shift of the input signal, distortion, a high-pass filter cutoff, and delay time. On the remote, the FSR controls the mix of the effected signal. The button enables the user to modify the feedback and pitch shift in delay line using the X and Y axes of the accelerometer.
The goal of the project was to allow me to control complex vocal effects live. The Vocomote allows me to do my own vocal effects live at venues without having to rely on the sound engineer on hand. I can also use the device expressively beyond the means of any live venue sound man.
My next goal is to make a more sleek design, enable some more vocal effects, and make the remote truly wireless. I think this would be handy tool for vocalists and other instrumentalists who want to have unique and independent control over their sound.