VocoMote
VocoMote is a vocal/instrument effects pedal with an associated motion-sensitive handheld remote. The VocoMote is intended to be used in live performers by vocalists in conjunction with their handheld microphone to have greater control over the creative effects applied to their vocals (Delays, Pitch/Formant shift, overall Mix, etc).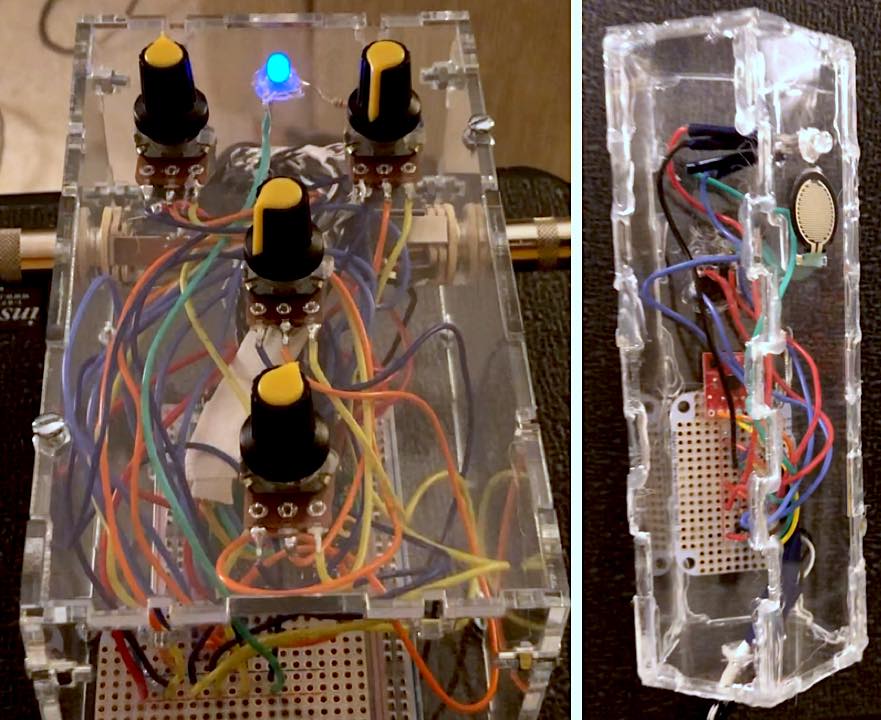 The Vocomote is a vocal processing pedal along with a wired remote. The pedal features a 4in x 6 in box design with 4 knobs and a power LED. The remote features a pentagonal prism design with an accelerometer, an FSR synced to an LED, and a button. On the box, the 4 knobs control pitch shift of the input signal, distortion, a high-pass filter cutoff, and delay time. On the remote, the FSR controls the mix of the effected signal. The button enables the user to modify the feedback and pitch shift in delay line using the X and Y axes of the accelerometer.
The goal of the project was to allow me to control complex vocal effects live. The Vocomote allows me to do my own vocal effects live at venues without having to rely on the sound engineer on hand. I can also use the device expressively beyond the means of any live venue sound man.
My next goal is to make a more sleek design, enable some more vocal effects, and make the remote truly wireless. I think this would be handy tool for vocalists and other instrumentalists who want to have unique and independent control over their sound.
Frequently Asked Questions
What inspired you to do this?
Vocalists often have a hand free in live performance contexts. To apply special FX to their voice (delays, reverbs, pitch shifts, formant shifts) in a live context, they typically are landlocked to a group of FX pedals on the ground or on a table near them. I thought it would be great to be able to get the same kind of FX but control them with a handheld (ideally wireless) remote. This frees up the performer to move around stage while remaining in control of the FX on their vocals. At the same time, the remote (including an accelerometer and pressure-sensitive button [FSR]) affords an extra dimension of expressivity, where natural movements of the arm, wrist, and fingers can induce tangible effects on the sound.
How long did it take to make it?
3-5 weeks
How long have you been doing things like this?
2-3 years
How much did this cost to do?
The price of a Teensy Audio board and some materials at the CCRMA max lab: $40-60.
Have you done other things like this?
Not much
What did you wish you knew before you started this?
I wish I knew how to do wireless real-time radio communication (like with XBee or something).
What's next?
I want to continue developing this project. Next steps include making the remote wireless, improving the FX, and redesigning the pedal and remote encasings.
Resoures?
I used Faust to develop the synthesis algorithms for the FX.
Mike Mulshine : Maker / Musician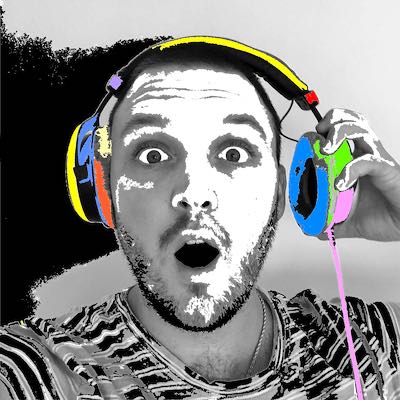 I make interactive audiovisual experiences reimagining how we listen to and engage with music. Recently I have been crafting immersive websites for my own music and collaborating with other artists to do the same. I have experience with developing audio plugins and applications as well as programming embedded devices to make standalone hardware musical instruments.
Connect with Mike Mulshine
How I can help you:
I am a multi-instrumentalist (keys, drums, vocals), songwriter, musician, and maker/developer. I make interactive websites for songs/compositions as well. I would love to assist anyone in developing creative and aesthetically compelling projects.
How you can help me:
Feel free to follow me on Instagram and Spotify (Mike Mulshine) and check out / share my music. Thanks.