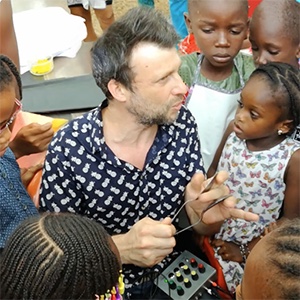 Limoges, France
Alexis Malbert (aka Tapetronic) is a French sound artist, inventor, musician, performer, animator, cook, researcher and publisher who works as a creator of new sound reproduction media. Often critical of our media society, he acts at the crossroads of genres, from music to visual arts, from hacking to pranks and jokes ...

Since the 90s, he has explored the history of sound to create many sound machines and kinds of new media by recycling, transforming, assembling the mechanical, electronic and physical components of audio material. His curious musical performances reveal new instruments and new gestures. He gives another approach to information in the age of the Internet and all digital, even an alternative !

He is now very involved in the creation of young and all-public workshops, considering these workshops as creations in their own right. He often associates sound with his passions for cooking to spend an exciting time with the audience !

Alexis Malbert was born in Paris in 1976, he lives and works in Limoges (France) and travels all over the world. He is today an active and passionate actor of sound and media arts.