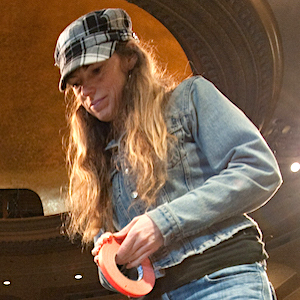 Victoria, British Columbia
Scrap Arts Music is musician/composer Gregory Kozak, and designer/producer Justine Murdy. We began our collaboration under "Scrap Arts Music" in 1998. We were based in Vancouver 1998-2014, and are now in Victoria 2014-present.

Our multi-disciplinary approach is a synthesis of Gregory's musical experiences (in Afro-Cuban jazz, piano composition, world percussion, contemporary classical music, North Indian raga, and modern dance); and Justine's architectural study and work (particularly in vernacular design and material culture studies).

Together our artistic objective is to create original performance-based works with invented instruments made from materials collected in and around our home-base on the edge of the Salish Sea. We reflect our unique time and place, demonstrating that contemporary 'throw-aways' can be creatively reused to make culturally valuable artifacts. We create new kinetic music for an orchestra of instruments of our own creation, performed by an exceptional quintet.