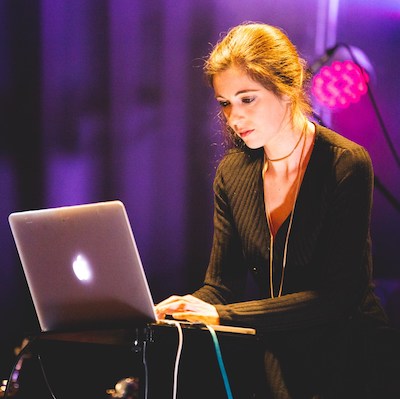 Haifa, Israel
My main passion in life has always been music. I started playing piano and violin when I was barely 4 years old. After pursuing a Bachelor degree in classical piano, I realized that being a classical musician wasn't really what I wanted. My dream was to travel so I left my hometown of Montreal, CA at the age of 25. There was no way I was going to hit the road without taking an instrument with me so I bought myself an accordion.

Since then, I worked as an accordion player and singer with bands around the world, Casa Verde Colectivo in Mexico, Soan in France, Din Din Aviv in Israel, Arijit Singh in India, and many more.

5 years ago I discovered computer programming and completely fell in love with technology. Wanting to merge both my passions together, I discovered live coding, which is creating music in real-time using a computer language. The beauty of live coding is that it's a medium that lets the audience inside the creative process of the artist while it's happening live. The code is projected on the screen for everyone to see so people can follow along and live the thought process leading to the creation of the piece with the artist.

And this brings me to writing, the last piece of my artistic process puzzle! Writing was always present for me but only recently, I started to write personal essays and stories. Then I started to experiment with incorporating writing into my live coding sets, meaning I started to write the code in a way that could be read as poetry.

Now, my performances are a mix of live coding, accordion, and singing, with sometimes other tools and machines as well, and I explore the written word through the code I write by using the poetry in my code that completes the lyrics I'm singing.