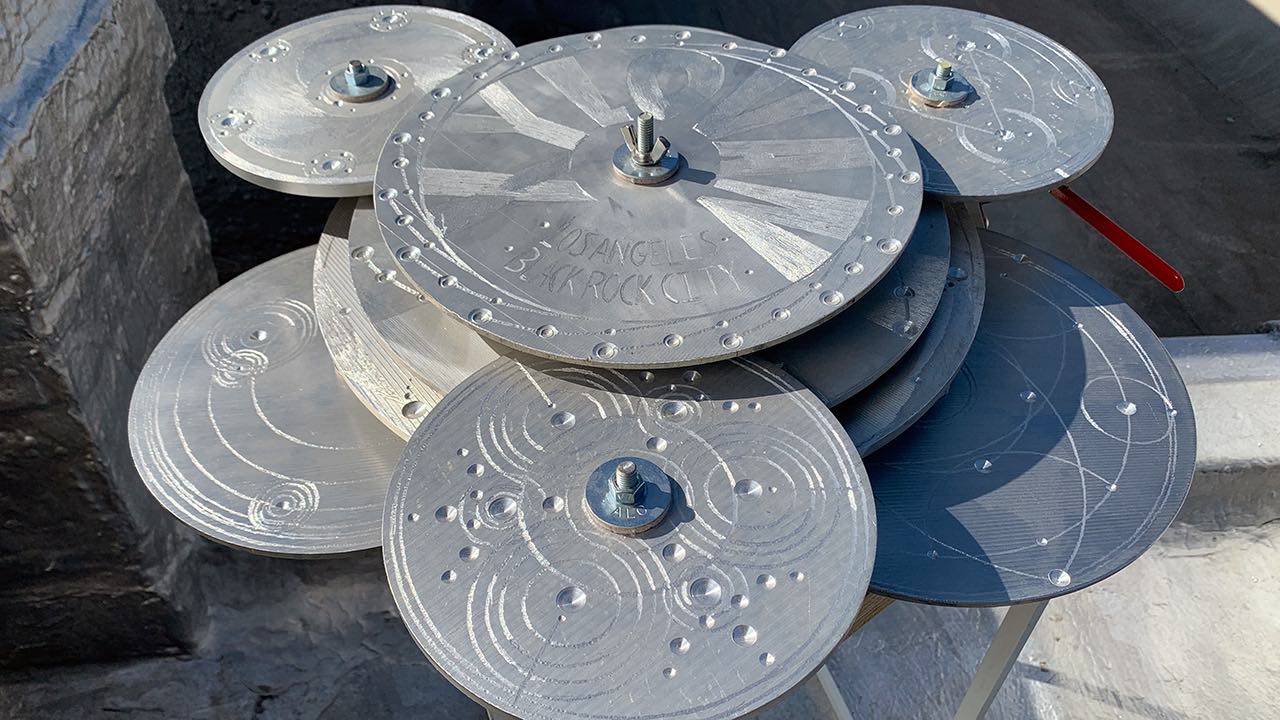 New York City
I had to leave XyloVan's xylophone keyboards (84 keys!) behind in storage when we moved from Los Angeles (no room in NYC).
The keyboards (see my site) were 2.5-octave, traditionally chromatic xylophone instruments (one mounted on each side of XyloVan) measuring 8x3 feet each.
But I brought the disc gongs with me because I wanted to keep a portable XyloVan close to me when we moved.
I took the opportunity to engrave them all in the style of the two spare-tire-mount gongs, which are front and center in the array.
I made the from scrap metal - remnants from 11-, 14-, 15- and 16-inch-diameter logs of T6 aluminum salvaged from our local metal supply house.
I found the dead-center of each piece (the node) by balancing each on my fingertip until it leveled out, then marking and drilling it at that point. I finished each by milling the edges, polishing the surface, and then engraving patterns that I had sketched out with a compass and Sharpie.
The randomness in tone is intentional. The instrument is meant to be played in the spirit of intentional contemplation and exploration of time and resonance - choose how long you want to hear/feel one gong ring before hitting the next - then decide the rhythm, intensity, and overlap of using multiple gongs. (the demo video shows just the individual tones - I can upload a new one with intentional playing if it will help!)
There's a lot of energy stored in these gongs, from all the thousands of people who played them since I first bolted them onto the van back in 2010.
I love that I can still play with those souls through this thing.