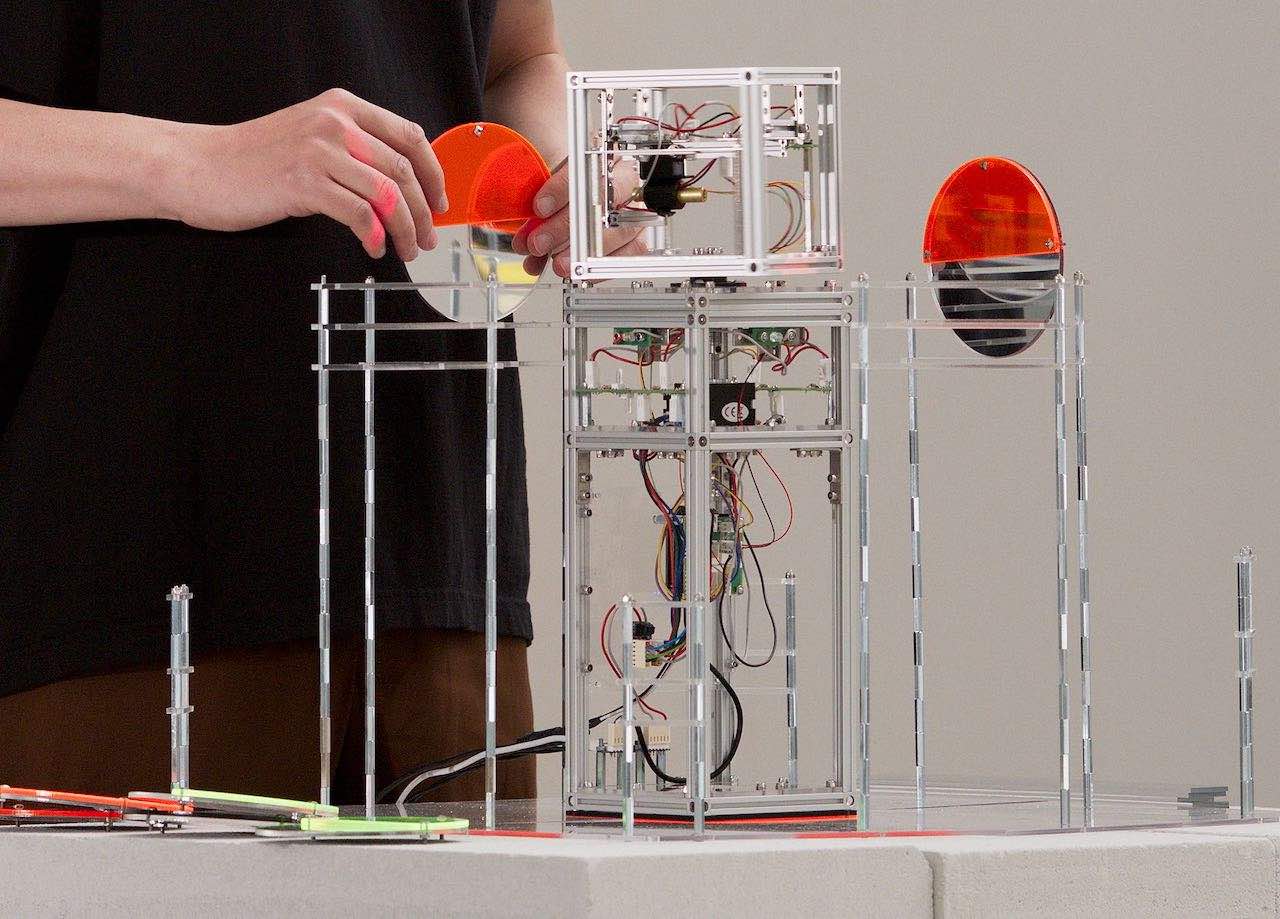 UVTOWER is a generative musical system made of lasers and mirrors which reflects on the notion of growth through sound and interaction. The flow of the rhythm is traced in a circle by a laser beam situated at the top of a tower. The laser's reflection in the mirrors which surround it symbolises the system reflecting on itself and results in the creation of metaphoric echo chambers which scale-up exponentially to the point of making the system collapse and start anew. Adding and removing mirrors leads to the system generating denser/faster or rarefied/slower music structures prescribing its build-ups and falls.
From a technical perspective UVTOWER could be described as a musical sequencer made of lasers and mirrors which explores rhythm in electronic music through structural and sculptural relationships. Mirrors mark the beats at different positions around the circle. Adding and removing mirrors leads to the composition and performance of physical and musical structures. The project challenges notions of musical time and sequencers by offering alternative ways to compose and perform mutating patterns. The general aesthetic of the installation and sound design is informed by sonic objects from Hardcore and post-rave cultures.
Performers interact with the installation by reflecting the laser beam which rotates on the top of the tower. Reflections are caused by installing the mirrors on top the sculptural stands. Each time that the laser beam is reflected an event is recorded by the system. Depending on the number of events detected over a rotation the system decides whether to increase or decrease the speed of rotation as well as what sounds it should produce and their characteristics.
The tower hosts six light dependent resistors. One sensor is located on the spinning portion (sensor A). Four additional sensors are placed one for each side of the tower (B,C,D,E). Sensor A is able to detect reflections coming from any mirror positioned in the structure (including the mirrors on each angle of the installation). The other sensors can only detect reflections coming from a mirror positioned in front of them.
The signal captured by the sensors informs a custom algorithmic composition written in PD and running on Bela. The software maps sensor information to mechanical and sonic behaviour. On the mechanical side, depending on the number of reflections detected at each spin of the tower, the system decides whether to increase or decrease the speed or rotation.