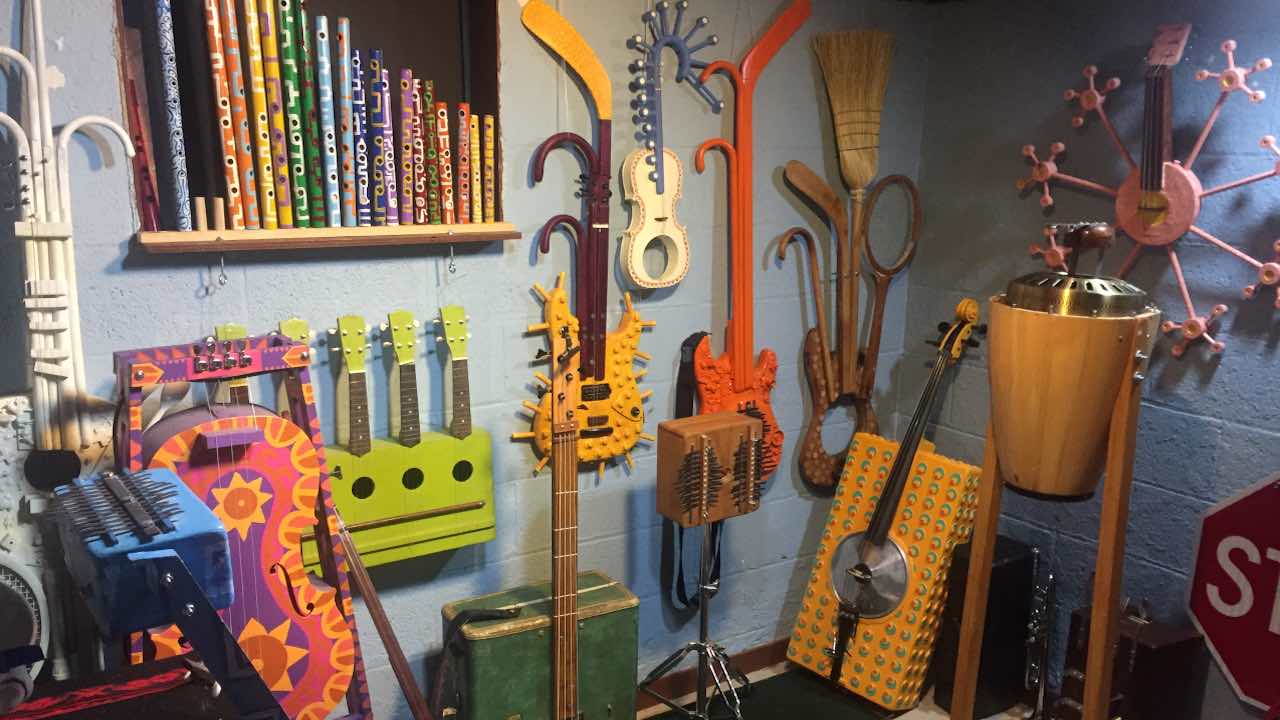 My project was to build an ever growing collection of one-of-a-kind musical instruments. The start date of this project is not totally clear even to me. The purpose of this project was to be able to use these instruments (with the help of a looping pedal) to compose, improvise, and perform music for people. To that extent it has been a success.
The earliest ones were made almost entirely from parts from existing objects. Typically tuners, pickups, and stings would be the only parts that had to get from music stores. Examples of these are the Stop Sign Hockey Stick Guitar and Bucket Cello.
Over time I concentrated more on creating visually interesting and functional pieces even if it meant using more parts from the music supplier, and often fabricating materials instead of finding them. Some examples of these include the Clarinets, Art Guitar No. 3, and Resonator Cello with Meticulously Arranged Brikabrak.
Now I tend to think about the most outlandish instrument I can make and see if it's possible to construct it and have it work. These instruments tend to require more techniques from traditional lutherie. These instruments are usually inspired and grow around some repurposed object but have fingerboards, nuts, and bridges more reminiscent of traditional instruments. These instruments also have even greater attention to color, texture, and overall visual appeal. Examples of this include Double Neck Bass with Sawblades, Brikabrak Banjo with Sitar Style Bridge, and Banjo From Autoharp with Canes and Sympathetic Strings.
I have been fortunate enough to play a number of concerts in and around Chicago. I had a year long residency at the Ace Hotel, played numerous libraries and coffee houses, a few fancy parties, and had an appearance on the WGN Morning News.
My collection of instruments continues to grow. The ones currently in progress are more interesting, more visually captivating, and more unusual than any of my previous work. I hope to continue this project long into the future and continue to perform for people when possible.