Urban Grand Piano
'Urban Grand Piano', 72"x 48"x 89"(with top open). The interactive keyboard is a grand piano sized multi-media assemblage.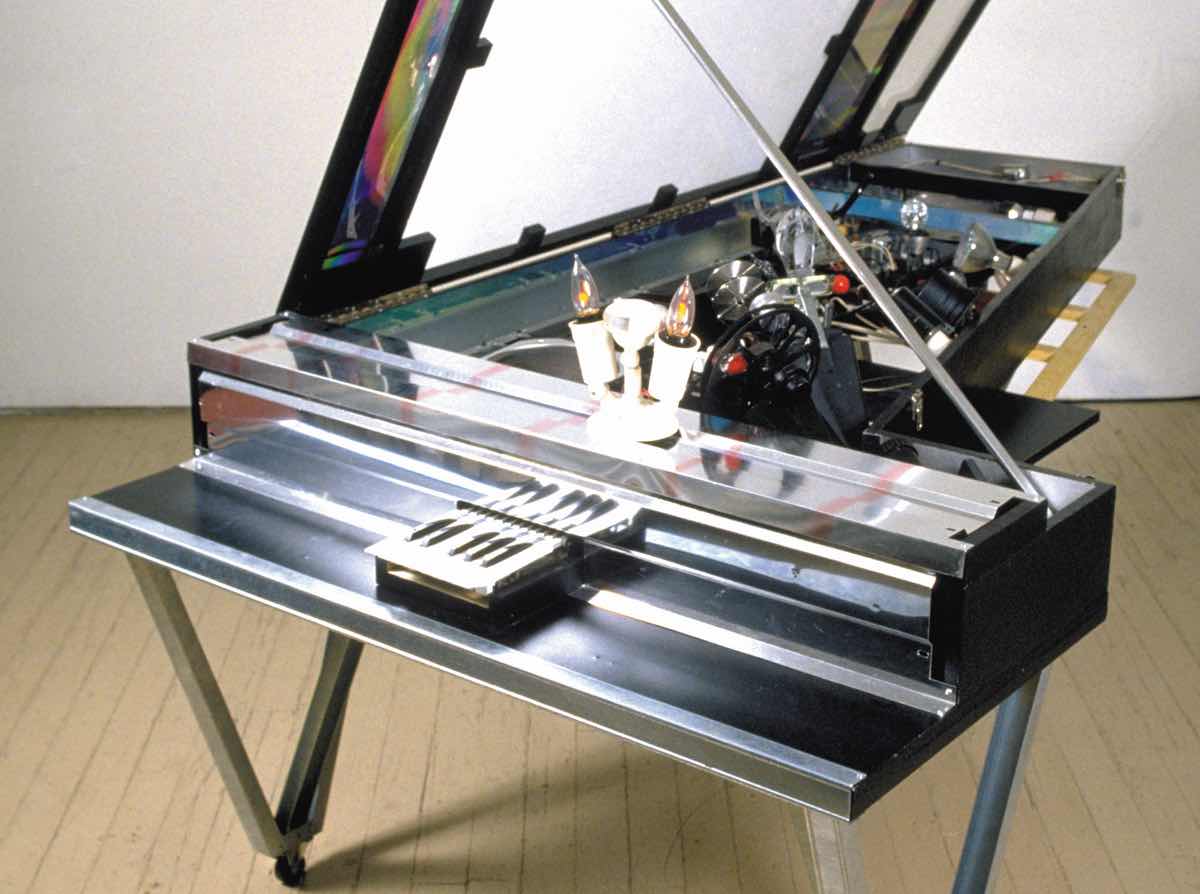 'Urban Grand Piano', 1998, 72 x 48 x 89(with top open). The interactive keyboard is a grand piano sized multi-media assemblage constructed of reconfigured objects, machine parts, and other audio-visual items of wood, metal, and plastic that makes music and projects images at the stroke of a key. Each key triggers a different sound, light, and/or movement activating such things as slide projectors, radios, neon tubes, lights, tape recorders, and motors strumming strings and other resonant objects and devices. The keyboard requires the viewer/participant to improvise the creation of a multi-media composition as function and form collide in a collage environment of hyper-active hardware; a one-person opera of objects and images.
Frequently Asked Questions
What inspired you to do this?
I was making very large-scale audio-visual sound installations with hundreds of objects and mechanical devices operated by a two-octave keyboard and decided to make a consolidated version in the form of a grand piano.
How long did it take to make it?
Around a month.
How long have you been doing things like this?
Since 1978.
How much did this cost to do?
Hmm, most of the parts were from the streets, including all the wood ... I had to buy the plex, the keyboard and the legs, some light bulbs, etc.. total cost around $300. I would guess.
Have you done other things like this?
Yes.
What did you wish you knew before you started this?
That it would be still a bit of a pain to move it around, even though it is way smaller than what I used to construct in this manner.
Are there plans available to make this? Do you sell this?
Nope...It is available for sale.
What's next?
In general, more playing, less building as I have made well over 400 hybrid instruments.
Resoures?
Book on basic wiring.
Ken Butler : Maker, Player, Artist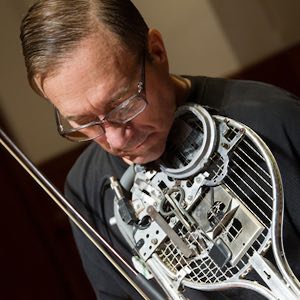 Ken Butler is an artist and musician whose Hybrid musical instruments, performances and other works explore the interaction and transformation of common and uncommon objects, altered images, and diverse sounds as function and form collide in the intersection of art and music.

Butler is internationally recognized as an innovator of experimental musical instruments created from diverse materials including tools, sports equipment, and household objects. The idea of bricolage, essentially using whatever is "at hand", is at the center of his art, encompassing a wide range of practice that combines assemblage art, live music, instrument design, performance art, theater, sculpture, installation, photography, film/video, graphic design, drawing, and collage.
Connect with Ken Butler