Transducer Amphitheater
banjer is my most recent solo project. It involves my prepared and extended banjo practice, as well as my recently newfound love for tape cassettes as a musical instrument.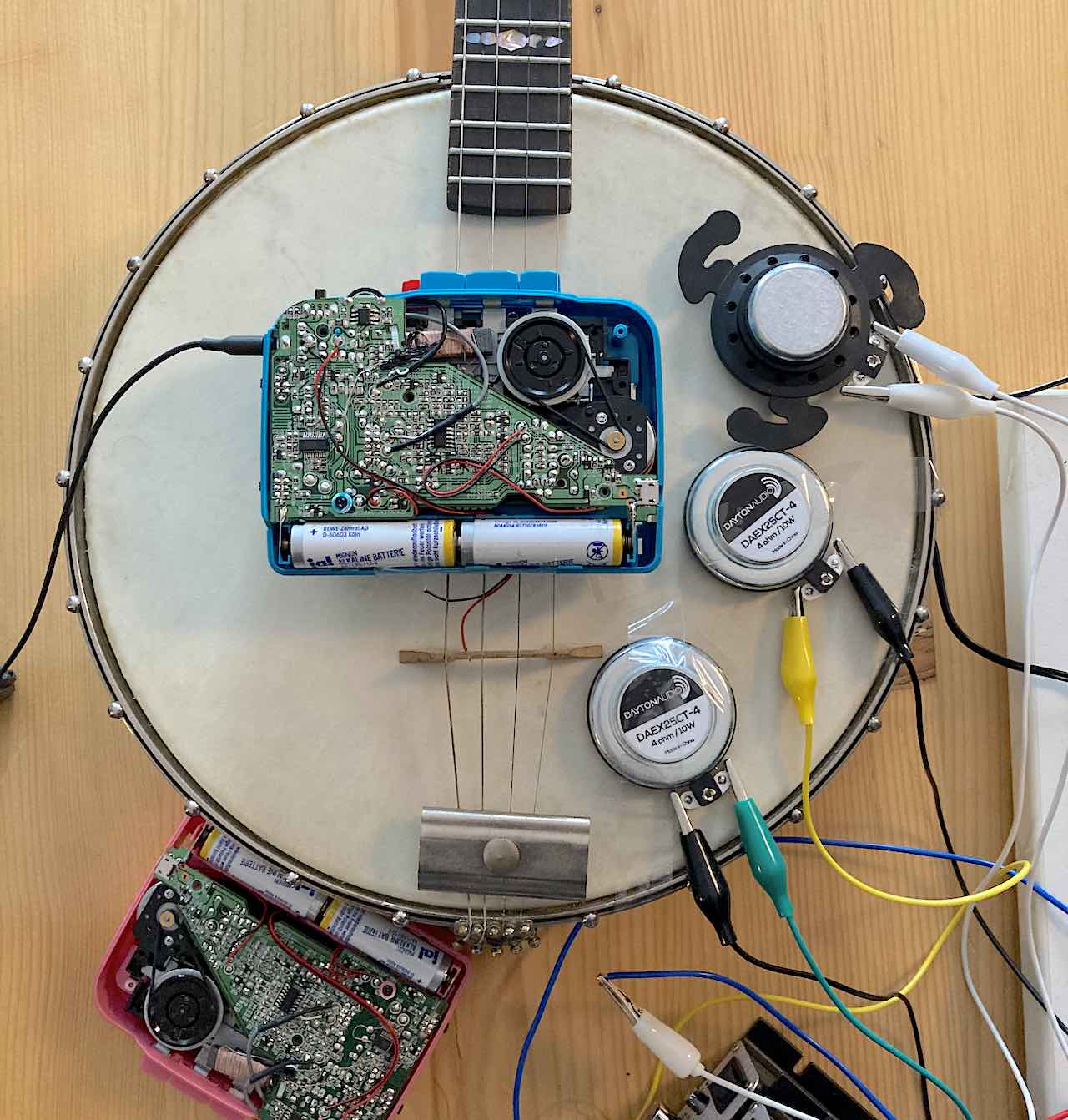 The audio from the cassettes is played back "through" the body of the banjo via audio transducers (sometimes known as "exciters"). This technique is called "Reembodied Sound", a term coined by David Coll. In the case of banjer, the instrument is "reembodied" by manipulated and processed sampled recordings of me playing the banjo. This project is multifold. On the more research side of things, it is a vehicle for me to explore the histories of the instrument, particularly the Afro-Diasporic ones, while simultaneously doing the same with tape music and sample-based music and audio in general. Each performance provides an interesting set of questions of memory, and what that means for how "composed" or "improvised" a given performance is. banjer is a constant work-in-progress, and while it is a solo project, is finding its way into collaborative contexts. It thrives particularly well in those that, like it, problematize the boundaries of "acoustic" versus "electronic" sound and music. Thanks for reading, thanks for listening, and see you soon.
Nick Dunston : Bassist, Composer
Nick Dunston is an acoustic and electroacoustic composer, improviser, and bassist. An "indispensable player on the New York avant-garde" (New York Times), his performances have also spanned a variety of venues and festivals across North America and Europe. He's performed, toured, and recorded professionally with bands led by artists such as Marc Ribot, Ches Smith, Imani Uzuri, Ingrid Laubrock, Tyshawn Sorey, Anna Webber, Amirtha Kidambi, and Vijay Iyer. In 2019 he released his debut album, Atlantic Extraction, which "features the unusual instrumentation of double bass, drums, electric guitar, flute, [and violin]- and his compositions put that configuration to imaginative use" (The Wire Magazine). In 2020, he released his sophomore album, Atlantic Extraction: Live at Threes, which "presents the musician's command of his mercurial compositions. The unconventionally configured quintet nimbly shifts among stately chamber melodies, combative free passages and exhilarating steeplechases" (Downbeat Magazine). In addition to three studio albums released under his name, he has also been commissioned by artists such as Bang on a Can, Ex-Aequo, Johnny Gandelsman, T R O M P O, and Clifton Joey Guidry III.
Connect with Nick Dunston