The Record that Plays Itself
A record is made with a copper voice coil embedded within itself, transforming it into a speaker through which it can play itself.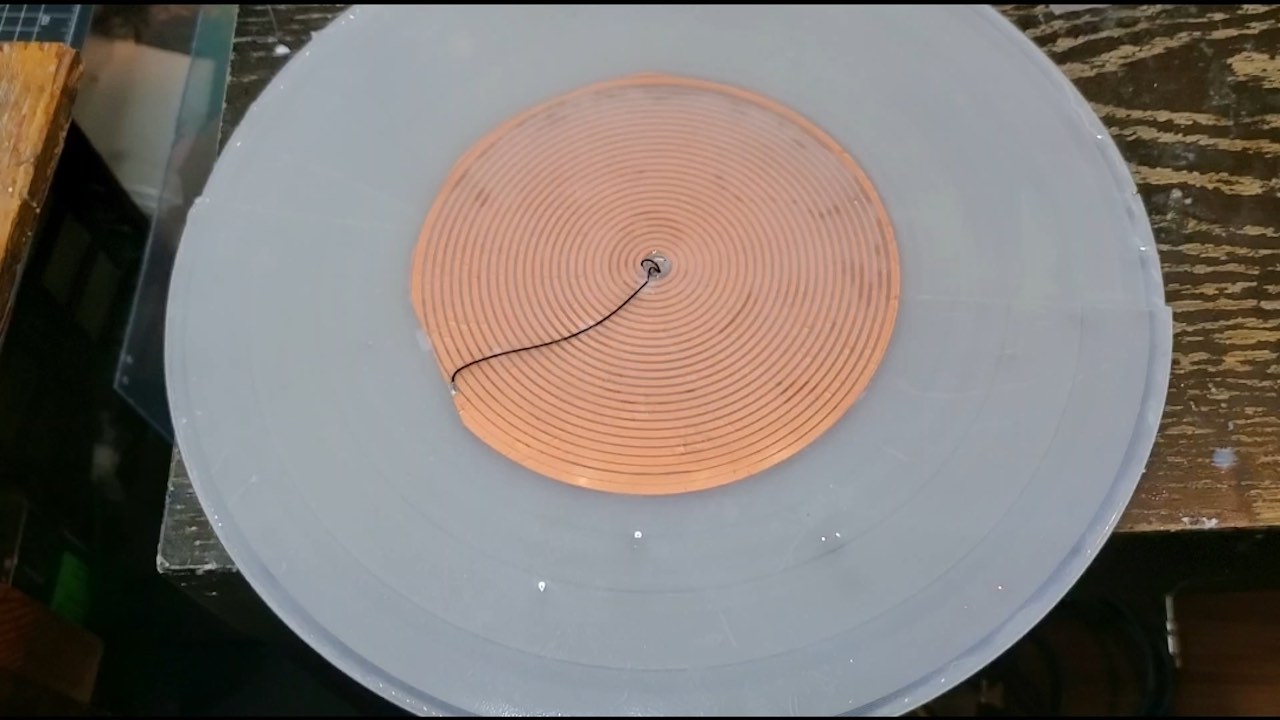 This record made of resin has a copper voice coil embedded within itself. Using a battery powered amplifier to send an audio signal through the coil and placing a magnet under the record, the body of the record becomes a vibrating membrane that acts as a loudspeaker. I'm taking the output of the turntable and sending it to a wireless radio receiver to feed the amplifier powering the record/speaker. Interesting feedback behavior arises from the real time interaction between the turntable needle and the record/speaker.
Side story
I've been experimenting with turning handmade
records into speakers by embedding copper coils in the
resin when I cast them. So here's a bunch of videos of
records playing themselves. There's a fine line between
the virgin signal and runaway feedback.
Victoria Shen : Maker and Performer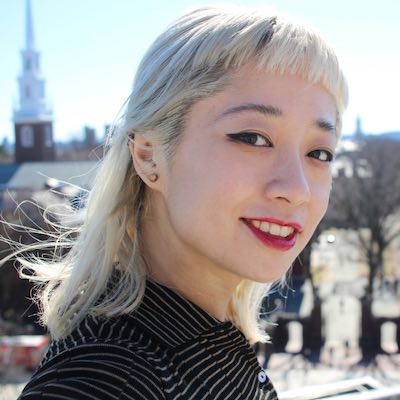 Victoria Shen is an experimental music performer, sound artist, and instrument-maker based in San Francisco.

Shen's sound practice is concerned with the spatiality/physicality of sound and its relationship to the human body. Shen's music floods its location acting as a form of sculpture. Her music features analog modular synthesizers (Flower Electronics), amplified objects, and other self-built electronics. These instruments are designed to electronically reproduce chaotic systems, systems which are highly sensitive to small changes in their initial parameters. The resulting music eschews conventions in harmony and rhythm in favor of extreme textures and gestural tones.

Shen's live video performances produces visual palimpsests and digital residues. Shen achieves this by using software she has authored in order to generate visuals combining real-time video with found footage thematically linked by sexuality, violence, and art history through a process of exaggeration/effacement.

Shen has performed solo across North America, Japan, Mexico, and Europe as Victoria Shen and Evicshen and as half of the duo TRIM in North America and the UK. Some notable venues in which she has performed include Boston City Hall, the Solomon R. Guggenheim Museum, ISSUE Project Room NY, DOMMUNE Tokyo, and Petreon Sculpture Park Cyprus. Shen has also been an artist in residence at Elektronmusikstudion EMS Stockholm SE, WORM Rotterdam NL, Kurimanzutto New York US, and the Sound Laboratory of The Royal Danish Academy Copenhagen DK.

Shen currently teaches at Harvard University and the School of Visual Arts NY.
Connect with Victoria Shen