The Phonographer
"The Phonographer" is an a-rhythmic noise device that coaxes a contact mic'd antique phonograph reproducer arm utilizing alternative "needles" to create cacophonic repetitive "music" and eerie AMSR soundscapes that itch the base of your neck.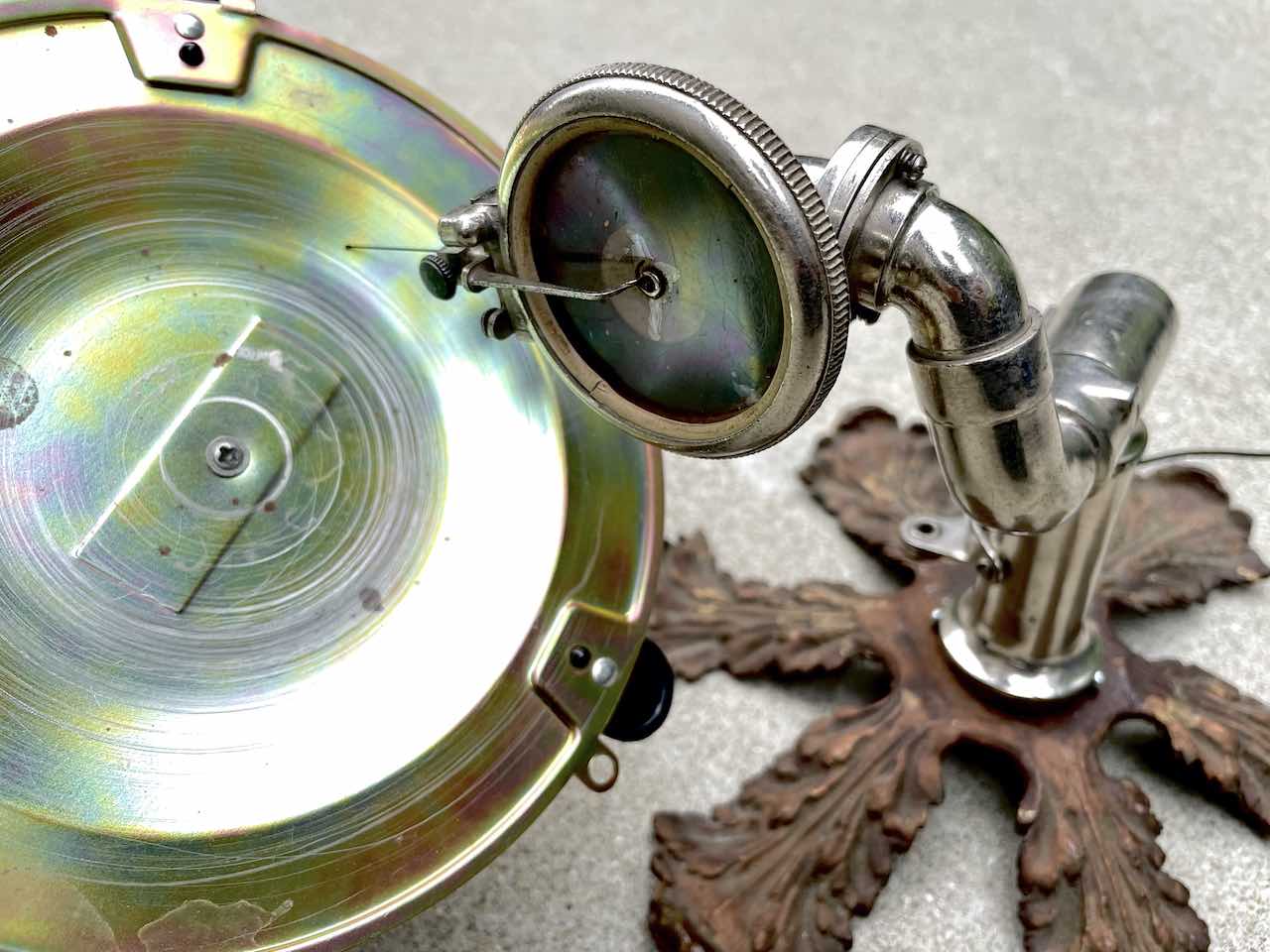 I was given a beautiful nickel-plated antique phonograph reproducer arm (with mica diaphragm) from a friend many years ago. I found an old lamp base to mount it onto and inserted a contact mic inside to amplify the reproducer's sound. In place of the steel needle I tried various needles and pins and settled onto a spring recovered from a broken laser printer and antique seamstress' pin which had the perfect amount of tension, length and vibrational qualities when either scraping the end against rotating objects or skirling along its length.
I built a "turntable" out of a child's rotating motor-thing, gave it some potentiometer speed control, and mounted a metallic concave "record" which formerly spent its life as the base of a rice cooker.
When brought together, The Phonographer and Rice Turntable make outrageous cacophonic scrapey sounds, less like repetitious chalkboard nails as otherworldly looping grinding machine failures, again and again and again, with a similar effect to ones teeth.
Alternately, when sliding the length of the amplified pin across the edge of metallic cylinders (such as a perforated chrome Ikea pencil & pen holder on a mirrored rotating display turntable) much more soothing staccato sine waves of sliding slow metallic oscillations and AMSR grunchy popping resonances emanate from between the metallic surfaces.
Frequently Asked Questions
What inspired you to do this?
My inspiration typically comes from the assorted disparate objects I find in boxes in my garage or out in the world at large. When I look at something, I'm always seeing it in the perspective of how it could possibly become an instrument or visual making tool of some sort. I see the potential in all things.
How long did it take to make it?
A few days. With improvements along the way. Always.
How long have you been doing things like this?
I've been building instruments and making noise with them, including making live visuals, since the late 1980's.
How much did this cost to do?
Unknown. All parts were found or gifted to me.
Have you done other things like this?
Yes. But nothing exactly like this. But I have done many contact-mic'd instruments utilizing unlikely objects.
What did you wish you knew before you started this?
Metal lathing skills.
Are there plans available to make this? Do you sell this?
No. This is a one-off. But I have been searching for more phonograph reproducer arms to make more. Perhaps make a "band"?
What's next?
Always something...video bending projects to finish. A few commissions. A modular version of The TinyFlaccid TubbyBox (see techdweeb.com)
Resoures?
Standard tools: screwdriver, drill, soldering iron, etc.
univac : TechDweeb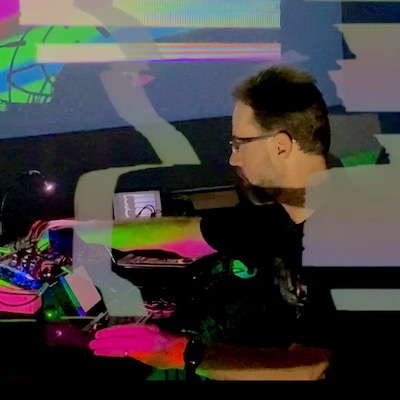 Consummate TechDweeb, visual artist and NovaTone "musician" univac continuously re-purposes the detritus of trickle-down technology, toys and off-the-shelf electronics in order to create circuit bent audioVisual hybrids—causing the engineers of the original items to shudder in disbelief. He has been making experimental electronic noise and visuals since the late 1980's.
univac holds a degree in cinematography and sound-designed for film/video, games, software and the early web and VR in the 1990's for such diverse clients as SIGGRAPH, AOL, Microsoft (Paul Allen), Silicon Graphics, NTT, Thomas Dolby, VR pioneer Char Davies, and science fiction writers Alan Dean Foster & Neal Stephenson.
Combining analog video, circuit bending, Apple's Quartz Composer, and modular synthesis univac creates real-time audio-reactive visuals for live performances.
He hails from California, and has written articles on the art of circuit bending for low-brow, high-shelf art mag Hi-Fructose; sound engineered for cutup culture-jammers Negativland, spoke and performed about circuit bending at the first (2006) Maker Faire in San Mateo, performed at the 2007 Electronic Music Festival in San Francisco along with countless other performances since the late 80's, and is a co-conspirator of: Big City Orchestra, Daevid Allen (Gong, Soft Machine), Wobbly, Thomas DiMuzio, Evolution Control Committee, Edward Ka-Spel, The Silverman, The Legendary Pink Dots and currently a member of the Southern California art-nerd super-group SynthLab Collective.
https://linktr.ee/univac
Connect with univac
How I can help you:
I do limited commissions of hand-built and circuit bent audiovisual experiences.
How you can help me:
Follow me on Instagram, check out my YouTubes, spread the word, give your favorite pet some love.
If you like this project, please make a small donation to the artist.