The Black Flag ECGM
Experimental and scientific guitar, in very high modulus carbon, manufactured using aerospace and digital technologies, in a university research laboratory.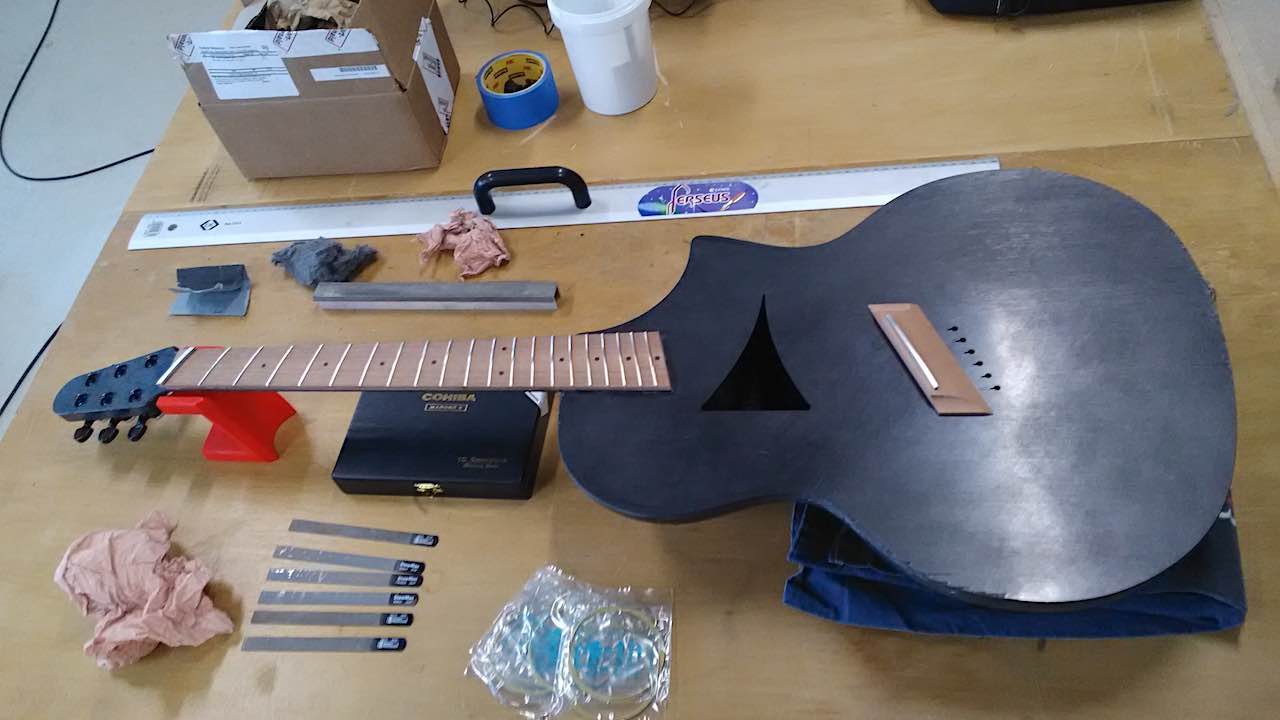 Passionate about guitar making since my teenage years, I never stop thinking about optimizing the instrument to obtain an "ideal" version, using the latest technologies and cutting-edge materials.
The Black Flag ECGM (Ergonomic Carbon Guitar Module) is the result of a reflection on the optimization, as exhaustive as possible, of the guitar instrument:
- Obtain the most comfortable shape for the user.
- Achieve a characteristic and unique sound quality.
- Achieve a clean design.
- Reproduce the same constant vibratory properties on each new guitar, thanks to the regular molecular composition of carbon.
It took me two years to develop it, starting from zero.
I only respected the basic academic guitar making and then I completely trusted the technical properties of carbon fiber.
Despite the many doubts expressed by some professionals in the field about my project, I did well to persist!!! This first prototype is really a great success... even if some things still need to be improved... ;-)
Very often, people dream of doing things but, unfortunately, they stop there... For fear, for a lack of motivation or self-confidence, or because the project is too expensive...
Taking the first step is far from easy but once done, you will have advanced on yourself and learned new skills...
"Make your dreams come true!!! Dare!!! Everything is possible!!!" ;-)
Would you like to know more about the instrument??? See you on my website!!!
https://blackflagguitars.wordpress.com/
Side story
For the little anecdote, just before the shot, a friend wanted to try out the guitar and he managed to break the high E string while trying to tune it !!! I hastened to put a new one quickly, before the arrival of the journalist... Unfortunately this recent string did not have time to stretch correctly and suddenly, the guitar sounds a little wrong during the interview... Grrrr...
I must admit that I am not a very very good guitarist, either... lol
Frequently Asked Questions
What inspired you to do this?
"THE" Guitar... The One I would have liked to have found in the trade, I finally ended up making it.
How long did it take to make it?
It took me two years to develop it, starting from zero.
How long have you been doing things like this?
Since the age of 14, I have always been passionate about the guitar... When I met a player of "Cigar Box Guitar" in 2011, I saw, for the first time in my life, this historic instrument of blues music and I found it to sound good. It made me want to do it.
How much did this cost to do?
Including the time spent for the study of the project, the modeling, the fabrication and adding the materials and accessories, I estimate the total cost to be around € 34,000.
This is the price to get a relatively well finished prototype.
Obviously, the public sale price will be much cheaper for the following ones... ;-)
Have you done other things like this?
Yes, while learning to use composite materials, I started by making rocket fins.
Are there plans available to make this? Do you sell this?
By researching the Internet, it is possible to find some really very interesting tutorials on the subject.
What's next?
I have experimented with a first manufacturing process and I am currently working on a second which should make it even easier for me.
I am looking for funders who would allow me to develop my carbon guitar project and set up a kind of workshop-laboratory to study the possibilities with composite materials.
Resoures?
I acquired the guitar making experience by "tinkering" with all kinds of "Cigar box Guitars": Monochord, dulcimer, violins, 3 then 4 then 6 string guitars, without frets at the beginning then with, later...
For everything related to digital and composite technology, I have been trained by teacher-researchers.
For the rest, mainly the Internet.
Denis Thouret : Maker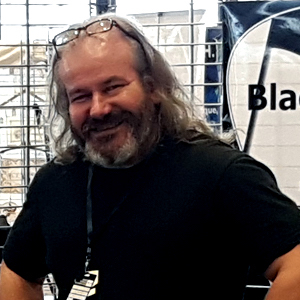 Connect with Denis Thouret
How I can help you:
I can respond to people who would like to manufacture, in prototype form, any object in composite materials ...
How you can help me:
I am looking for financial partners to allow me to improve the product in order to market it all over the world...
If you like this project, please make a small donation to the artist.