Star Wars themed Minecraft Experience
Some music and imagery from Star Wars in an immersive Minecraft world.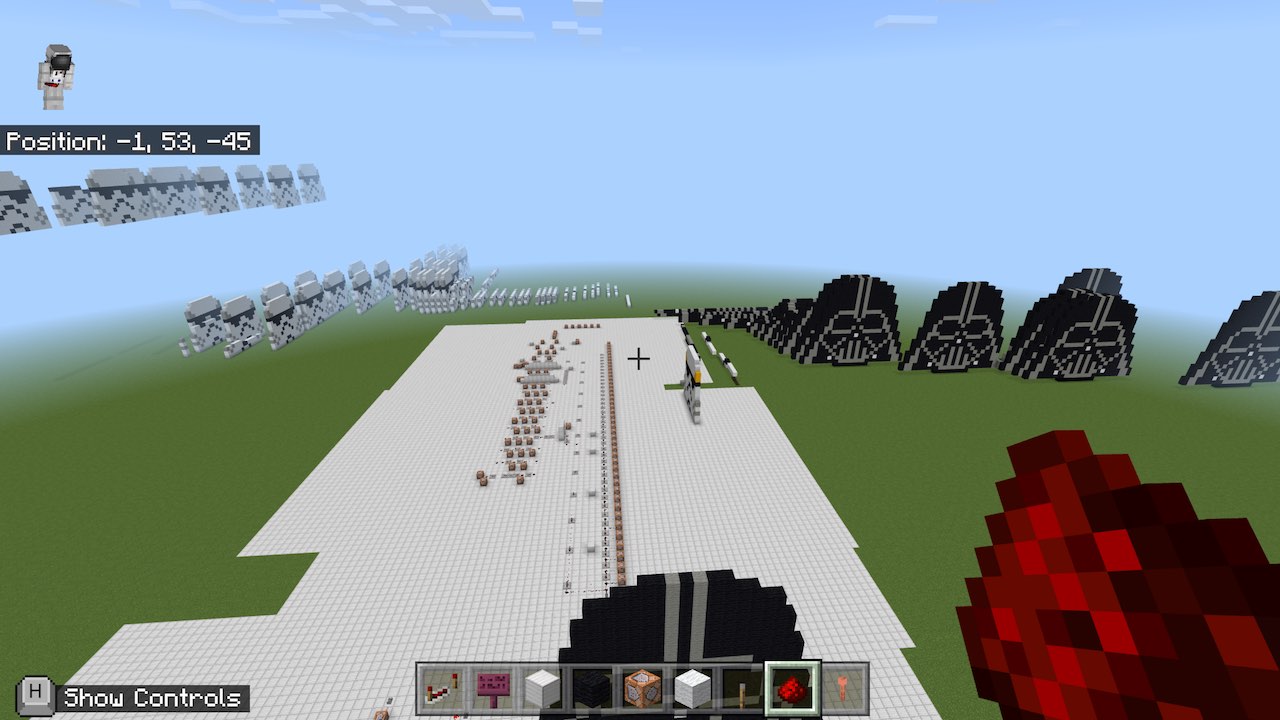 In Technology in Music Education with Professor Gena Greher, Samantha Schulz and Mark Andrews play with sequencing pitches using command blocks in Minecraft EDU. The inspiration for their world was Star Wars. The Main Theme is sequenced along a Redstone path which triggers the music as the flame passes command blocks, with Redstone repeaters acting as eighth note duration subdividers. The Redstone follows a path, during which the command blocks destroy previous redstone wire sections while creating new pathways to accommodate repetition in the musical form. A second theme, The Imperial March, is set on a minecart track which triggers command blocks as the cart passes over switches. The Pixel Art Stormtroopers and Darth Vader were created by a Minecraft Agent.
Side story
The first instrument I learned was the recorder in 3rd grade. I now consider myself proficient on the Trumpet, Guitar, Drumset, Piano, and Voice through a mixture of schooling and private lessons. The secret to learning any instrument is understanding the fundamentals of Pitch, Amplitude, Duration, and Timbre. Once you know these concepts, all you have to do is manipulate the instrument, or video game, to create the balance your ear craves!
Frequently Asked Questions
What inspired you to do this?
This Minecraft project was assigned by a UMass Lowell Professor, Gena Greher, on how to incorporate technology into the music classroom!
How long did it take to make it?
When we started this project, I had NO prior Minecraft experience and it took approximately 15 hours of play time. 1 hour spent learning the basic mechanics of Minecraft. 4 hours troubleshooting code builder to construct stormtrooper pixel art. 3 hours code building Darth Vader pixel art. 5 hours laying red stone, track, command blocks, measure markers, sequencing the correct pitches in each command block's code and troubleshooting the repeats. 2 hours to write our names in the sky! With the experience we gained, I bet we could cut the build time in half if we were to recreate this project a second time.
How long have you been doing things like this?
This was my first experience creating music in a video game not originally designed for music production, but I have been studying music for 20 years.
How much did this cost to do?
$0.00 We created this world with the Minecraft EDU free trial, so the only cost was the 15 hours spent playing. Others might expect to pay $27 for Minecraft.
Have you done other things like this?
I have also coded music related projects with Scratch.MIT.edu, like The Wheels on the Bus, and Hey Diddle Diddle.
(Links
Wheels on the Bus : https://youtu.be/scvOSUiR_QU
Hey Diddle Diddle : https://youtu.be/9RECbE4eKfA
What's next?
Technology is a most useful tool in teaching kids musical concepts like timing, frequency, and sequencing which are also useful concepts in computer programming. I aim to incorporate technology into music education to keep engaging and adapting to the needs of students in a world post-globalization.
Resoures?
I relied on Umass Lowell's faculty Gena Greher and Ramon Castillo for guidance on this project. Because Minecraft uses a value scale from 0.1-2, where F#= 0.25, 0.5, 1.0, & 2.0; Ramon provided a pitch map so that I did not have to troubleshoot coding pitches while designing on top of explaining the mechanics of command blocks, redstone, minecart track, and the code builder.
Samantha Schulz & Mark Andrews : Minecraft world builders, musical arrangers
Samantha and Mark are Music Studies (Music Ed.) majors at UMass Lowell
Connect with Samantha Schulz & Mark Andrews
How I can help you:
Mark offers private lessons on Drumset, Guitar, Voice, and Songwriting. He can also arrange music for your unique ensemble or visual media. Find him on social media.
How you can help me:
Follow me on Youtube & Instagram and encourage me to make more music. I would appreciate if you buy me a $5 cup of coffee or other donation to my Venmo @Mandrews311.