Shiny Night
This live performance is titled "Shiny Night" which plays off of "Starry Night", my original muse for creating this piece.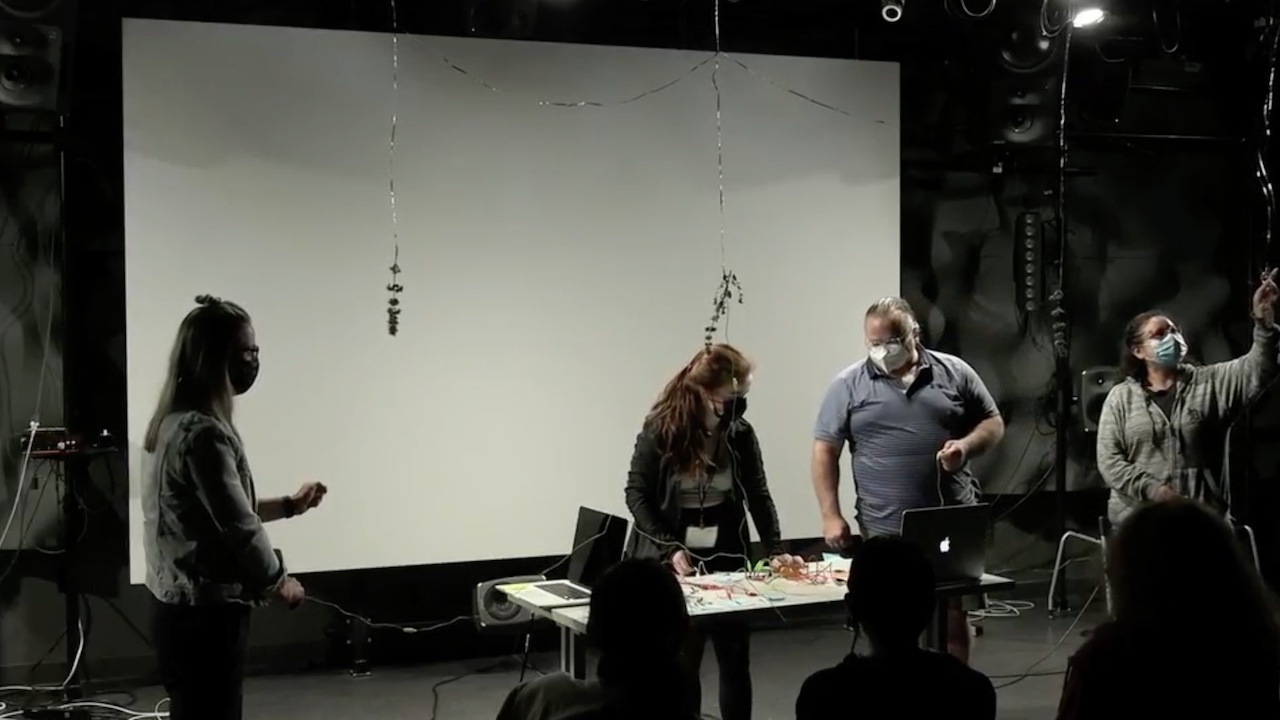 In this performance I used Makey Makey to set up signal transits from energy conductors to Ableton Live for the first half of the performance, and Max 8 coding for the second half.
During the first part of my performance, I have my composition of "Shiny Night" playing in the background. In addition, I invited the audience to touch the flowers hanging overhead. The flowers were wired through Makey Makey and sent signals to Ableton in session view which triggered the key mapping of a pre-recorded chime fall.
Originally, I had wanted to showcase the finished piece in its entirety with the beauty of allowing the audience to add to my composition. In the second half of my performance, I wanted to allow more artistic expression to the listeners and invited them again to touch a series of energy conductors connected to Makey Makey and my computer in order to playback sounds. These sounds were conducted through a bell pepper for the bass track, conductive pencil drawings of different piano notes in my piece, and a circular keychain set up in the form of a cymbal. Each connection went through Makey Makey to a separate CPU hooked up to Max 8.
Prior to the performance, I exported each audio track in my original composition and put them into Max 8, setting up each signal through a patch sent to a cycle that was stopped and started by a trigger on my end. My motivation for putting these two performances together was to showcase the beauty of artwork to the public's eyes. In the first portion of my performance the public is invited to "view the painting" while adding beautiful chime falls symbolizing commentary that makes an artist's work better.
The second half of my performance is to showcase the beauty of the audience as they bring an artwork to life by making it their own; for instance, music often tells an artist's story, but the real beauty comes from the different story it tells to the listeners when they make it their own
Curator note
The University of Michigan Department of Performing Arts Technology integrates the study of music, engineering, and allied arts in a close-knit, collaborative environment. The inspiring and accomplished faculty are internationally renowned scholars, teachers, artists and practitioners.
Ellie Foote : Singer/songwriter and composer
I am currently Pursuing a Bachelor of Science Performing Arts Technology degree at the University of Michigan. My compositions range from concert band contemporary pieces to piano ballads and everything in between. I love working with new ways to code music and finding how to turn everyday sounds into music. As well as being a composer I also work in special effects for plays and musicals.
Connect with Ellie Foote