Seeded Plain performance
Online performance by Seeded Plain. Seeded plain is an improvisational duo featuring pieces performed on invented instruments build from repurposed household objects.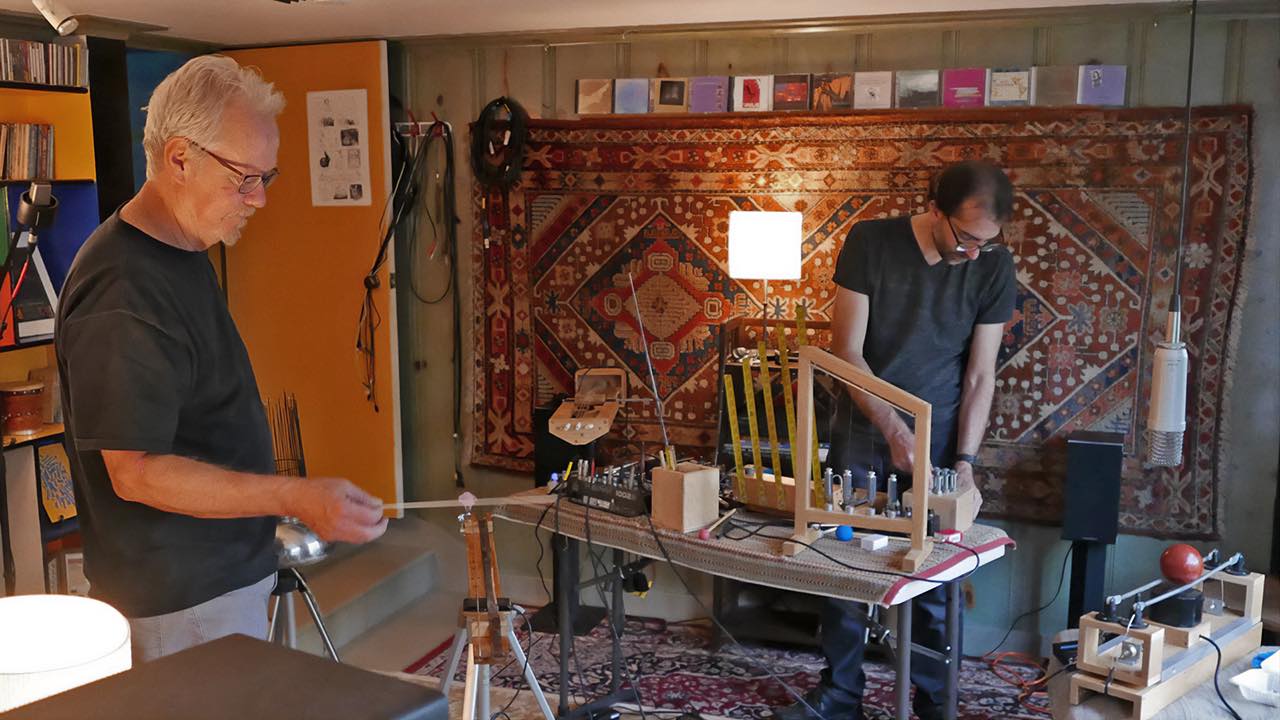 Seeded plain is an improvisational duo featuring pieces performed on invented instruments. Formed in 2007 in Lincoln Nebraska, the duo has released eight full-length albums, including a 2011 collaboration with instrument inventor Hal Rammel. Seeded Plain has toured throughout the US, Canada, Mexico and across Europe.
http://megapolisfestival.org/event/seeded-plain-bryan-day-jay-kreimer/
https://jaykreimer.com/
http://www.bryanday.net
Side story
Seeded Plain formed in 2007 when instrument inventors and builders Jay Kreimer and Bryan Day started recording together after being introduced by colleagues in the Lincoln, Nebraska experimental music community. Together they have toured the US, Mexico and Europe, performing concerts and presenting instrument-building workshops. Seeded Plain have released eight full-length albums.
Jay Kreimer is a musician, instrument maker, sculptor, composer and educator. More to the point, he is an alchemist of hardware stores, surplus catalogs, and discarded objects, who assembles new things out of scraps of possibility. Kreimer has performed across Europe, including Dublin, Cork, London, Glasgow, Berlin, Amsterdam and Paris, and played at D-22 in Beijing. He presented an interactive talk/performance at the 2008 ISIM conference in Denver, and Santa Cruz. In collaboration with Wendy Weiss, he has shown sound and sculptural work in Beijing, San Francisco, Vancouver, New York, Washington D.C, and showed a major installation in Kansas City and Tulsa. Kreimer also performs with The Mighty Vitamins and Seeded Plain.
Bryan Day is a sound artist, musical instrument designer, and conceptual artist based in San Francisco. Day's work investigates the delicate interplay between processed natural recordings and the amplified electronic sounds generated by his invented instruments. Using scavenged electronics, repurposed mechanical components, and amplified materials that you might find in your garage or your great uncle's office, he re-imagines them into constructivist sound sculptures. In addition to his own audio work, he runs Public Eyesore Records, which has been producing unusual and experimental music since the late nineties.
Bryan Day : Instrument and Sound Installation Artist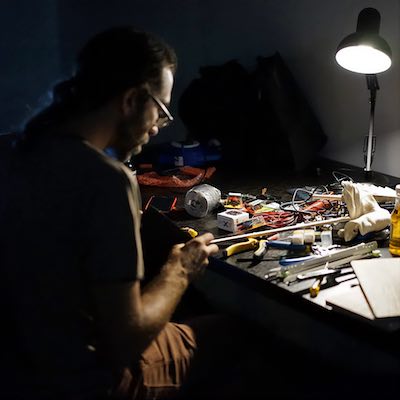 Instrument builder in SF Bay area. Started building instruments in the late 90s in the Minneapolis Area. Interested in homemade piezoelectrics, amplified composites, electromagnetic instruments, repurposed objects. Presented workshops in Ireland, China, Germany, Mexico, Netherlands, Philippines and across the US and Canada. Currently performs with Euphotic, Seeded Plain and Collision Stories. Runs the record labels Public Eyesore / eh?.
Connect with Bryan Day
How I can help you:
We can help others by demonstrating a range of sound possibilities available from items found commonly in the home.
How you can help me:
Checking out some of our future projects. In early 2022 we will be working on a project in India featuring instruments made from found objects in the Gujarat area.