RuckUS VOTE 2020
HONK NYC helped produce an artist-led Get Out The Vote drive in before the 2020 election called RuckUS Vote 2020.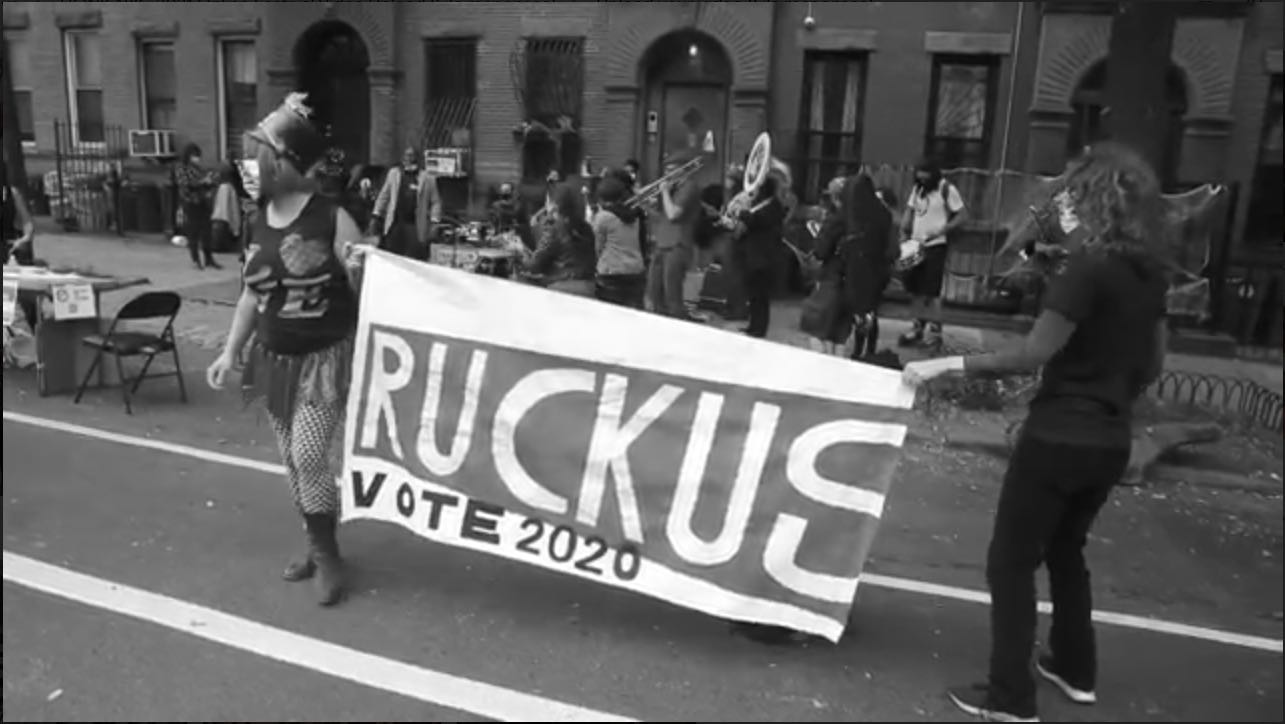 During October 2020, RuckUS staged three get-out-the-vote events across New York City. RuckUS is an artist-led activist group, aiming to create a joyful critical mass for getting out the vote. Check out the highlights from our events here.
Thank you to all of our performers, speakers, features, and contributors from our events:
Marina Abramovic, Kurt Andersen, Laurie Anderson, Arielle Avenia, Michael Azerrad, Amoy Barnes, Todd Barry, Holly Bass, Renee Renata Bergen, Sarah Blas, Mirabai Bush, Matthew Cain, Gabri Christa, Francesco Clemente, Willem Dafoe, Lama Surya Das, Rameshwar Das, Abdourahamane Diallo For The Bronx, Sara Driver, Alita Edgar, Jason Engdahl, Mary Feaster, The Laura Flanders Show, Justin Fornal, Kristina Fortunato, Gina Gershon, Masha Gessen, Andom Ghebreghiorgis, Melvin Gibbs, Rev. Joan Jiko Halifax, Nona hendryx, Lorie Honor, Monica Hunken, Siri Hustvedt, Elisa Jiji, Bill T. Jones/Arnie Zane Company, Coco Karol, Tine Kindermann, Yana Landowne, Jahtiek Long Art, Natasha Lyonne, Nilka Martell, Brigid McGinn, Erik R. McGregor, Carlos Menchaca 2017 Campaign Headquarters, Paul Nagle, Ranti Ogunleye, Pat Oleszko, Maria Ordonez, Samora Pinderhughes, Indie Pranvera, Vernon Reid, Council Member Antonio Reynoso, Marc Ribot, City Council Member Debi Rose, Salman Rushdie, Babe Ruthless, Stephan Said, Sharon Salzburg, Greg Saunier, Julian Schnabel, Mike Shane Gene Sxip Shirey, Laura Siegel, Michael Stipe, Peter Daniel Straus, Elizabeth Streb Ringside, Comptroller Scott M. Stringer, Susan Tarbet, Ibtisam Tasnim, Shaina Taub, J.G. Thirwell, Seth Tillett, Helen Tworkov, Monica Vela, Virginia Vitzhium, Jay Walker, Maya Wiley, Michael Williams, Chavisa Woods, Antony Zito, Bond Street Theatre, Gays Against Guns, The Illustrious Blacks, League of Women Voters of the City of New York, MakerPark Radio - makerparkradio.nyc, Resistance Revival Chorus, The Syndicate, Wu-Tang Clams, Gayle Kelemen Snible, Sara Valentine, Arto Lindsay, Elisa Crespo, Melanie Charles.
RuckUS VOTE 2020 : Artist-led voting drive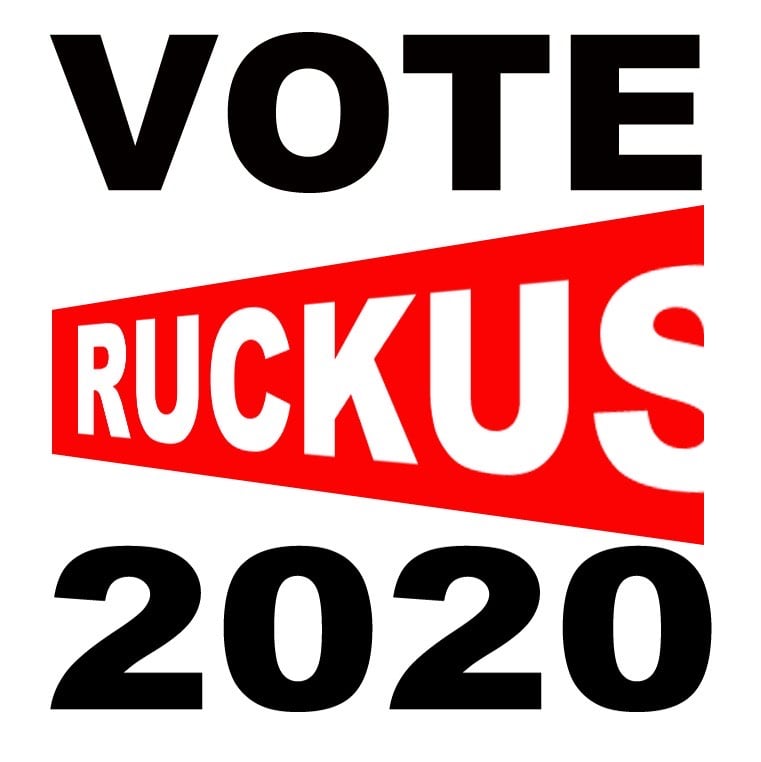 Register. Plan. Protect. Vote 2020!

RuckUS was born from a conversation among musicians Laurie Anderson, Arto Lindsay, Ryuichi Sakamoto & Iain Newton. Inspired to find a way for artists to engage with voter advocacy they invited bassist Melvin Gibbs, choreographer Bill T. Jones, and artist and writer Aria Dean, as well as a host of cultural curators from Joe's Pub, We Are The Blacksmiths, HONK NYC, and producer M.A. Papper, to help coordinate this multi-borough pro-voting extravaganza.
Connect with RuckUS VOTE 2020