Playing With Machines
Playing With Machines is a band composed of Maxime Kermagoret, Paul Dechaume and myself. As a collective we aim to create electronic ambient music utilising motors where possible.

From the beginning our goal was to use motorized instruments in the same way "normal" instruments are. We have always tried to include motorized instruments in our music alongside computers, drum machines and synthesizers. To do this we use Ork.1 as an integral part of our music.

Ork.1 is a motorized orchestra, created by myself in 2016. At this moment it is composed of 7 instruments (1 Octo.0, 4 LIRs, 2 Sonoïds and 20 servomotors), but other machines are experimented with or being constructed all the time. Ork.1 is an instrument that is always evolving. I use several ways to control it like keyboards, sensors and sequences. The other instruments are also linked to the system so the entire set up can be described as a machine.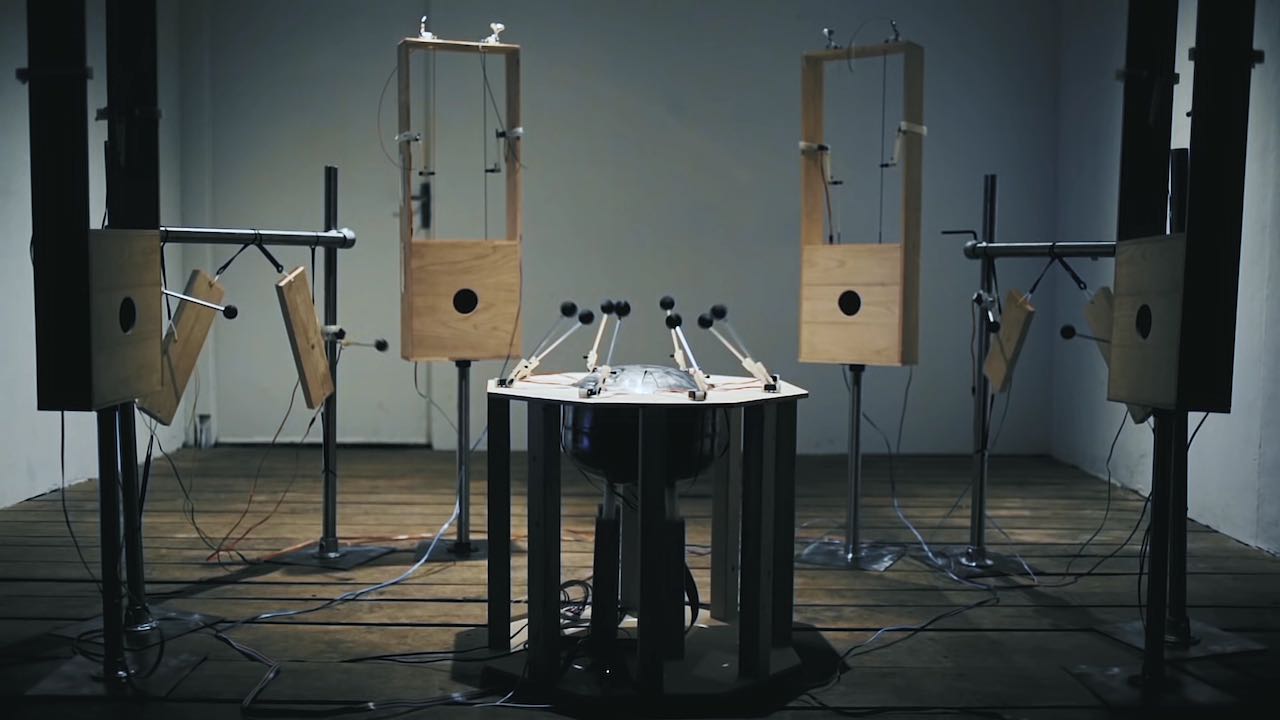 At first, Ork.1 was a part of an interactive installation. The instruments was reacting to gestures so performers could find a way to express music with body language. While I was doing some tests for
the exhibition, I really enjoyed using Ork.1 as a VST (virtual instrument) on my DAW (sequencer). The
idea of practicing with this orchestra in a band was born.
Integrating this kind of instrument in "popular" music is half of the research.
Many motorized/robotized instruments have been made for years with automatons but unlike synthesizers, those have not found their place on stage yet. They are mostly presented alone or with their creators. This could be down to a fear of the idea of mixing the industrial with the creative. Or more tellingly, robots with creativity. There is a lot to do to overcome the conventional wisdom of the robot replacing the human, when the two can and should complement one another. This work is only a drop but I consider it as a start in the right direction.
With the design, I have tried to present a different vision of the machine by reminding the viewer of
the magic aura of the automatons. Indeed, I often make aesthetic choices first, with the practical side coming after. Like sculptures, original shapes can lead our imagination to new spaces. For example, the use of wood in Ork.1 is to signify our link to nature and that technology is a part of it. The use of servomotors is also an aesthetic choice because the movement is easier to control so it becomes more visual which is essential.
The basic technical choices are the use of arduino with a MIDI shield and Max for live for the software, as Live is now a norm in popular music. Pure Data and Reaper could be an option in the future but it would involve spending more time working on software and less on composing. The sensor I use is a Leap Motion as I am still interested in the use of gestures in music and inspired by Leon Theremin.
Side story
Concerts of Playing With Machines
2021
– (coming as soon as possible) residency/concerts at le Grand Cordel MJC, Rennes
2020
– La Luciole, Mery-sur-Oise
– The Guthman Musical Instrument Competition, Georgia Tech School of Music, Atlanta
– La Casba (L'Armada Productions), Saint Erblon
2019
– L'Effet Numérique, Montfort Communauté
– Le Cap, Plérin
– Abbaye de Maubuisson, Saint-Ouen-l'Aumône
2018
– Les Champs Libres, Rennes
– Le Château Ephémère, Issy-les-moulineaux
Exhibitions of Ork.1 :
2018
– Les Champs Libres, Rennes
2017
– Les Rencontres Transpirées, à l'Hotel Pasteur, Rennes
2016
– Premier dimanche aux Champs Libres, Rennes
– Le Triangle, cité de la danse, Festival Maintenant, Rennes
Frequently Asked Questions
What inspired you to do this?
It's a combinaison of passions : music, art, DIY, technology.
How long did it take to make it?
It took two months to built Ork.1, but the research started several years before and never stopped. So I would say it's since 2013.
How long have you been doing things like this?
I have always been into music or DIY but I follow the movement of makers since 2013.
How much did this cost to do?
Less than 1000$.
Have you done other things like this?
Yes the idea is to develop as many as instruments as I can. I see this as a way to express myself and as a research.
What did you wish you knew before you started this?
Robotics and more about instrument making.
Are there plans available to make this? Do you sell this?
Ork.1 is a tool as a set of musical instruments but it's also a piece of art as a sculpture. I explain how it's made and encourage people to do their own instruments as long as they find their own way of expression which provides to their needs. Each piece I make is unique so I can respond to an order.
What's next?
More instruments for exhibitions and performances.
Alexandre Berthaud : Artist and Musician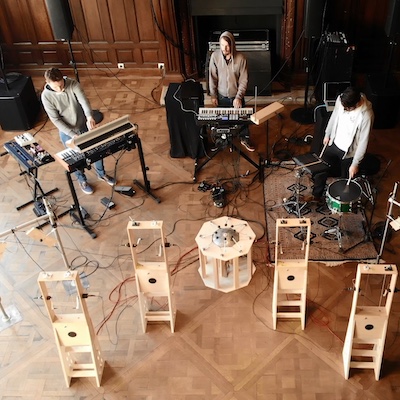 I started mixing art and music as a child when I made my own drum from scratch. When I got to university I discovered how to program music with pure data. This opened the door to a more unconventional way of making music. I quickly realised that I needed to materialise the data to go beyond the screen computer and make this music real.
It was from this desire that I began to experiment with electronics not usually associated with music creation like infrared sensors and motors. This led me to create my own instruments and my own sounds. During this time, I also founded the artist collective "Mille au carré". My goal with this was to bring different artists and musicians together and encourage a mixing of disciplines through digital technology. I since work with several artists on projects that are not necessary sound, with the aim of deconstructing things in a transversal way.
www.alexandreberthaud.com
www.milleaucarre.com
Connect with Alexandre Berthaud
How I can help you:
Dont hesitate to contact me if you would like to share some ideas. I can explain more technical stuffs.
How you can help me:
Just enjoy !