Pillager Jam - a Minecraft musical project
Accompaniment created using Minecraft note block circuits, imported and manipulated using Logic Pro. Guitar performed in realtime.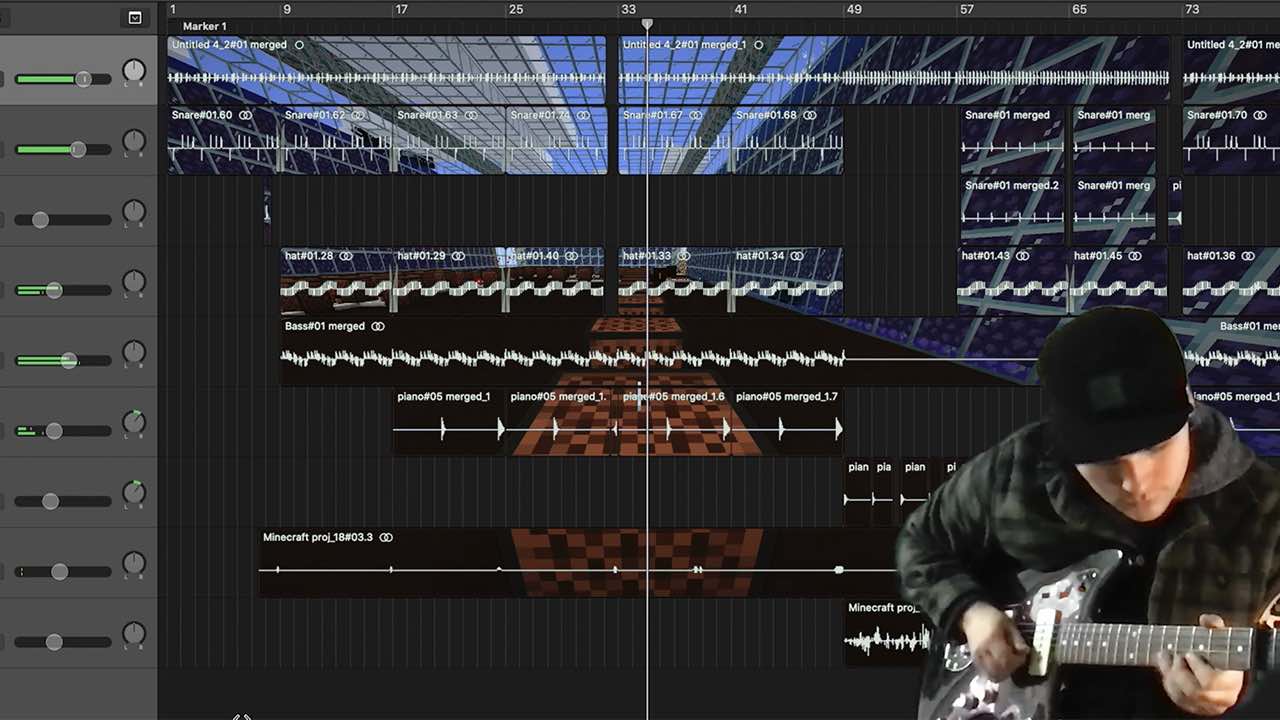 By the spring of 2021, UMass Lowell was in our third semester of remote learning. Ensembles were barely that, as was typical across music institutions worldwide. The Contemporary Electronic Ensemble sought to recapture the world of real-time performance and musical interaction. In-game Minecraft musical experiments became a staple of the group that semester, and its inclusion has led to the development of UML's Video Game Ensemble.
Students in SP2021 developed several immersive Minecraft worlds with complex structures and mechanics.
Tristan Fruzzetti's approach was unique in that it used a number of Minecraft machines as accompaniment for a live guitar performance. Short video/audio clips were combined together to create the sonic and visual backdrop for his performance. He edited the accompanying video to show multiple elements of the Minecraft world along with his Logic performance project. At times, both Logic clips and Minecraft blocks are used as a "green screen"
Pillager Jam was premiered at
https://www.twitch.tv/cee_stream
for UMass Lowell's Contemporary Electronic Ensemble Spring 2021 concert.
Tristan Fruzzetti : Minecraft world builder, composer, performer
Tristan is a Sound Recording Technology major at UMass Lowell.
Connect with Tristan Fruzzetti
How I can help you:
We can entertain you with thought-provoking concert programming. Contact us if you want to discuss collaborations between September and May.
How you can help me:
Check out our department media at
youtube.umlmusic.com
Instagram:
@cee.at.uml
@umlmusic