Pianochopper Baby!
Imagine the year 2139, where a psychotronic apocalypse has transformed a large number of humans into obedient androids. Zolt and Burg, armed with the pianochopper,go from village to village to counter attack this damaging curse. Two shows have been made around this theme, one a burlesque musical theatre and the other a de-ambulant musical.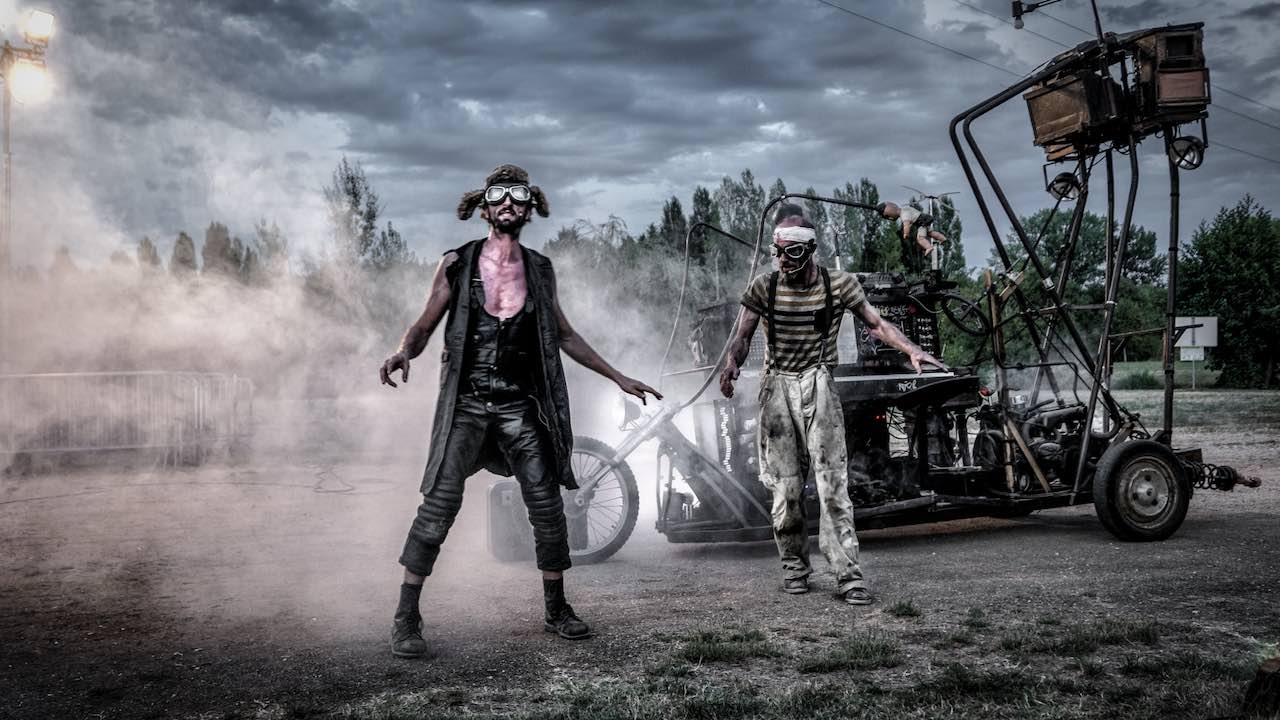 The pianochopper is a mobile creation of about 16 feet long, max. 5 feet wide and max. 10 feet tall, built with the front fork and base of a Montesa motor bike of 1985, combined with a chassis and engine of a typical ancient French 2 CV vehicle (2 HP 'Ugly Duck') of 1974, accommodating two synthesizers, rhythm box, theremine, 2 mics, samplers and it's own 12V/220V electrical battery supply for lights, instruments, scene lighting etc.
The pianochopper has a maximum speed of 10 km/hour (not during performances) and has been set in one gear only, forward or backward. During the show, the speed varies between 1 and 4 km/hour. Total weight of the pianochopper is about 1200 lbs. Brakes and gears are hydraulic with a semi-automatic centrifugal gearshift, typical for the Citroën 2HP (1960 technology).
The pianochopper creation is the fruit of a 2 year research project for piano mobility by Kasper, engaging several construction workshops throughout France. During those two years of research and development, the main idea was to write a theatre play, in a sort of Mad Max setting. The creations of the main characters Zolt and Burg came out of a meeting with Benjamin Chapeau, author of the 2017 show. Since then, the roadshow has continuously improved, both for technical issues and the way actions and scenery props have been arranged.
Kasper : Maker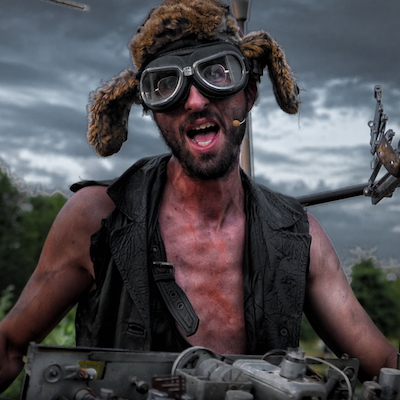 Having been on the road during the past 15 years with my mobile upright piano, the idea of a 'steampunk' motorized piano was born. So here I've designed and built the 'Pianochopper', based on a home made chassis, powered by a 2 HP Citroën automotive engine. I play it, pretending it's the last piano on earth.

Since 2016, a theatre road show has been written for the Pianochopper, which has been performed already over 60 times in France.

We are currently working on a second show for the Pianochopper, called the "Pianochopper Baby; the new adventures of Zolt & Burg".
Connect with Kasper
How I can help you:
Join the future imaginary world of Zolt and Burg and tune into the Pianochopper frequency. Join the beat and let yourselves get carried away by this supreme wave and be propelled instantly into this feeling good mode!