Phonoharp
Phonoharps use the turntable both as a source of sound, and as a way to directly amplify the vibration of the strings.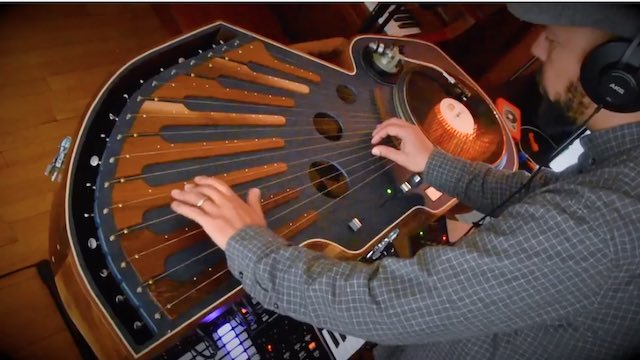 This Phonoharp built in January of 2017 is the first to feature solid wood construction. Made of walnut with a border of inlayed holly, this instrument is a refined version of the Steel-stringed Phonoharp (right) Kitundu made 14 years earlier.
Walter Kitundu : Sound artist, installation artist, and inventor
Walter Kitundu is a sound artist, installation artist, and inventor of original musical instruments that navigate the boundary between live and recorded performance. His most recent project was a 27 foot long, bird-themed, interactive, hand built, musical mural commissioned by the San Francisco Arts Commission for Terminal Two of the San Francisco International Airport.

Walter Kitundu has been affiliated with the Exploratorium Museum of Science, Art, and Human Perception since 2003, where he is currently a senior designer. His work has been exhibited and performed at such national and international venues as the Singapore Science Centre, the Gunnar Gunnarsson Institute, Iceland; the Walker Art Center, the Museum of Craft and Folk Art, and the Aukland Arts Festival in New Zealand. In 2008 he became a MacArthur Fellow.

Kitundu received a 2005 Creative Work Fund grant in performing arts to collaborate with Kronos Quartet, creating original phonoharps and composing a work entitled Cerulean Sweet, dedicated to Sally Wingwall and using elements of sound drawn from jazz great Charles Mingus. Walter Kitundu's phonoharps are hybrids of turntables and stringed instruments —at once highly sculptural objects and functional instruments that are surprisingly versatile in performance. Cerulean Sweet premiered at Carnegie Hall in March 2006.