No Strings Guitar (NSG)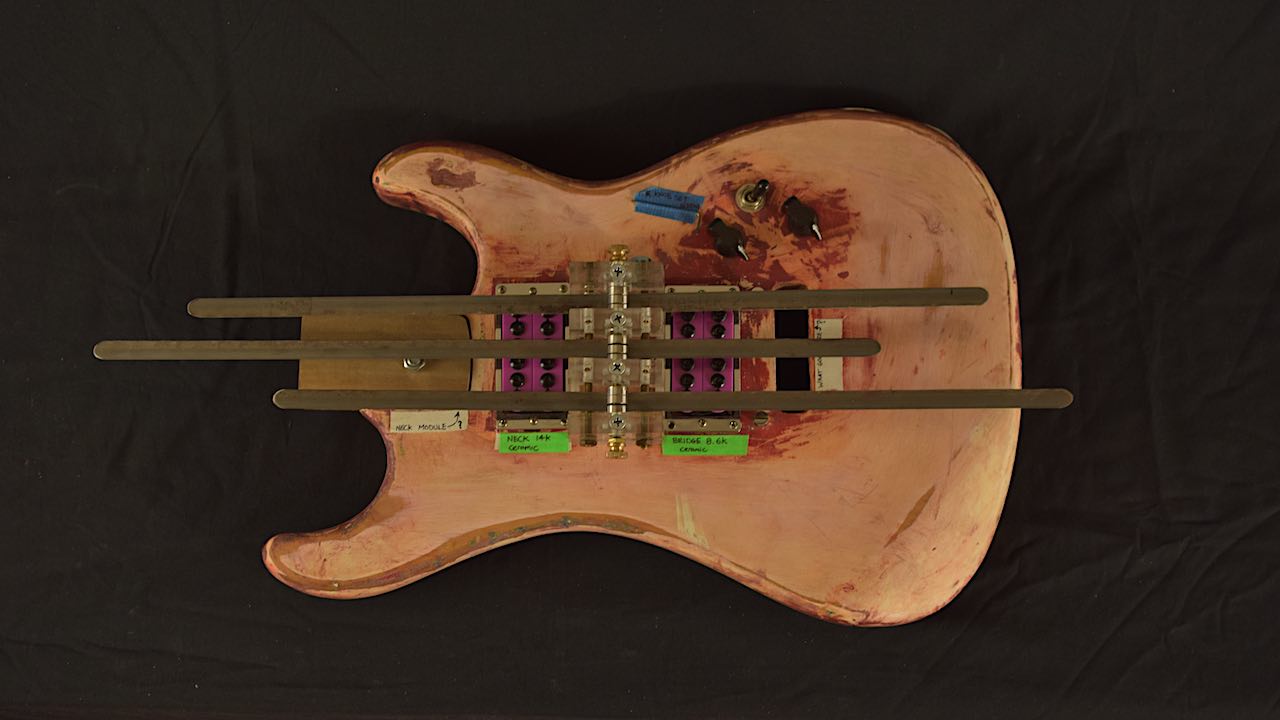 No Strings Guitars are modular instruments for experimentation and improvisation. NSG's consist of a guitar body (no neck necessary!) with magnets embedded between the pickups for mounting interchangeable modular "sounding devices" designed for speedy insertion and removal. The power of the NSG lies in this ability to quickly change the sounding modules and incorporate new ones. The entire instrument does not have to be rebuilt to produce completely different sounds. So far we've created several modules (and the possibilities are endless):
—bicycle spoke kalimbas
—very long kalimba tines, could be used as a prepared toy piano.
—palettes of springs
—sliding bandsaw blade modules called Whatashames in honor of Bart Hopkin's
What-a-Shame original
—a mini spaceplate, bronze rods on a steel sheet, called the Sonic Ray in honor of
Tom Nunn's spaceplates
Fred Frith & Sudhu Tewari : Musicians and instrument makers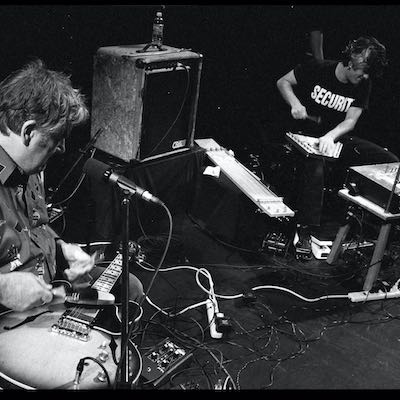 A pioneer of the extended electric guitar, Fred Frith has been active across a broad spectrum of sound exploration for more than 50 years. Described by Guitar Player as "a musician who makes miniatures of the world around him using scraps torn from corners of the map", Fred has been deeply involved in the art and craft of improvisation since the late 1960s while maintaining a strong connection with his roots in rock and folk music through bands like Henry Cow, Art Bears, Massacre, Skeleton Crew, Cosa Brava and The Fred Frith Trio. His compositions have been performed by groups ranging from the Ensemble Modern, and Arditti Quartet to Ground Zero and Sleepytime Gorilla Museum. Film music credits include the acclaimed documentaries Rivers and Tides and Leaning into the Wind by Thomas Riedelsheimer, The Tango Lesson and The Party by Sally Potter, Werner Penzel's Zen for Nothing, and the award-winning (and Oscar-nominated) Last Day of Freedom, by Nomi Talisman and Dee Hibbert-Jones. He has also created an extensive catalog of music for dance, notably for Amanda Miller's Pretty Ugly Dance Company in Germany. Fred taught for twenty years in the Music Department at Mills College in Oakland, California, and co-directed the improvisation Master's Degree program at the Musik Akademie in Basel, Switzerland. He was also one of the curriculum designers for the new School of Music and Sound Art at the Universidad Austral in Valdivia, Chile, where he is a visiting professor.
Sudhu Tewari has been described as "bricoleur", "junkyard maven", and "audio-gadgeteer". He invents, designs and builds from whatever materials are to hand—musical instruments, kinetic and sound sculpture, interactive installations, audio electronics, and wearable sound art. Along with Fred Frith, Sudhu is one half of the home-made instrument duo Normal, and has performed in this and other configurations in Europe, Japan and the USA. His visual and interactive art has been exhibited at Swarm Gallery, 21 Grand, ProArts, and FLOAT Gallery in Oakland; the Center for New Music, the Exploratorium, and the Museum of Modern Art in San Francisco; and at Montalvo Arts Center, UC Berkeley, the Tech Museum in San Jose, the Oakland Museum of California, PROGR and the Laboratoire Village Nomade in Switzerland. He has been teaching electronics and sound art to children and adults since 2009 and continues to build and perform with self-governing musical systems and self-built musical instruments. His relentless curiosity and delight in unlikely solutions to intractable problems are manifest in all of his work. Sudhu holds an MFA in Electronic Music from Mills College, and a PhD in Cultural Musicology from UC Santa Cruz. He is currently Workshop Technician in the instrument building program at Mills College and teaches art, technology, and design at California College of the Arts, the University of San Francisco, and Expression College in Emeryville.
Photograph by John Fago