Natura Machina
A Costa Rican Composer Susan Campos, and a mathematician and musician Tomás de Camino Beck, explore an abandon fuel tank at the Museum of Contemporary Art and Design in Costa Rica to study and experience its sonic properties using their own made synthesizers and interacting with plants, creating a biocybernetic experience.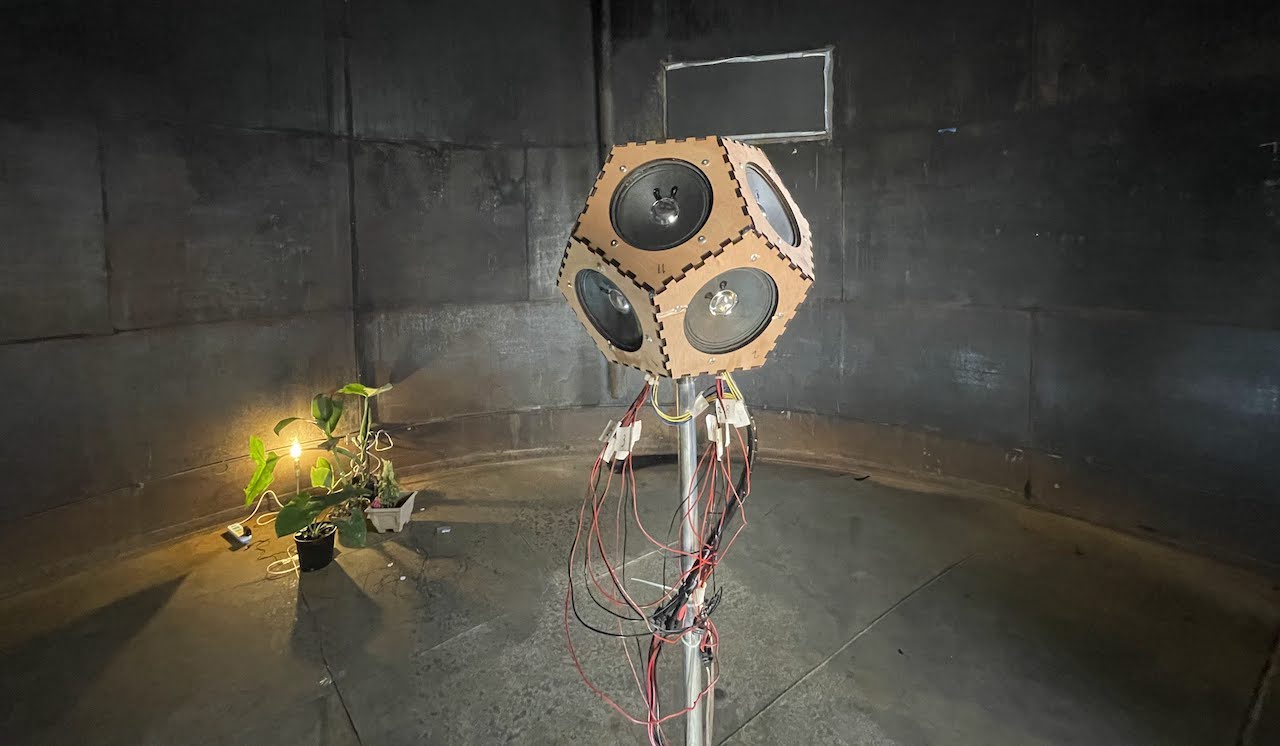 Cyborg processes of sound experimentation
A composer and transdisciplinary sound researcher. A computer scientist, mathematical biologist and scientist. Both join their knowledge to reopen in the MADC -after being closed for two years- the space called El Tanque Laboratory of Ideas. The unique duo proposes an exploratory process of space, where they let themselves be carried away under the guidance and inspiration of some resilient plants that survive in our cities, and activated devices such as sonic interfaces; giving rise to the design of a biocybernetic installation.
In other words, they create an environment that mixes living natural elements with technological devices, so that visitors can experience various perceptual sensations in a space such as the old bunker tank of the Museum: hostile, strange, but captivating; like a space survival cabin, or a desert of a post-apocalyptic world, where the plants that have managed to resist coexist with musical instruments and unconventional sound devices.
The project was born as a result of research carried out at the University of Costa Rica since 2020, based on concepts such as technobiological culture, decoloniality and interspecies studies, which are used in the field of contemporary arts to problematize our present from imaginary futures and fictitious, but ever closer. They also intertwined a collaborative network that connects the arts, science and technology, in order to generate cross-cutting dialogues that were born, specifically, in the context of the Brunca Region, analyzing and taking into consideration its biodiversity and interculturality.
Through many weeks of experimentation, testing and exploration, Susan Campos Fonseca and Tomás de Camino Beck will propose interaction between visitors and space
Two main elements can be seen in this installation. On the one hand, the sound, which is composed of biodata obtained from the bat, the heliconia and its habitat, where they applied cybernetic strategies to extract them. On the other hand, the plants that interact with technological devices and evoke the thought of Charles Darwin who, in his text The Origin of Species (1859, p. 121) stated that "we have reason to believe that species in their natural state are strictly limited to the regions they inhabit by competition from other organic beings, as much or more than by adaptation to certain climates. But, whether or not this adaptation is very rigorous, in most cases we have evidence that some plants have naturally become accustomed."
This immersive and interactive "experimental greenhouse" will also give rise to multi-personal participation with a series of activations with guest sound artists and musicians, who will intervene with voices, percussion instruments, electronics and some other more classic ones, adding the collaboration of scientists and engineers. Thus, the project works as a new treatise that problematizes and confronts concepts, theories and practices derived from the arts, science and technology, in order to propose collaborative exploration as a bridge for the generation of shared knowledge.
Curator note
Maker Park Radio is a volunteer-run, non-profit community internet radio broadcasting from Staten Island, NYC. MakerParkRadio.nyc is dedicated to providing free music and live arts programming 24 hours a day. They reached out to a few of our MMF makers and engaged in conversation around the maker, their project, their inspirations and more.
DJ Annette Pierce (@classicalishwithnutmeg) Meets the Maker Tomas de Camino Beck (@tomasdecamino) - recorded live Sunday, May 15th at 12:15pm ET - check out the INTERVIEW.
https://livestream.com/makerparkradio/makerparkradio/videos/231143017
Tomas de Camino Beck : Maker, composer, artist, scientist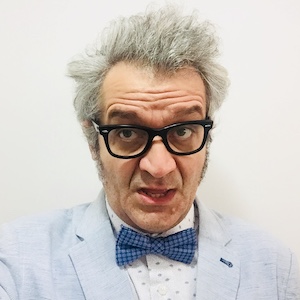 Connect with Tomas de Camino Beck
How I can help you:
Algorhitmic music, music production
How you can help me:
Follow my work