MUTANT TOY PARADE
This year's Make Music Winter event took place on December 21st, in six cities across the United States simultaneously.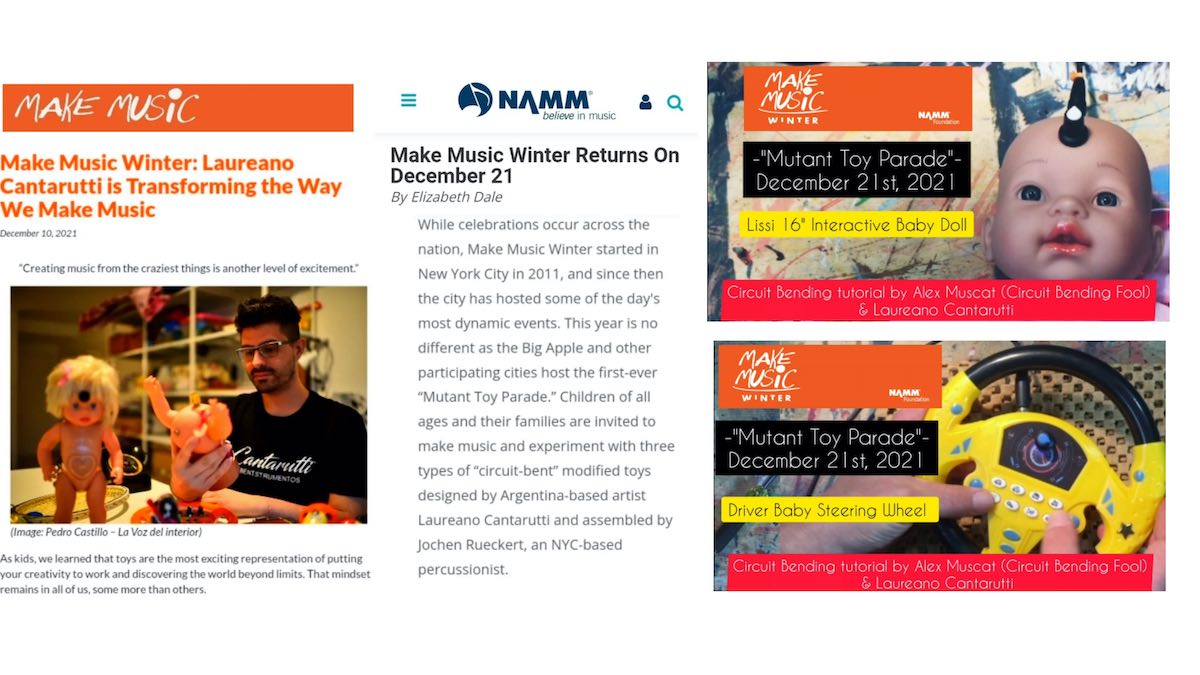 BEGINNING
On October/21, Sherry Huss introduced me to Aaron Friedman, because he saw my Circuit Bending works and he wanted to include part of this amazing electronic world in the Make Music Day event of this year.
A BRIEF INTRODUCTION
Let me introduce you each one of us, so you can know more about who we are and what we do:
- Laureano Cantarutti (Córdoba, Argentina): composer, songwriter, multi instrumentalist, maker, circuit bender, podcaster and music producer.
- Sherry Huss (U.S.): Co-founder, Maker Faire. Co-founder & Maker-in-Chief,Maker Music Festival. Co-founder, Decameron Row. Co-founder, Imaginary Places Studio.
- Josef Szuecs (U.S.): He's the founder of the Maker Music Festival. President of Chimera Arts maker space. He's a software developer, artist and musician.
- Aaron Friedman (U.S.): Make Music Alliance's Executive Director. He's the founder of Make Music New York, a non profit organization that produces a city-wide outdoor musical celebration in New York on June 21st. Launched in 2007, the celebration has grown to become the most expensive musical event in the city's history.
- Matt Fox (U.S.): Make Music Alliance's Deputy Director. He's the owner of Fox in a Box Marketing & PR, co-founder of Make Music Nashville and a contributing writer for Nashville's alt-weekly, Nashville Scene.
WHAT TO DO?
After some emails and Zoom meetings with Aaron, both of us started to work together on the idea of a Circuit Bending parade. Because the toys had to be modified to become musical instruments, we arrived at the title "Mutant Toy Parade".
MUTANT TOY PARADE
The Mutant Toy Parade it's a participatory composition by Argentine composer Laureano Cantarutti. Children and adults are invited to come and experiment with three types of "circuit bent" modified toys, designed by Cantarutti, modified by Alex Muscat and assembled by local musicians and Makerspaces in each city. After a brief rehearsal, everyone will parade through the streets playing music using the toys, hand percussion, and keytars. At the end of the event, participants will get to keep the toy instruments as a holiday gift, and take them home for further experimentation.
THE CHOSEN ONES
I selected three kinds of toys:
- Baby Doll
- Steering Wheel
- Recordable Buttons
WHO/WHERE
We planned to have these parades in 10 cities across the U.S., but only 6 cities confirmed their participation: New York (NY), Montclair (NJ), Salem (OR), Knoxville (TN), Toledo (OH), and Altoona (PA). Some of those cities had Make Music Alliance chapters, and that helped a lot to make things faster.
Each participant city received:
·2 Dolls
·5 Steering Wheels
·8 Recordable Buttons
·Materials: solder tube dispensers, potentiometers, knobs, audio outputs, wires, battery holders, thumb tacks (to use as "contact points"). 
LET'S DO IT!
We started to search for cheap toys to buy in bulk, attached to a limited budget, to modify each one using the Circuit Bending technique. Once we found and bought them, the next step was to do the modifications, identify components that we need to use and develop a tutorial so each confirmed city could do the modifications with the participants.
Because I lived in Argentina, the shipping wouldn't help to make this possible on time, so I contacted Alex Muscat aka "Circuit Bending Fool", a great musician, sound engineer and circuit bender from California (U.S.). He accepted to participate and we sent the toys to be modified (Doll and Steering Wheel). Then, and via emails and online meetings, Alex and I created a script using the modifications that he could identify on each toy. With that script we design the video tutorials that Alex recorded all by himself, video and voice over.
You can access each video in my YouTube channel:
Driver Baby Steering Wheel tutorial:
https://www.youtube.com/watch?v=ViqcKeJT7vw
Lissi 16" Baby Doll tutorial:
https://www.youtube.com/watch?v=tB-9GwmAOA0
TIMELINE
Aaron Friedman and I created an Schedule to make all in time:
- October 2021:
·Conference call with Make Music Alliance organizers; I showed some similar toys on the call, to give people an idea of what this is about.
·Feature the event in a newsletter to musicians and organizers that could be interested in participating.
·Working with Alex to create the video tutorials.
·Create the composition to be perform.
·Online meetings and emails to check everything step by step with Matt Fox.
- November, 2021: 
·Deadline for organizers to sign up and commit todo it.
·Date to ship all materials to organizers.
·Define workshops where people could make the mods.
·Deadline to finish the piece, and distribute sheet music / video tutorials. ·Website updated with all Make Music Winter details, press release goes out with details, marketing assets available to organizers, social media campaigns start.
·I shared in several Facebook's groups and on my social media the call to participate.
·Online meetings and emails to check everything step by step with Matt Fox.-
December,2021:
·Online meetings and emails to check everything step by step with Matt Fox.
·Press articles to invite more people toparticipate in each city.
·Answer questions and doubts of the organizers and participants.
·Tuesday, Dec 21: Make Music Winter!
RESULTS
The Mutant Toy Parades were awesome!
A lot of people participated, learned how to Circuit Bent toys and transform into musical instruments. Some of them used a soldering iron and other tools for the very first time. They played my composition and also played their own compositions too!
At the end of each parade, participants received the toy instruments as a holiday gift, and they took them home for further experimentation.
Altoona(PA) was the only city that postponed the event due to COVID. We sent the best energy to them.
THANKS
To Sherry Huss, Joe Szuecs, Aaron Friedman, Matt Fox, Make Music Alliance team, NAMM Foundation team and Maker Music Festival team for believing and trusting me, giving me this amazing opportunity to be part of the Make Music Day celebration with this outstanding and amazing event!
To Alex Muscat for his compromise and professionalism on this event.
To ALL THE PARTICIPANTS that celebrated playing music with mutant toys!
MORE INFORMATION  
- Make Music Winter: Laureano Cantarutti is Transforming the Way We Make Music –
MakeMusicDay.org
https://www.makemusicday.org/2021/12/make-music-winter-laureano-cantarutti-is-transforming-the-way-we-make-music/
- "Make Music Winter Returns On December 21" by Elizabeth Dale –
namm.org
:
https://www.namm.org/playback/advancing-music-making/make-music-winter-returns-december-21
- "Need a Reason to Get Off the Couch This Winter Solstice? Make Music!" by Laura B.Withmore –
parade.com
:
https://parade.com/1310761/laurawhitmore/need-a-reason-to-get-off-the-couch-this-winter-solstice-make-music/
- "Hollywood One Minute: New 'Spider-man' smashes records" - CNN Entertainment: Mutant ToyParade mentioned at 0:42 minutes.
https://edition.cnn.com/videos/entertainment/2021/12/20/hollywood-minute-new-spider-man-smashes-records.cnn/video/playlists/atv-trending-videos/
Frequently Asked Questions
What inspired you to do this?
Encourage more people to make music creating their own Circuit Bending instruments.
How long did it take to make it?
3 months.
How long have you been doing things like this?
I study and make music since I was a little kid, and I do Circuit Bending since about 6 years.
What's next?
Continue working on spreading the Circuit Bending technique/philosophy so more people can access to create their own bentstruments all around the world.
Resoures?
- Own musical and Circuit Bending knowledge, experience and works
- A lot of ideas
- Budget to buy toys, the materials to make the modifications and to shipping all the items to the participant cities, provided by Make Music Alliance and NAMM Foundation
- The compromise of Alex Muscat (aka Circuit Bending Fool) to participate making scritp with me for the video tutorials; also he recorded the videos and voice over.
- The good energy of all the teams involved: Maker Music Alliance, NAMM Foundation, Maker Music Festival
- The courage and brave of each city organizers' and participants to enjoy doing this madness.
Laureano Cantarutti : Composer, author, performer, maker, multi-instrumentalist and music producer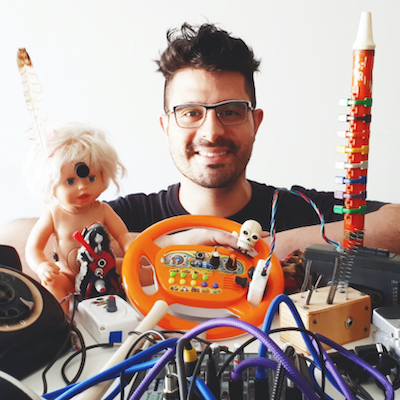 Laureano Cantarutti a.k.a. Law Cant is a composer, author, performer, multi-instrumentalist and music producer from Córdoba, Argentina. Since 1994 I'm in continuous education and research. I had knowledge of music theory, musical grammar, harmony, classical guitar playing with extended technique, Middle Eastern percussion, Throat Singing (harmonic singing), audio recording, musical composition and creation of lyrics, learned in differents institutions, such as: National University of Córdoba, cultural centers, conservatories and self-taught.

My solo project stands out for the mixture of conventional instruments and those created by me using the Circuit Bending technique.

In 2020 I compiled and curated the first "Latin American Sound Map of Circuit Bending", and audiovisual work that includes the participation of 32 artists from 11 countries of Latin America and 1 special guest from Canary Islands. It also includes research works about Circuit Bending for free download, special mentions and the participation of Reed Ghazala who had the opportunity to access to all the material before the publication; also he shared a message to all the artists.

Click the CONNECT tab for links to my solo project, circuit bending works and the Latin American Sound Map of Circuit Bending .

I've participated in different festivals, projects and compilations.
Connect with Laureano Cantarutti
How I can help you:
You can contact me if you want to learn about Circuit Bending, Music, organizing similar events and building experimental instruments.
How you can help me:
You can follow me on social media:
IG: @lawcant
Facebook: Laureano Cantarutti
Bandcamp:
lawcant.bandcamp.com
You can contact me for working together on circuit bending and musical projects.
If you like this project, please make a small donation to the artist.