Music in Clay
I make, play and research clay musical instruments: flutes, pipes, ocarinas, whistles, trumpets, didjeridus, and sound sculptures.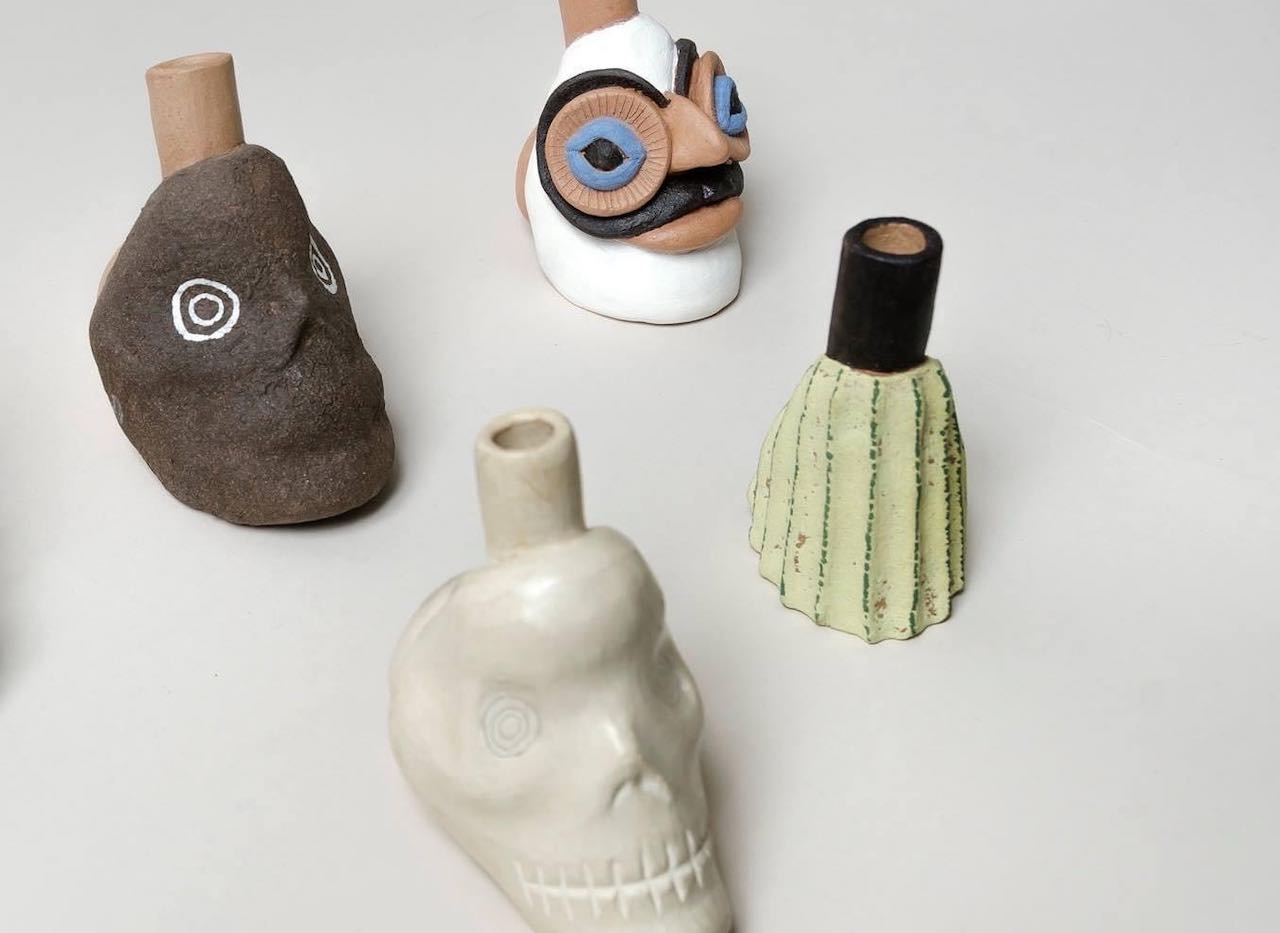 Wanting to build a better flute, I began my research into the sounds and forms of archaic ceremonial flutes from prehispanic meso-American cultures, including the West Mexican, Olmec, Mayan, and Aztec. Making acoustical studies and then learning to play them unites a Western sensibility with ancient sounds, and can teach the next step for flute construction. Through reinvesting my insights, these flutes may evolve into new instruments that then inspire with their wonderful scale patterns and evocative timbres.
By cultivating peculiar acoustic systems, I can generate peculiar and sometimes extraordinary sounds. I love subtle up close differences between sounds, the interaction of breath & sound, and feeling sound in my body. Some are raw, like animals, like grief; others evoke human voices singing or crying; sometimes, strange tones buzz inside each head.
Many of my flutes and sound sculptures have highly unconventional shapes. I enjoy considering their appearance, how the air flows, and how each fits into hands and mouths. Sometimes I create a social sculpture with multiple flutes and whistles, suggesting opportunities for unique & potentially intimate interactions between sounds and between friends.
Susan Rawcliffe : Artist
In 2011, a Cultural Exchange International grant from the Department of Cultural Affairs, Los Angeles, enabled Susan Rawcliffe to play, measure & photograph over 300 prehispanic West-Mexican clay flutes from the Crossley-Holland Collection at the University of Wales, Bangor, UK. Past grants include several from the Department of Cultural Affairs, City of Los Angeles; a McKnight Visiting Composer's grant from the American Composers Forum; and the National Endowment for the Arts.

Past performances include: on and off Broadway, NYC; the Los Angeles Theater Center; the Museum Of Contemporary Art, Los Angeles; the Museum of Neon Art, LA; and international festivals such as the Edinburgh Arts Festival, Scotland; Pipeline, Berlin, Germany; AudioArts, Krakow, Poland; and Sound Art, St. John, Canada.

Exhibitions include: the American Museum of Ceramic Art, Pomona, CA; Yerba Buena, San Francisco; Clay Studio, Philadelphia, PA; Winter Gardens, NYC; California Craft Museum, SF; the Renwick Gallery, Wash. DC; and P.S. #1, NYC.
Lectures include: the Smithsonian, Washington DC; the Metropolitan Museum, NYC; the Wats:on Festival for Interdisciplinary Artists at Carnegie Mellon University, Pittsburgh, PA; the Acoustical Societies of America, Mexico & Iberoamerica; the American Association for the Advancement of Sciences; the Los Angeles County Museum of Art; and the International Study Group on Musical Archaeology, Germany.
Published works include both four scholarly musical archaeology articles on my research into prehispanic instruments, as well as many articles on my work as an artist creating & playing ceramic flutes, pipes, ocarinas, whistles, trumpets, didjeridus and sound sculptures.
Connect with Susan Rawcliffe