MAPA SONORO LATINOAMERICANO DE CIRCUIT BENDING
The objective of this project is to disseminate the work of Latin American artists who make and use Circuit Bending in their compositions.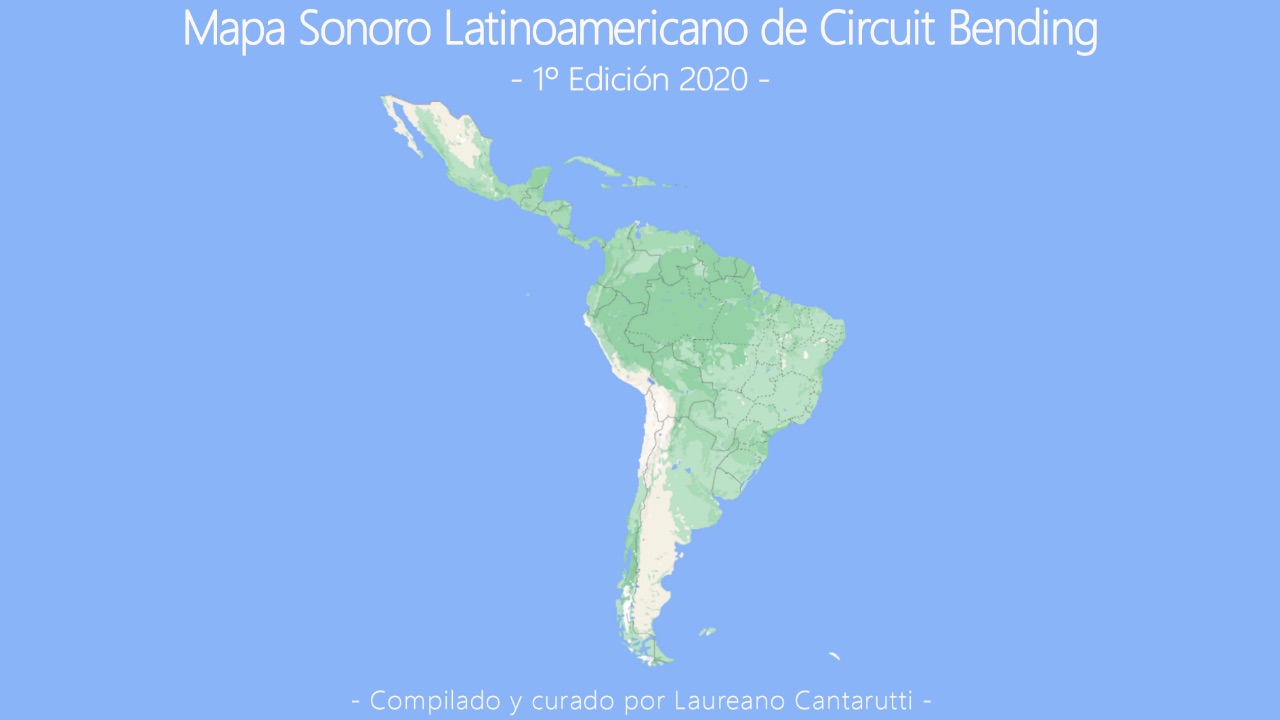 Hi!
My name is Laureano Cantarutti aka Law Cant. I'm an author, composer, performer and music producer from Córdoba, Argentina.
HISTORY
Some years ago I knew the world of Circuit Bending, I was fascinated and started modifying devices to include them in my set. During this time I had the beautiful opportunity to meet several of the North American and European references, but I was unable to contact artists from Latin America. Reason why I decided to generate this sound map: to get to know each other, minimize distances and generate a meeting point.
WHAT IS CIRCUIT BENDING?
Each artist was asked what Circuit Bending is in their own words, in order to carry out the following collective definition:
"Practical philosophy that allows us to explore and discover hidden potential by making modifications to the circuits in direct dialogue with chance and playfulness, resulting in wild and fun sounds that were not programmed in the conception of the object.
It's a challenge and criticism of the popular, a hack into the cycle life of the appliances to be able to recycle them, reuse and re-signify them.
A spiritual search and questioning of paradigms, which resonates in the cosmos at the physical and metaphysical."
OBJECTIVE
The objective is to disseminate the work of Latin American artists who make and use Circuit Bending in their compositions. This work is non-profit, totally self-managed and without the support of any institution/sponsor.
RESULTS OF THE FIRST EDITION
- The call was made through the different social networks from July 24 to September 7, 2020.
- Number of artists who responded to the call: 33 + 1 guest artist.
- Artists according to countries:
Chile: 2
Argentina: 11
Uruguay: 1
Brazil: 4
Peru: 1
Ecuador: 3
Colombia: 3
Costa Rica: 3
Cuba: 1
El Salvador: 1
México: 3
- Guest artist: 1 from Canary Islands.
Each participant shared their composition in audio, images of the devices used and some sent video recordings. The works presented include: basic modifications, advanced, circuit creation hybrids and sound sculptures.
ANNEX: RESEARCH PAPERS ON CIRCUIT BENDING
During the call, one of the biggest surprises was learning that there are scientific papers in Latin America on Circuit Bending. The papers are the following:
"Circuit-Bending and the DIY Culture" - Alexandre Marino Fernandez and Fernando Iazzetta – 2011 - Universidade de São Paulo – Brasil
"Circuito alterado em três atos: abrir, tatear e multiplicar". 2013. - Alexandre Marino Fernandez - Dissertação (Mestrado em Música) - Universidade de São Paulo.
"Apropiación de tecnologías en el circuit bending en Colombia". (2020) - Francisco Javier Thaine Rojas.
ANNEX 2: SPECIAL MENTIONS
IGOR AMOKIAN (Los Angeles, California, USA): One of the most active benders that I had the pleasure of meeting thanks to this job. He helped this compilation to attract more artists from Latin America through the Facebook groups it manages.
TIGER CLAW RECORDS (Madison, Wisconsin, USA): First record label dedicated exclusively to exclusively disseminating artists who used "bentstruments" for their compositions and sound exploration.
REED GHAZALA (USA) Without him, this sound map would not exist. His discovery in the 1960's of what he would call Circuit Bending opened the doors to this wonderful world of sound experimentation with low-voltage devices. He had the opportunity to generously collaborate on this sound map, accessing the work of each artist, prior to its publication and sharing a message for all the artists.
FINAL WORDS
This compilation can be downloaded for free at Bandcamp by entering the value 0 (zero) in the option "Name Your Price" (link is in the description). In case of generating monetary income related to the reproduction and virtual stores, they will be used to cover production, editing, graphic design and promotion expenses of this compilation.
In the video description on YouTube you will find the detailed sections that make up the map, links to contact each artist and learn more of his works.
People who are interested in participating in the next edition of this compilation can send an email with the subject "Sound Map Bending" to the following address:
laureanocantarutti@gmail.com
THANKS
Many thanks to each artist who responded to the Latin American call and today is part of this first edition. Many thanks to those who shared their scientific work so that more people can access it. Last but not least, thank you very much Reed Ghazala and Igor Amokian for all the support providing and for your active participation, providing feedback and enhancing the desire to continue forward in search of new horizons of sound.
CREDITS
Idea and realization: Laureano Cantarutti
Mastering: Danilo Cantarutti
Start and end theme: "Circuit Bending Feelings" - Danilo Cantarutti
© All works correspond to their respective authors and composers.
℗ Laureano Cantarutti, 2020.
Side story
The first days of the call were full of anxiety, uncertainty as to whether someone would be interested in participating. As the days went by, that feeling began to fade as I saw the interest and support from different artists. I even had to extend the call for a few more days because some people found out days before closing!
Frequently Asked Questions
What inspired you to do this?
The need to meet more Latin American artists who make and use Circuit Bending in their compositions. Once located, to be able to disseminate their works through an audiovisual sound map, with images of their works, compositions and in some cases, videos of the performance.
How long did it take to make it?
The call was made through the different social networks from July 24 to September 7, 2020.
The final work premiered on December 11, 2020 via YouTube.
How long have you been doing things like this?
This is my first time!
How much did this cost to do?
All the work was self-managed, so the costs of graphic design, editing and mastering were on my own, without any sponsor or institution involved.
Have you done other things like this?
I made my first solo album under the name of Law Cant, where I use devices modified by Circuit Bending in my compositions and performances.
What did you wish you knew before you started this?
Nothing haha!
It was an enriching experience in all aspects and during the realization I developed a lot of knowledge for future editions.
Are there plans available to make this? Do you sell this?
The album is available on Bandcamp with the "Name Your Price" option so that people who have liked and interested it can make the monetary contribution they consider appropriate from their hearts.
What's next?
Continue with the promotion of this first edition so that more people know the works and the great variety of artists of Circuit Bending that exist in Latin America. The call for new editions of this work is also open, both at a Latin American and international level, so if you are interested, please contact me!
Resoures?
MONETARIES: At the moment I'm still my biggest monetary investor, allocating part of my salary for this project, but little by little more people are collaborating with their money through the purchase of this album in Bandcamp, through PayPal and bank transfer donations.

SOCIAL MEDIA: Facebook's groups about Circuit Bending, Experimental Sound Art, Crap Keys and others. Through Instagram, I also had the opportunity to get in touch with more sound artists from different parts of Latin America and the world.

SPIRITUALS: All the good wishes, warm words, and interesting talks/chats are a great resource for me. Events like this one allow us to know that we aren't alone in this creative crusade, and for me it's important to be able to participate by contributing this work and promoting the festival itself.

Thank you very much for taking the time to read this and enjoy the Maker Music Festival 2021!
Laureano Cantarutti : Composer, author, performer, maker, multi-instrumentalist and music producer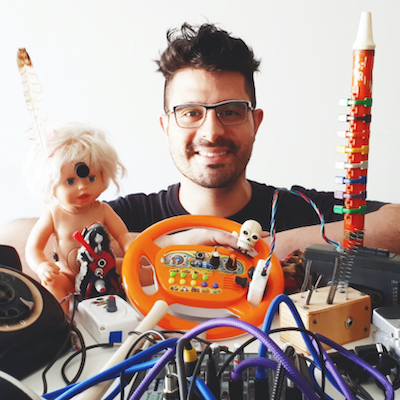 Laureano Cantarutti a.k.a. Law Cant is a composer, author, performer, multi-instrumentalist and music producer from Córdoba, Argentina. Since 1994 I'm in continuous education and research. I had knowledge of music theory, musical grammar, harmony, classical guitar playing with extended technique, Middle Eastern percussion, Throat Singing (harmonic singing), audio recording, musical composition and creation of lyrics, learned in differents institutions, such as: National University of Córdoba, cultural centers, conservatories and self-taught.

My solo project stands out for the mixture of conventional instruments and those created by me using the Circuit Bending technique.

In 2020 I compiled and curated the first "Latin American Sound Map of Circuit Bending", and audiovisual work that includes the participation of 32 artists from 11 countries of Latin America and 1 special guest from Canary Islands. It also includes research works about Circuit Bending for free download, special mentions and the participation of Reed Ghazala who had the opportunity to access to all the material before the publication; also he shared a message to all the artists.

Click the CONNECT tab for links to my solo project, circuit bending works and the Latin American Sound Map of Circuit Bending .

I've participated in different festivals, projects and compilations.
Connect with Laureano Cantarutti
How I can help you:
I offer the possibility of promoting the works and musical productions of artists who use DIY and modified by Circuit Bending devices in their compositions.
How you can help me:
You can visit the audiovisual version on YouTube to like, subscribe and leave a comment about what you think of the work, download the album on Bandcamp for free or making the contribution that you consider and, above all, spread the work of the artists who have touched your heart.
If you like this project, please make a small donation to the artist.