Maker Music Festival
The Maker Music Festival celebrates the makers of innovative, experimental and just plain unusual musical instruments.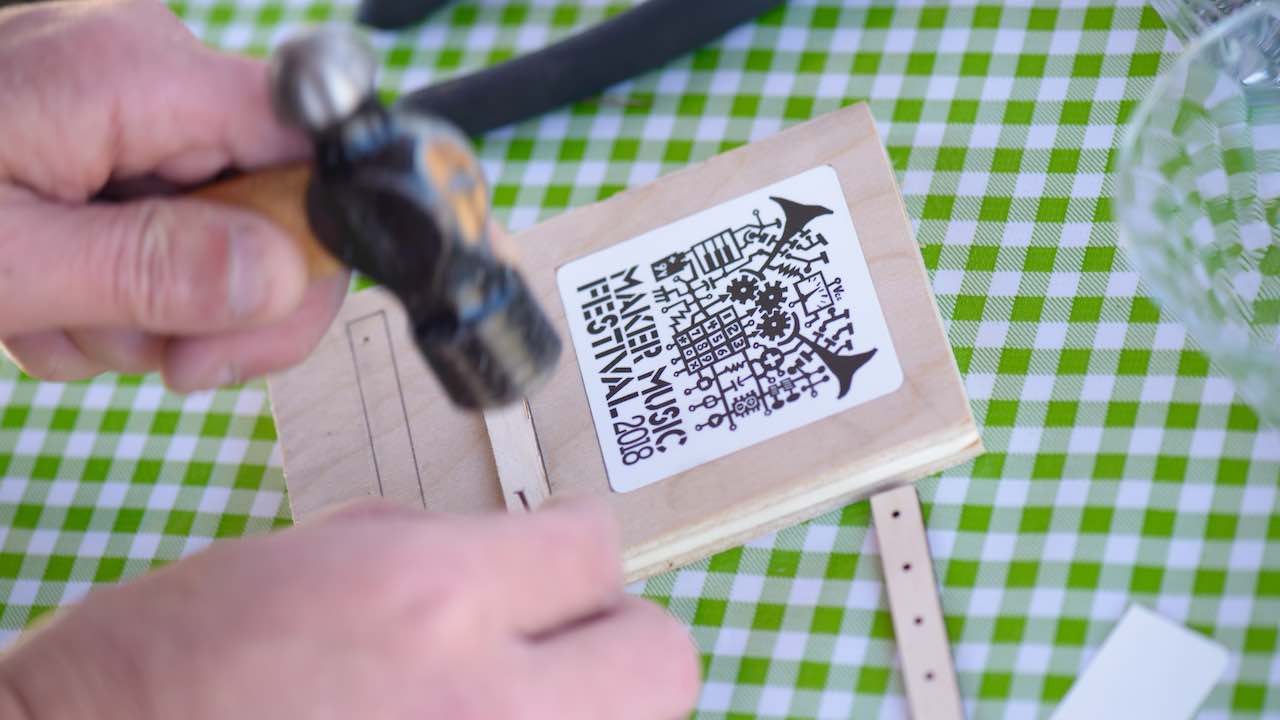 What is a music maker? Needless to say, there are many types of projects that fit into the mold. The fundamental music maker has crafted their own unique musical instrument. It may be made from traditional materials, scrap materials, modified electronics, altered playback devices, electromechanics, or an AI driven robot. The works also include non-physical works like algorithmic music and interactive applications.
For a visitor to the site, the experience is akin to a real world 'open studios' tour. They can navigate from building to building and 'visit' the inhabitants therein. Each maker has provided video, images and text that describes themselves and their work. There are also links to social media, additional videos and maker websites. Visitors can also 'tip' a maker via the maker's chosen payment method.
The campus of buildings metaphor has allowed collectives and other groups to 'own' their own buildings. Groups such as Hackoustic (London), MakeMe (France) and Center for New Music (San Francisco) will occupy entire buildings.
The website will continue to collect projects from makers around the world. It will serve as a hub for this community. As the site grows, there will be continuing live events and other activities.
Our heartfelt thanks goes out to our maker community and to our "Friends of Maker Music Festival" who have supported and encouraged us to make this a reality. And we did it, together! It was a dream that was shared with the Maker community on February 7th, 2021 and 100 days later, as a community, we made this happen.
Side story
In 2018 the first Maker Music Festival took place in Sebastopol, California. It showcased the projects and talents of a select group of music makers from the San Francisco Bay area. The event had exhibit booths, live performances, demonstrations and hands-on activities. It was produced as a fundraiser for our local maker space, Chimera Arts.
Frequently Asked Questions
What inspired you to do this?
I'm a musician, maker, programmer and experimental music fan. I've exhibited at many Maker Faires and always thought that it would be cool to have an event just devoted to music makers.
How long did it take to make it?
The coding for the site took about 6 months.
How long have you been doing things like this?
I've been a software developer for longer that I'd like to think.
How much did this cost to do?
A lot of time. Of course, there are website hosting fees and a bit a software I had to buy.
Have you done other things like this?
Yes. I created the online experience Decameron Row as well as a virtual opera festival, Modulation 2021.
What did you wish you knew before you started this?
How popular it would be. I figured we'd have to scramble to pull together about 100 projects for our initial launch. About 250 projects were completed from around 300 submitted.
What's next?
Improving and augmenting the experience. We are also going to keep the live performances going. Who knows where it will eventually go? Not me. But I got ideas. Oh, and it would be great to have real life events!
Sherry Huss and Joe Szuecs : Creators of MMF
Joe Szuecs, software developer, maker and musician, built the frameworks for a couple of virtual experiences. Decameron Row is a collection of videos created by noted artists, writers, musicians, and dancers. The videos are presented as views into apartments in a row of buildings. The design represents the confinement to home that we are all experiencing now. Modulation, part of the Prototype festival is a virtual opera festival.

Sherry Huss, co-founder of Maker Faire, is working with Freeman Events to help them map the future of the event business.

Taking what they've learned, they decided to produce a virtual version of the Maker Music Festival. Expanding on the Decameron Row experience, Joe has created a campus of buildings that house the work of makers from around the world. The goal is to emulate the live experience as closely as possible.
Connect with Sherry Huss and Joe Szuecs
How I can help you:
We provide a platform for you to share your work with people interested in creative instrument making.
How you can help me:
Submit your project to be part of our community of makers, join our Discord channel, follow us on social media and, of course, Throw some love our way via our Patreon account.
Thank you for visiting!