Kokon Dansetsu Ma
Kokon Dansetsy Ma #2 is a live performance with a kinetic installation using handmade instruments which are controlled by motors and are designed following traditional Japanese aesthetics. This particular version of the performance was based on The Japanese concept of sawari (the beauty of imperfection) and it is focused on generative algorithms and live improvisation.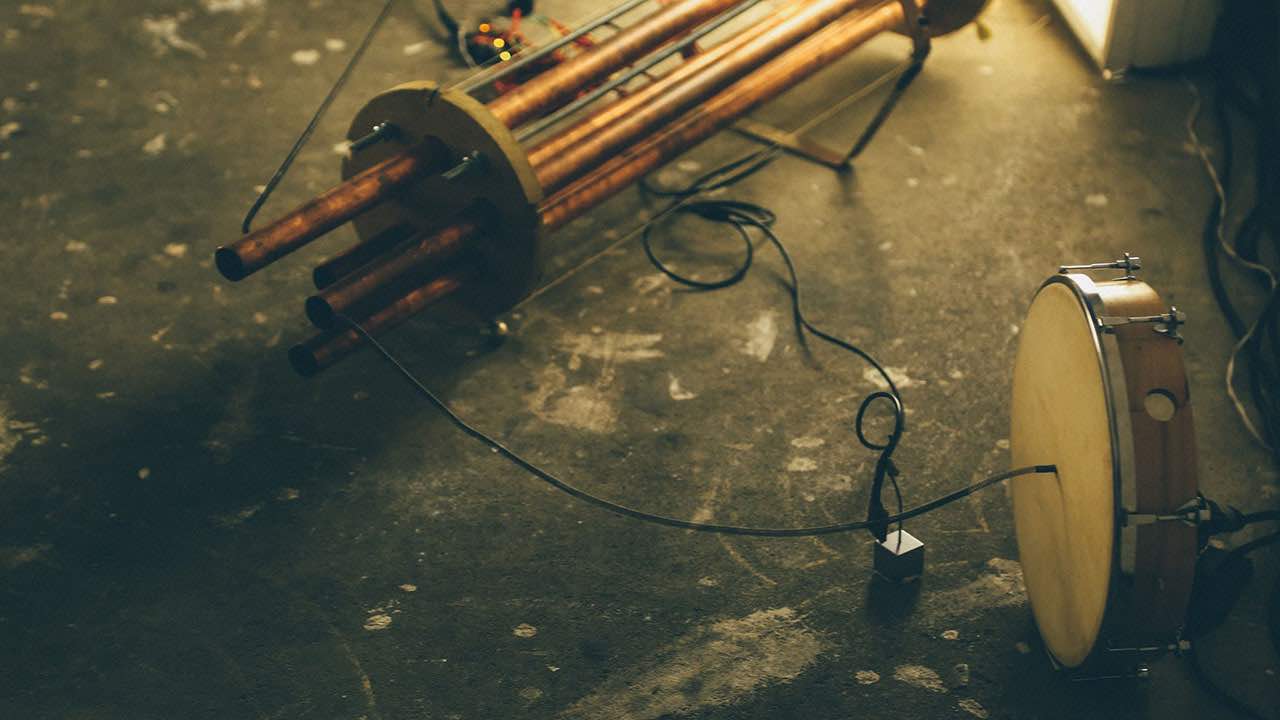 Process of making Kokon Dansetsu ma can be divided into three parts. The first one is about designing new instruments and exploring their individual possibilities in terms of sound. The main inspirations for this part are Terek Atoui's installation The Reverse Collection and Gorkem Sen Yaybahar. The design of the first instrument is a combination of a traditional Japanese three-stringed lute shamisen and a cello. The body of this instrument has two resonant holes instead of one, and goatskin stretched on top of it, so it can also be used as a percussion instrument. Sound-wise, it resembles a cello, since three (C; G;D) cello strings are used, and the sound has a middle eastern flavour to it as well. The second instrument is an interpretation of Terek Atoui's Pipe Koto which has had a high influence on this idea. Koto is one of the most popular Japanese string instruments and for this project, a modern version of this instrument is being built by using copper pipes as resonant bodies for each string (it has 5 strings in total). Two of those copper pipes are attached to the tum and frame drums via springs. The percussion section is added for creating a more interesting composition and range of sounds; three different size singing bowls and a handmade aluminum gong (75 cm diameter) are used. These instruments are atmospheric and they are not amplified, since both, gong and singing bowls, have a long-lasting and pervasive sound. The second stage of this project is about connecting all of these instruments to the sound installation. The main influences for this part are Chico Macmurtrie installation Robotic Church. Kokon Dansestsu Ma installation includes one step, twelve vibration motors connected to five different arduino's. Each Arduino is controlled by RTC (real-time clock) module. This entire mechanism is based on alarm clocks, and motors are triggered by a set time. All of the five arduinos are divided within instruments. For Pipe Koto two arduinos are being used. One of them has four vibration motors (two of them are connected to strings and the other two are connected to tum and frame drums). The second Arduino for Pipe Koto has one vibration motor that triggers copper pipe. Cello and shamisen hybrid has one smaller Arduino circuit with two vibration motors. Additionally, there is a ping-pong ball machine next to it which is programmed to automatically release ping-pong balls on the percussive part of the shamisen-cello instrument. This machine has a one stepper motor which is also controlled by a set time. The final two arduinos are used to control the percussion section. One of them has three vibration motors which are triggering three different size singing bowls. The final circuit has two vibration motors, both of which are connected to the gong. The third and the last stage is, by using this kinetic installation as a one, unified instrument to compose a generative piece that is up to eight minutes in length. This composition is based on ma philosophy, Japanese aesthetic categories like mono no aware, yugen, wabi-sabi and sawari, the contrast between the sound and silence, and exploring the differences between the Japanese and the Western approach to music. The main influences for this compositional part come from the works of Toru Takemitsu, Midori Takada, Ryuichi Sakamoto, Gaspar Claus, and Toshiro Mayuzumi. These artists were composing their pieces by following the aesthetics and traditions of the Japanese sound culture. Overall, the main outcome of the Kokon Dansetsu Ma project is to question tradition by trying to combine the past and the present/modernity and traditional elements together and discover differences between the Western and the Eastern approach to music.
This footage is of the second version of Kokon Dansetsu Ma - as a live improvisation between human and machine that was performed and filmed at Modular+ Gallery, Berlin, 2017.
Guoda Dirzyte : Maker and Composer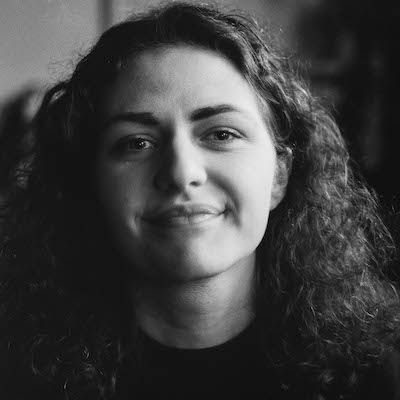 Heya,

I am a composer, instrument maker, and sound nerd based in Glasgow, Scotland. I am making experimental music instruments since I was 14 (so over a decade now) and my love for instrument building over the years has grown into a love for music composition and audio engineering. The main influences behind my experimentations/creations are from ancient Asian and African instruments as well as modern makers such as Simonas Nekrosius, Johannes Bergman, Yuri Landman, and Tom Fox.
Connect with Guoda Dirzyte
How I can help you:
I'm a composer, sound designer, and experimental musical instrument creator. My work focuses on sonic exploration via a combination of music creation and self-created musical interfaces and robotics.
I'm looking for sound composition, sound design, and other audio-visual project opportunities within the filmmaking and animation industries. I'm also interested in developing new musical and audio interfaces, both digital and analog such as midi controllers, VST plugins, drum machines, and microphones.