Fi's Farewell - a Minecraft musical project
A Minecraft arrangement of music from Legend of Zelda, Skyward Sword.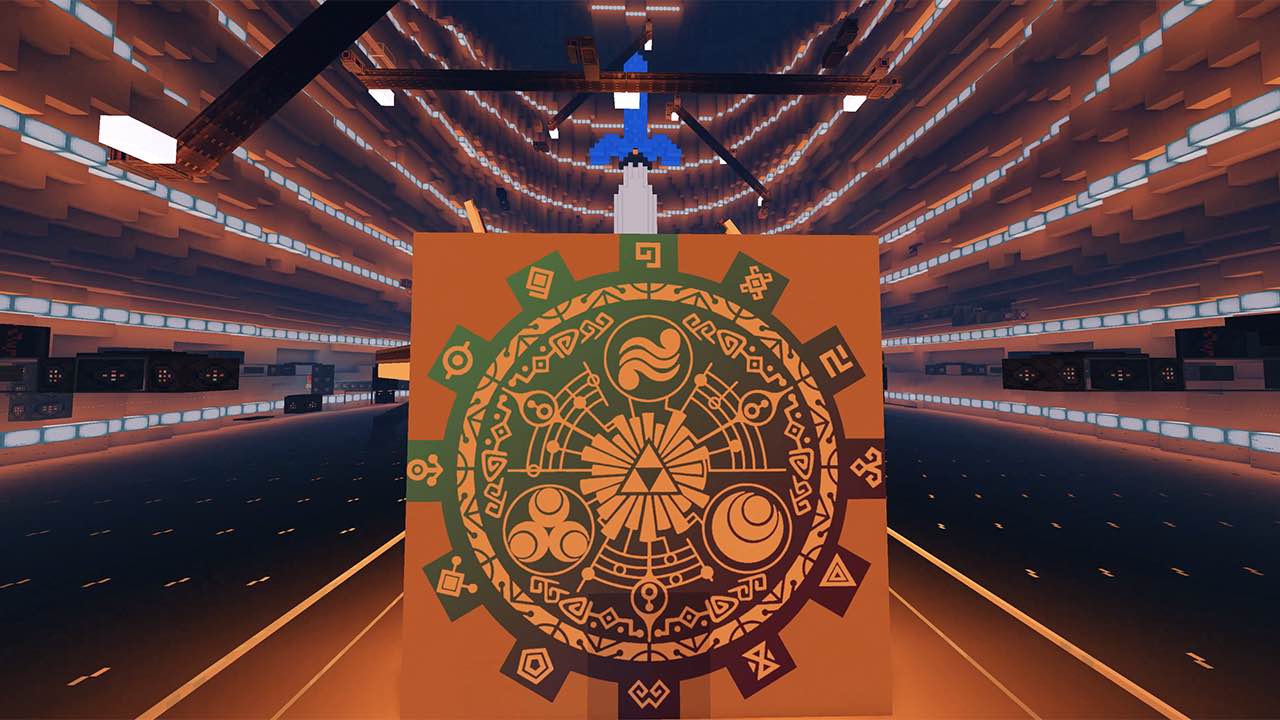 music by Takeshi Hama
"In Skyward Sword (Legend of Zelda), Link defeats Demise, solidifying his role as Hero of Legend. Fi, the spirit embodiment of the Goddess Sword, considers her purpose complete and asks Link to return the sword to the pedestal. Upon the sword's return, Link's and Fi's relationship as master and servant is concluded. This performance uses a Forge 1.16.5 Minecraft Server with the Create Mod. Resource packs include: aj-less-painful-glowstone, Everything Glows 1.16, SKYSWORD, zelda-resources-reworked, Clear+Glass+Pack+1.16, and Ramon's SkywardSword. The pitched music was created in Ableton Live with Max for Live and Native Instruments Guitar Rig. The drums were created in Vital and sampling techniques (Harry Avery).
Ramon Castillo - musical arrangement, Minecraft build; Tess McCumber - Master Sword build; Harrison Avery - drum sound design and sequencing"
Curator note
Maker Park Radio is a volunteer-run, non-profit community internet radio broadcasting from Staten Island, NYC. MakerParkRadio.nyc is dedicated to providing free music and live arts programming 24 hours a day. They reached out to a few of our MMF makers and engaged in conversation around the maker, their project, their inspirations and more.
DJ Jim Murphy (@onetimeforyourmindradio) Meets the Maker Ramon Castillo (@autumnateeverything) - recorded live Monday, May 16th, at 11:00am ET - check out the INTERVIEW.
https://livestream.com/makerparkradio/makerparkradio/videos/231157490
Harry Avery (DJ Hello) : composer
Harry is a Composition for New Media (2022) major at UMass Lowell.
Ramon Castillo : maker, composer, Minecraft world builder, programmer, visual designer, arranger
Ramon Castillo, DMA, is an Associate Teaching Professor of Music at UMass Lowell.
He teaches a number of technology courses including Music and Sound for Games, Digital Synthesis and Remixing, Survey of Music Technology, and Computers in Music Business.
For the Composition for New Media program, he teachers Contemporary Styles and Analysis, Sound Narrative, and Applied Composition.
He directs the Contemporary Electronic Ensemble and founded the upcoming Video Game Ensemble (to debut Fall 2022).

His creative output combines Minecraft, Ableton Live, guitar, live looping, signal processing, and sound reactive visuals - prepared specifically for expressive live performance.
Many performances feature highly automated looping made possible by an extensive array of programming. The system, built in Ableton Live, Max for Live, and Clyphx Pro can create layers and effects that a standard looping environment can't.
The concepts and techniques were born from a series of experiments in 2011.
His compositional and creative career relies on Ableton Live, Max, and arrays of hardware. Ramon has developed many live performance techniques involving custom software interfaces, DIY hardware, and high levels of automation including asymmetric loop triggers and audio quantization.
Connect with Harry Avery (DJ Hello)
How I can help you:
We can entertain you with thought-provoking concert programming. Contact us if you want to discuss collaborations between September and May.
How you can help me:
Check out our department media at
youtube.umlmusic.com
Instagram:
@cee.at.uml
@umlmusic