Escalation Horns
What does it take to make a new brass band during a pandemic? Hear from the team behind Escalation Horns to find out.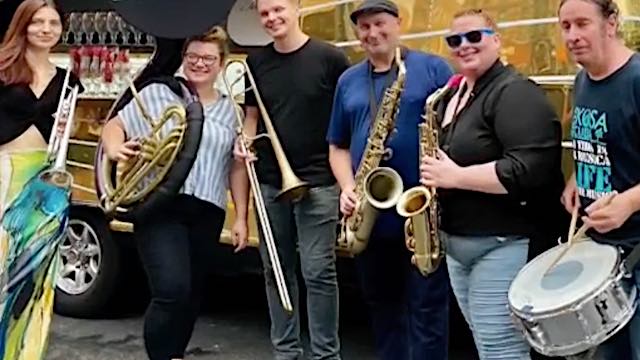 Come see Escalation Horns on Saturday at HONK NYC!
Escalation Horns : A New York City Brass Band
Escalation Horns is a New York City based, 6-Piece brass band blending the sounds of soul, blues, funk, jazz, and New Orleans. Our repertoire includes original music as well as songs from Stevie Wonder, James, Brown, The Fugees, Rebirth Brass Band, Preservation Hall Jazz Band, and more. We are available to perform at private events, festivals, and you will also catch us busking on the streets of New York City. (Contact us at
escalationhorns@gmail.com
about booking us for events).
The group was founded in 2019 by Craig McGorry and Steve Moskowitz. During the 2020 Pandemic, the group went into hiatus, when NYC became the epicenter of the Covid-19 virus and shut down. We made a brief return in November 2020 for a "Get Out The Vote" Election Day event and then fully reformed around the Spring of 2021, when, with most performing venues still closed, we began busking regularly around NYC.
The instrumentation of our group includes tenor saxophone, alto saxophone, trumpet, trombone, tuba, and drums. But, we also love to collaborate with vocalists and other instruments, including bass, guitar, and keyboard.
Escalation Horns takes the music to the next level!
Connect with Escalation Horns
If you like this project, please make a small donation to the artist.