Ecosonic Playground Project
The EcoSonic Playground Project centers around children designing and building large-scale musical instruments using recycled materials found in their local communities and PVC pipe. Children follow a standards-based design curriculum that guides the making process while allowing them to practice social-cognitive and interdisciplinary skills.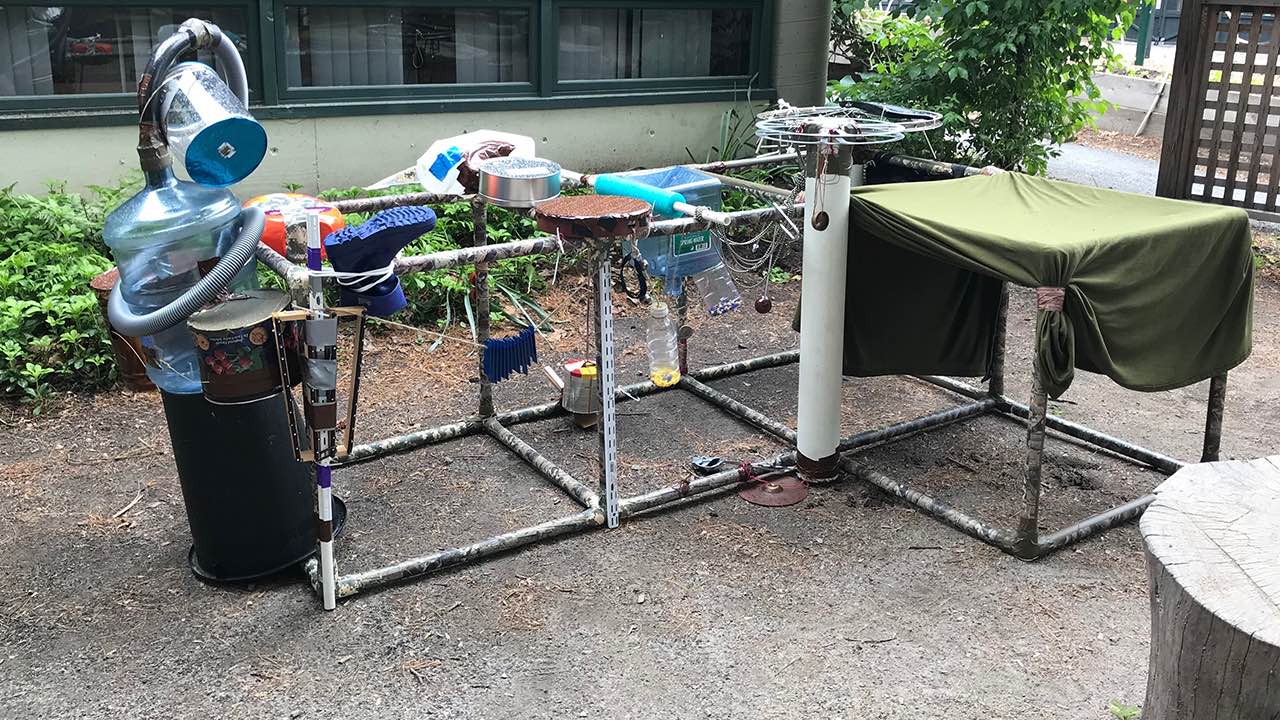 Three pressing issues facing the global learning community are equal access to arts education, adequate support for music and STEM education, and the fostering of sustainable practices. The EcoSonic Playground Project is a creative, interdisciplinary project that aims to address these challenges. It centers around children designing and building large-scale musical instrument structures using recycled materials found in their local communities. Children follow a four-part curriculum that guides the making process while allowing them to practice social-cognitive skills. This standards-based curriculum includes music, visual arts, physics and acoustics, design thinking, engineering and architecture, and sustainability. The curricula and structural materials are made freely available to underserved communities through grant funding.
Since 2016, the ESPP program has been implemented 17 times in the US, Canada, and Ireland. The EcoSonic team and our program partners have collected and used a wide variety of materials including technological waste (e.g., computer tower covers, computer cord, keyboards, etc.), plastics (e.g., PVC pipe, large water containers and barrels, dryer vent tubes, telephone cords, etc.), and metals (e.g., pots and pans; clean propane tanks, bicycle wheels, cans, wire, etc.). Though most EcoSonic instruments are portable, indoor structures, they can also take the form of permanent outdoor play installations. The outdoor installations have the potential not only to transform and revitalize neglected spaces, but also encourage community interaction through musical play.
The EcoSonic Playground Project will help teachers develop in their students a rich variety of skills and aptitudes to facilitate their growth as creative, collaborative, culturally aware and socially responsible individuals. The project can lead to positive learning outcomes in the areas of general musicianship skills, improvisation, collaborative music making, and STEM education, as well as foster creativity, ecological awareness and community music making. Lastly, it offers a low-cost learning platform that helps educators achieve these objectives using recycled materials and resources already at their disposal.
The project currently has branches in:
United States: Massachusetts: Lowell, Newton, Cambridge, Dorchester, Mattapan
Upcoming: Lincoln and Boston Other: Seattle, WA; Richmond, VA
International: Exshaw and Banff, British Columbia Dublin, Ireland
Elissa Johnson Green and Christopher Lee : Elissa is the Ecosonic Playground Project (ESPP project lead and lead investigator). Christopher is an ESPP partner.
Elissa Johnson-Green is Associate Professor of Music and Coordinator of the Program in Music Education at University of Massachusetts Lowell. She is a scholar of music and its function in human development. She explores and analyzes children's musical interactions from social, emotional, and cognitive perspectives through the following research: The EcoSonic Playground Project, a music-focused, STEM+Design+sustainability program for children in underserved communities; children's composition in the music classroom; the ecology of community music ensembles; and music's function in families raising young children. She has received several grants and fellowships for her work on the EcoSonic Playground Project, which has been implemented with diverse groups of children in the US, Canada, and Ireland. In addition, she has presented her work at national and international conferences and has published on all her areas of interest.

Christopher Lee, D.M.A. is an Assistant Teaching Professor of Music at UMass Lowell. He received degrees from Indiana University and Rice University, and his compositions have been performed internationally by ensembles including the Cleveland Chamber Symphony, the California EAR Unit, Speculum Musicae, the Woodlands Symphony Orchestra, the Rapides Symphony Orchestra, the Rice University Shepherd School of Music Symphony Orchestra, the Omaha Chamber Music Society / Analog Arts Ensemble, SoundProof, flutist Peter Sheridan, the Greater Cleveland Flute Society, FiveOne Experimental Orchestra, the 20/21 Ensemble, VOX, the Kuttner and Enso Quartets, the Cleveland Youth Wind Symphony, the wind ensembles of Baldwin-Wallace College, Ohio University, the University of Alaska, Illinois State University and Texas A&M University, and at the MusicX, IDEAS Digital Arts and LATEX Electroacoustic festivals.
Connect with Elissa Johnson Green and Christopher Lee
How I can help you:
For more information and to contact us about bringing the ESPP to your students please see our website:
https://sites.uml.edu/ecosonic_project/
. We would love to hear from you!