Eclipse
Sound art performance using hand-made instruments on the floor of Canessa gallery inspired by the solar eclipse of 2017.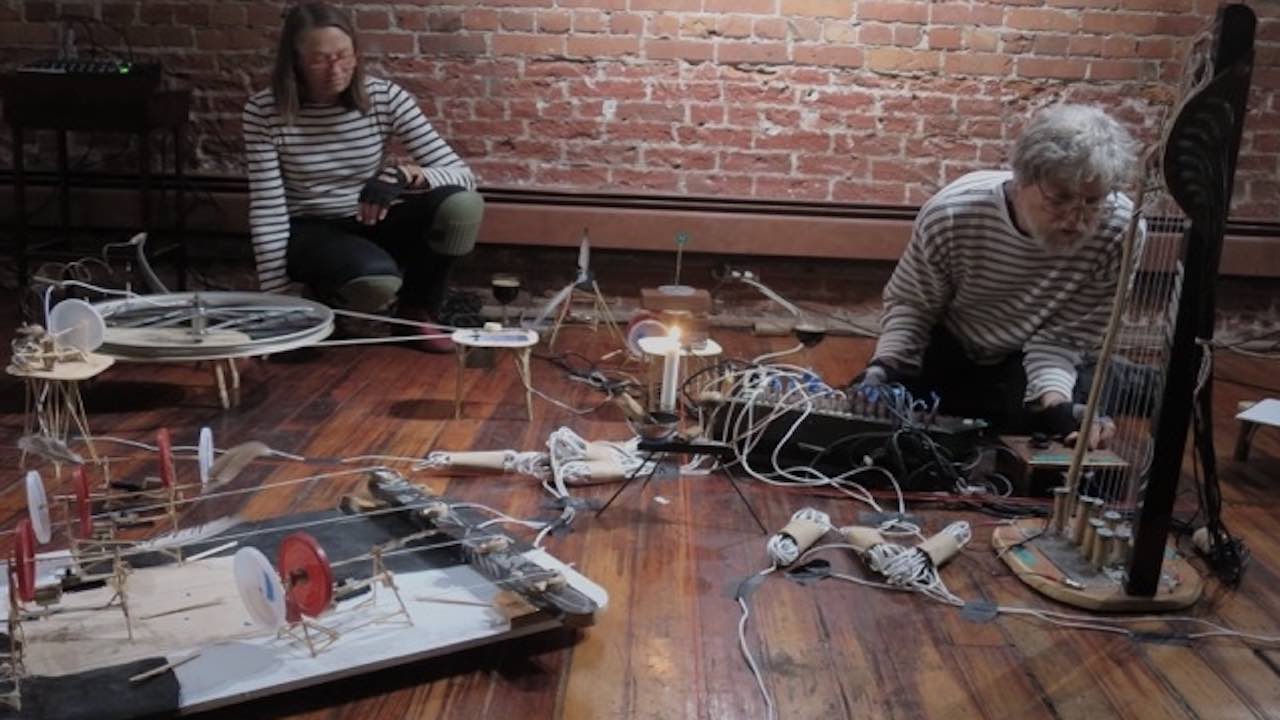 "Eclipse" was a sound art performance by Bodil and Larnie Fox at Canessa Gallery, San Francisco, in 2018. The sound was generated by hand-made instruments created by Larnie and Bodil using contact microphones which were channeled through a mixing board. No other electronic effects were used. Components of the instruments included recycled plastic lids, battery-powered electric motors, bamboo, springs, feathers, long nylon strings stretched between bricks and a bicycle wheel.
The instruments were arranged on the floor of the gallery, and Bodil and Larnie performed wearing knee protectors and gloves.
The piece was inspired by the strong emotional effects they experienced watching the solar eclipse of August 21, 2017.
Please listen with headphones if possible.
Side story
We've done a lot of work along these lines, first with the Crank Ensemble, [https://crankensemble.com],then with the Contraption Quartet [http://www.contraptionquartet.com]. After we did this piece (See the full piece here: [https://youtu.be/F5vvYzZJ9vQ]), we decided that we wanted to do the same sort of thing, but on walls instead of on the floor. We were lucky enough to get a show, "Probability", at Pro Arts Gallery, Oakland CA, and had done maybe 95% of the work for it ~ then the pandemic hit, so ~ no show. Dang. Instead we organized a mask-making project in Benicia which made over 15,000 gorgeous hand-sewn masks for nurses, other medical personnel and their patients, then for farmworkers, hard-hit Native American groups, and organizations helping the homeless.
Frequently Asked Questions
What inspired you to do this?
We had been working with using strings and long strings in new ways for several years ~ but we wanted a chance to sum up what we had learned and work together to make a long, coherent piece
How long did it take to make it?
Twenty minutes, several months, or twenty years, depending on how you look at it.
How long have you been doing things like this?
We have been working together on performance with invented instruments since 2005.
How much did this cost to do?
Not much.
Have you done other things like this?
Yes, many.
What did you wish you knew before you started this?
To wear knee pads when performing on the floor.
Are there plans available to make this? Do you sell this?
No plans! We are available for performances.
What's next?
Socially distanced outdoor solar-powered long string pieces ~ hopefully in beautiful places.
Resoures?
It's all based on piezo contact microphones. Here is how to make them: https://youtu.be/BihHJMKgkDo
Bodil & Larnie Fox : Instrument Makers, Composers & Performers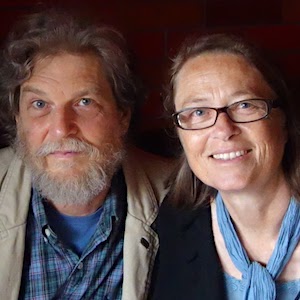 BIO ~ Larnie & Bodil Fox
Larnie Fox resume:
www.infoflow.com/larnie/resume.html
Bodil Fox resume:
www.bodilfox.com/about.html
Bodil and Larnie Fox are visual artists who work together on sound art and installations. Collaborations include dicewalks, performances as a duo and also with Contraption Quartet and the 14 member Crank Ensemble. Among other things, they created Birdhouse, a kinetic and olfactory installation for Vallejo's Visions of the Wild festival; made Clepsydra, a sound and water installation at the Benicia Historical Museum; built and "flew" a 23-foot bamboo and muslin airplane/kite for Burning Man; made a giant kinetic dragonfly for the DuPage Museum near Chicago; designed and built the sets for Theatre of Yugen's Cycle Plays at Theatre Artaud in San Francisco. They were awarded a three-month joint residency at the Montalvo Art Center in 2016. During the early months of the 2020 pandemic, under Bodil's leadership they worked to build and manage the "Benicia Mask Makers" who made and distributed over 15,000 hand-sewn masks first to health care professionals, then to farm workers, homeless people, Native groups and others.
Bodil Fox holds an MFA and BA in Art with an emphasis on textiles from San Francisco State University, an AA in Visual Communication from Shoreline Community College in Seattle and has studied at Engelsholm Textile Højskole College, Vejle, Denmark. She works with unusual materials such as concrete, wire, fortune cookie notes, sewing threads, pleated paper, and enjoys making "fake instruments". Bodil is especially interested in counting and how to count/express time visually and in performance. She has shown her work at numerous Bay Area locations including Thoreau Center Art Gallery, California Crafts Museum, Arts Benicia, Sebastopol Center for the Arts, Art Rise Gallery, Vorpal Gallery, Sanchez Art Center, Bridge ARTSpace, and SFSU Art Gallery.
Larnie Fox is known for monumental bamboo sculpture, kinetic sculpture, sound installations, performance, and painting. His work has been shown in numerous exhibitions locally and nationally including one-person exhibitions in San Francisco at the Lab, the Randall Museum, and the Center for New Music, and also at the Richmond Art Center. He founded the Crank Ensemble who performed on his invented hand-cranked instruments, and currently is inventing instruments, composing and performing with the new-music group the Contraption Quartet. He holds an MFA in Painting from the University of Utah and is the former Director of the Children's Fine Art Program at the Palo Alto Art Center and former Executive Director of Arts Benicia, a regional art center.
Bodil and Larnie live and work together in an old house near the water in Benicia, California
Connect with Bodil & Larnie Fox
How you can help me:
Book us for shows abroad!