Cyber-Totemic Objects and Sonic Mediators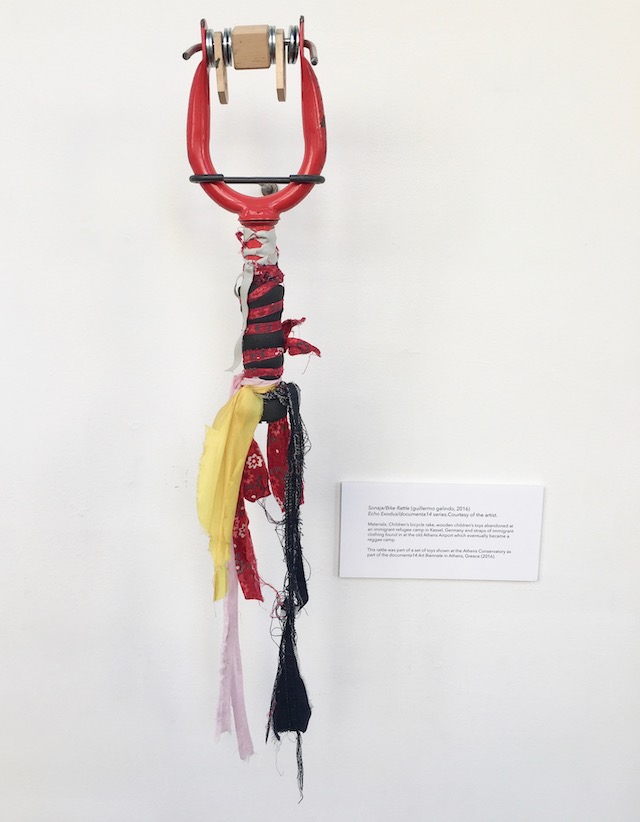 Around 2005 after I finished my orchestral work Trade Routes commissioned and premiered by the Oakland Symphony orchestra I started reimagining concepts behind the late 20th century music of composers such as John Cage, Cornelius Cardew, and Karlheinz Stockhausen as well as being inspired by artists Tarsila do Amaral, Enrique Chagoya and Alejandro Jodorowsky, I was looking for a way to create a musical counterpart to the colonialist hegemonic and rationalist Western art aesthetics prevalent in art and within contemporary music composition. Incorporating my knowledge of pre-Colombian and non-Western ritualistic practices, I could approach performance in a horizontal manner, as opposed to the the traditional top to bottom approach. I could change the experience between the audience and the musician(s) to become less passive and more participative.
From these experiences, I began to create sonic devices out of daily life objects. I found that each and every object has a particular sound reflective of its shape and materiality. Every object also holds a symbolic meaning and belongs to a specific context. Personal objects are connected to us and sour journey through life. Every form has an association and ecosystem that departs from their shape, material, origin and meaning. By identifying with pre-Colombian healing practices, I see my sonic objects as connectors, healers, reminders and mediators between worlds and realities.
Every sonic device speaks with a different voice when activated. My intention with the objects carries a physical force that when applied to it becomes part of a sonic vocabulary. The music depends upon the characteristics of the object and the material used to activate it. I consider each instrument a powerful vehicle to heal and address imperative spiritual, political and social justice issues. – Guillermo Galindo (2019)
Guillermo Galindo : Composer, sound/visual artist, and performer
Galindo's broad interpretation of compositional concepts such as musical form, time perception, music notation, sonic archetypes and his use of non conventional sonic devices span through a wide spectrum of artistic works involving symphonic works, performance art, computer interaction, electro-acoustic music, opera, film, instrument building, installation and live improvisation. His acoustic compositions include two symphonies commissioned by the Mexico University Symphony Orchestra (UNAM), the Oakland Symphony Orchestra and Choir, and two operas.
In 2018, Galindo's interactive string quartet commissioned by the Kronos Quartet as part of the Fifty for the Future project, was premiered at the San Francisco Jazz Festival. In 2016 Border Cantos, Galindo's collaboration with photographer Richard Misrach addressing immigration issues through photography and sound culminated with an award winning book published by Aperture Foundation and several traveling exhibits from 2016 until 2021. Guillermo Galindo's sonic devices and installations have been shown at the Phillips Collection DC (2019), Crystal Bridges Museum, Arkansas (2017) and ocumenta14 art biennale in Athens, Greece and Kassel, Germany (2017) , Pace Gallery in New York (2017) and will be shown at the ICA Boston (2019), and the Missoula Art Museum in Montana (2019). Cantor Museum in Stanford (2020).
Galindo has also performed at the CTM festival in Berlin, the Schirn Museum in Frankfurt and the Havana Art biennale. His work has appeared in NPR All things Considered, CIty Arts and Letures, CNN, NBC and the New York Times. Guillermo Galindo's sonic piece Fountain of Tears/Fuente de Lagrimas will be eshown at the New York High Line from 2020-2021.