Composing [De]Composition
Composing [De]Composition is a sonically-oriented BioArt research project that uses home compost as a rich site for creative exploration and sonic expression.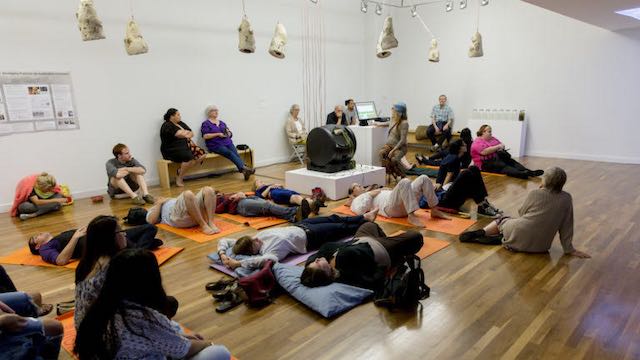 This perceivably silent physical/biochemical activity is brought into the tangible range of human hearing via data sonification—the use of non-speech audio to convey information or perceptualize data. In this work, J no.e Parker parameter maps home compost temperature datasets collected by her in various parts of the world to sonic frequency and MIDI note numbers. This allows the changes in the compost's heat over time to be the source of a range of sonic experiences.
DR. J. NO.E PARKER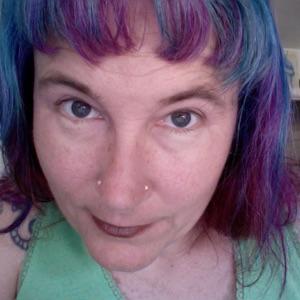 A doctor of Digital Music Composition, Parker is a pioneer female Dj and live electronic musician, co-founding the San Francisco Bay Area's SPaZ electronic music collective (1992), and the  Autonomous Mutant Festival (1996), publishing her music and mixes as saKAna, Dj sunflowrfish, and as part of the electronic music duos GrooveStation, Psychotropic Playground, Planet Six and Actsyllabod.
Parker earned her B.S. in Textiles and Apparel Design from Cornell University, and an M.F.A. in Digital Art/New Media at University of California, Santa Cruz. While at UCSC, no.e developed Gamelan Plesetan, a live non-idiomatic improvisation project incorporating live electronic musicians, traditionally-trained gamelan musicians, motion capture video, and gamelan-controlled video programmed with Max/MSP/Jitter.

Parker received a Darmasiswa grant from the Indonesian Government to study Javanese/Balinese gamelan and Sundanese drumming at the Indonesian National Conservatory of Art in Yogyakarta, Java. no.e's work has been exhibited, presented, performed and screened at the Qianyang Bamboo Museum (Fujian, China), the National Museum of Brazil, the National Library of Latvia, University of California Riverside's Culver Arts Center, the DNA Lounge (San Francisco, USA), Bledog Art Space (Ubud, Bali) and the San Jose Institute for Contemporary Art (USA).

no.e has participated in art, video and sound festivals such as Soundgate: Sound Art Festival (Danish Museum of Modern Art, Alaborg, DN), the Surabaya Biennale Video Festival (Java, IND), Yogyakarta International Media Art Festival (Java, IND), Ubud Earth Day Festival (Bali, IND), and the Ubud Readers & Writers Festival (Bali, IND).

Parker has also received commissions to create and perform live electronic music for performance artists Beth Stephens and Annie Sprinkle's Love Art Lab, as well as choreographers Crystal Sepulveda (Riverside, CA), Wendy Rogers (Berkeley, CA), Zubin Mohamad (Kuala Lumpur, Malaysia), and Rehane Abrahams (Capetown, South Africa). Other commissions include visual and sound environments for Theater Firefly (Bali, IND), and sculptor Keiji Ujiie  (Japan/Bali). See her dance related page for further information and soundbites.