Company Nomad Men: La Batt Mobile
A unique concept: two drummers play on the same drum set welded on a stylized tricycle designed and manufactured entirely in our workshop. Be careful, it turns ;)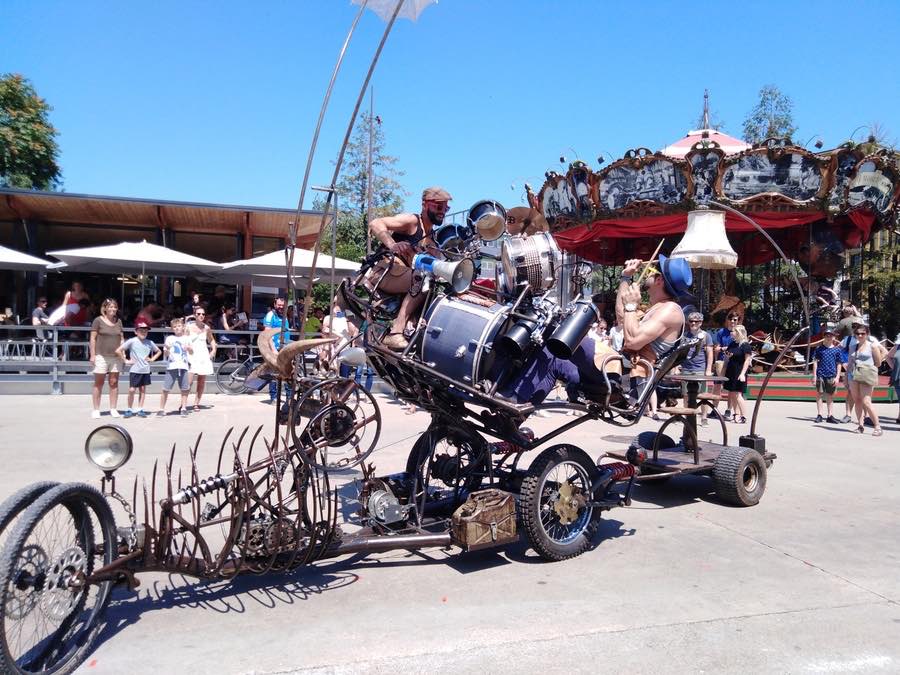 With a few strokes of the crank, the drum module rises in the air at 45°, the two musicians playing face to face with unbridled energy, end up pulling the pin out of the module and then the drums start to turn faster and faster.
All we wish for is to share our passion of rhythm and metallic construction with the world, to show that if you put your heart into something, anything is possible.
The Nomad Men and their Batt Mobile mix visual and musical wonder to the delight of the public eager of novelties.
We want people to enjoy themselves, we want to surprise them, see them smile and dance, we want our music to trigger emotions in them. Our music is constantly evolving and our drums are tuned with love.
Music is a universal language to which there are no boundaries; people understand each others and communicate through their body rhythm and mind escape.
Our show is based on improvisation and interaction with the public! We are connected to each others when we play, whether it is percussive or catchy rhythms, at an energic or sustained pace, diversified styles with a strong focus on the street show performance to the way we play music.
The NOMAD MEN
Side story
We were in the train between Marseille and Paris when we drew this machine, a piece of paper and two pens then we could already project ourselves with La Batt Mobile ;) This drawing is online on our website Nomadmen.fr .
It's a challenge that we threw ourselves to make it, saying "come on, let's go ...."
Frequently Asked Questions
What inspired you to do this?
This machine is inspired by the American hot rod and insect world. It is the second of the company and we wanted a beast of scrap and poetry with a big mechanical part.
How long did it take to make it?
It took us 4 weeks of drawings on Solidworks and 4 weeks of manufacturing by two people to get it out of the workshop.
How long have you been doing things like this?
We created the company in 2015
How much did this cost to do?
This machine will have cost about 3500 euros
Have you done other things like this?
We have 2 other machines in the company, La Boom Machine and the new machine, L'Ethno Machine
Are there plans available to make this? Do you sell this?
For this project there are plans, a part of the plans are visible on our website, section: machine design. We sell our shows all over the world.
What's next?
Then we would like to convince a city to welcome our company in order to create a gigantic machine of 15 m high which could wander and offer to the public a cultural place (We are on the plans)
Resoures?
Dreams, nature and architecture are the main elements of inspiration. But also personalities like: Salvador Dali, Pina Bausch, Léonard de Vinci...We needed to work on Solidworks software for this project, in order to calculate the mechanical strength of our metal assemblies
Quentin NOMAD Prysbyla : La Batt Mobile, L'Ethno Machine and La Boom Machine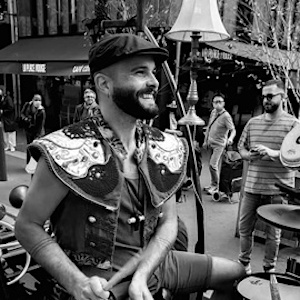 Designer and creator of steel furniture, then interior decorator, my career also includes events, a revelation in the ephemeral art and live performance.

Music, vibrations, rhythms and the creation of steel sculptures form a passion, which has since taken the name of Nomad Men.

It is a chance to have found this balance in this job of art director, musician and creator of machines. The aesthetics of the machines are very important to us as well as the vibrations of our percussions. The sharing and communication of this passion with the public is absolutely fabulous, the humanity and the energy that we receive are engines to continue to create more and more incredible machines in order to stage them in our shows.
Straight out of the imaginarium of artists Quentin Prysbyla and Alexis Pinheiro. "No mad! No we are not mad, rather nomads in the soul. Passionate about creation, innovation, rhythm and travel!" The recipe: imagination, design, manufacturing, salvage objects, DIY, elbow grease, music, wild rhythm, bucolic scenography... ! "We constantly have new ideas to make our machines evolve, they are eco-responsible constructions which mix a mechanical universe and a poetic touch.

Rusty steel fabrications topped with lace.

Machines high in poetry, with mixtures of materials, mixtures of cultures.

Looking like old tractors, old machines or insects, they evoke a fantastic universe straight out of comic books or science fiction movies.

A subtle mix of rusted steel, lace, colors and grandma's lamps give them all their charm and plunge us into the memory of the interiors of yesteryear.

These unusual pedal machines are born in the company's workshop and come to life before the eyes of the public during our performances around the world.
Connect with Quentin NOMAD Prysbyla
How I can help you:
Interactivity with the public
Fulfillment of the child's soul
Machine to provide dreams
How you can help me:
You can follow us on social networks
Nomad Men on Facebook, Instagram and Youtube and don't hesitate to ask us to come and play at your place (Worldwide)