Circuit Bending music and Digital Painting
Circuit Bending music by Laureano Cantarutti and Digital Painting by Valentina Martinez Gallino
We started to merge Circuit Bending music and Digital Painting using OBS on 2020, making live streamings on YouTube and Instagram.
In 2020 we presented this format on the "8th Festival Internacional Sonido y Movimiento" (Guayaquil, Ecuador).
In 2021-2022 we begging to do live and stream presentations, such as:
- Circuit Benders' Ball (Nashville, Tennesse, United States)
- Voices From Beyond 003 (United States)
- Noche de los Museos & Festival Santo Noise 12 (Córdoba, Argentina)
- Bent // Broken Fest 2022 (United States)
- Galería La Cúpula (Córdoba, Argentina)
We like to invite different artists to play with us, like Valentín Gigena (from Córdoba, Argentina). He played with us at "Noche de los Museos" and "Galería La Cúpula".
Curator note
Maker Park Radio is a volunteer-run, non-profit community internet radio broadcasting from Staten Island, NYC. MakerParkRadio.nyc is dedicated to providing free music and live arts programming 24 hours a day. They reached out to a few of our MMF makers and engaged in conversation around the maker, their project, their inspirations and more.
Kitty the DJ (@Kitty the DJ) Meets the Maker Laureano Cantarutti (@LawCant) - recorded live Friday, May 13th, 2022 at 6pm ET - check out the INTERVIEW.
https://livestream.com/makerparkradio/makerparkradio/videos/231111127
Laureano Cantarutti : Composer, author, performer, maker, multi-instrumentalist and music producer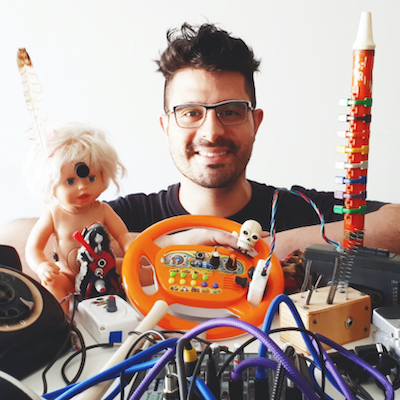 Laureano Cantarutti a.k.a. Law Cant is a composer, author, performer, multi-instrumentalist and music producer from Córdoba, Argentina. Since 1994 I'm in continuous education and research. I had knowledge of music theory, musical grammar, harmony, classical guitar playing with extended technique, Middle Eastern percussion, Throat Singing (harmonic singing), audio recording, musical composition and creation of lyrics, learned in differents institutions, such as: National University of Córdoba, cultural centers, conservatories and self-taught.

My solo project stands out for the mixture of conventional instruments and those created by me using the Circuit Bending technique.

In 2020 I compiled and curated the first "Latin American Sound Map of Circuit Bending", and audiovisual work that includes the participation of 32 artists from 11 countries of Latin America and 1 special guest from Canary Islands. It also includes research works about Circuit Bending for free download, special mentions and the participation of Reed Ghazala who had the opportunity to access to all the material before the publication; also he shared a message to all the artists.

Click the CONNECT tab for links to my solo project, circuit bending works and the Latin American Sound Map of Circuit Bending .

I've participated in different festivals, projects and compilations.
Connect with Laureano Cantarutti
How I can help you:
We can help others to set up OBS, do live streams, and Circuit Bending music.
If you like this project, please make a small donation to the artist.