Chicken Hero, Villager Hero, Cow Hero - a Minecraft musical project
Passive mobs trigger sounds in this immersive Minecraft performance.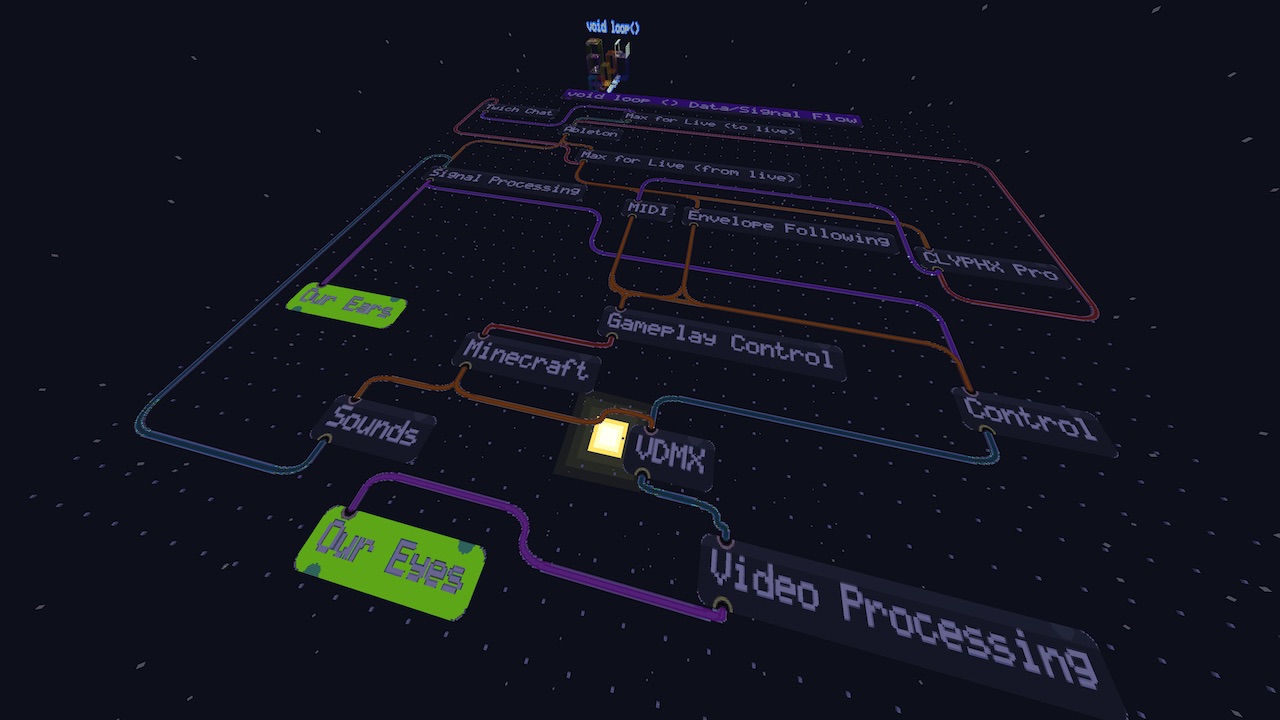 Chicken Hero, Villager Hero, Cow Hero is part of the void loop () Minecraft performance
In this number, Minecraft chickens, villagers, and cows fall from the sky to trigger various in-game sounds. Additional long-tones can be triggered be an array of switches on the stage. Particle effects enter part way through the performance.
void loop() is a collection of performances in an elaborate Minecraft world. Audio from the game is routed through Ableton Live for some live looping and other antics.
void loop () is a growing collection of pieces inside a Minecraft world (void biome). The title is a reference to the biome, the looping techniques I use, and the Arduino function - the Arduino IDE was used to program a Teensy 3.2 board that a Twitch audience can use to control my Minecraft Character. Chat users can enter commands like !left and !right to turn my character at times during the performance.
void loop () was first performed on April 1, 2021 on twitch.tv/autumnateeverything for the UMass Lowell Music Department's Recital Hour.
Curator note
Maker Park Radio is a volunteer-run, non-profit community internet radio broadcasting from Staten Island, NYC. MakerParkRadio.nyc is dedicated to providing free music and live arts programming 24 hours a day. They reached out to a few of our MMF makers and engaged in conversation around the maker, their project, their inspirations and more.
DJ Jim Murphy (@onetimeforyourmindradio) Meets the Maker Ramon Castillo (@autumnateeverything) - recorded live Monday, May 16th, at 11:00am ET - check out the INTERVIEW.
https://livestream.com/makerparkradio/makerparkradio/videos/231157490
Side story
In late 2020, I (Ramon) had the idea to incorporate Minecraft into my ensemble at UMass Lowell - the Contemporary Electronic Ensemble. We had been doing remote learning since March 2020, and I wanted a way to capture the real-time musical interaction we had prior to Covid. Luna (my daughter) had played some Minecraft, and I quickly realized that there might be some way to accomplish that in-game. Upon closer inspection, I realized that Minecraft might be the most expressive games ever created.
I scheduled a solo performance for April 1, 2021, and got to work on the concept.
Frequently Asked Questions
What inspired you to do this?
A combination of being stuck in a remote learning environment, the vastness of the Minecraft ecosystem, and my daughter's interest in the game.
How long did it take to make it?
3 Months for the entirety of void loop ()
How long have you been doing things like this?
Since January 2021
How much did this cost to do?
26.95 - the cost of a Minecraft Java license.
Have you done other things like this?
Yes, this has become one of my ongoing projects as music faculty at UML.
What did you wish you knew before you started this?
I wish I had better understanding of various programming languages. That is the next big step for deeper Minecraft integrations.
Are there plans available to make this? Do you sell this?
You can download my world and resourcepack files here. This is for Minecraft Java 1.16.5.
aprilfools2021.umlmusic.com
(the performance happened on April Fools day last year.
What's next?
The Video Game Ensemble at UML is set to launch in Fall 2022.
I'm also working on a fully automated Minecraft/Twitch installation that you can control from the chat. It will hopefully be prototyped by the time this festival goes live.
Resoures?
Invaluable YouTube Channels:
Mumbo Jumbo
MegRae
OMGCraft
Levi Neha
HTG George
Legitimoose

https://www.planetminecraft.com/
https://www.curseforge.com/
https://minecraft.fandom.com/
Ramon Castillo : maker, composer, Minecraft world builder, programmer, visual designer, arranger
Ramon Castillo, DMA, is an Associate Teaching Professor of Music at UMass Lowell.
He teaches a number of technology courses including Music and Sound for Games, Digital Synthesis and Remixing, Survey of Music Technology, and Computers in Music Business.
For the Composition for New Media program, he teachers Contemporary Styles and Analysis, Sound Narrative, and Applied Composition.
He directs the Contemporary Electronic Ensemble and founded the upcoming Video Game Ensemble (to debut Fall 2022).

His creative output combines Minecraft, Ableton Live, guitar, live looping, signal processing, and sound reactive visuals - prepared specifically for expressive live performance.
Many performances feature highly automated looping made possible by an extensive array of programming. The system, built in Ableton Live, Max for Live, and Clyphx Pro can create layers and effects that a standard looping environment can't.
The concepts and techniques were born from a series of experiments in 2011.
His compositional and creative career relies on Ableton Live, Max, and arrays of hardware. Ramon has developed many live performance techniques involving custom software interfaces, DIY hardware, and high levels of automation including asymmetric loop triggers and audio quantization.
Connect with Ramon Castillo
How I can help you:
We can entertain you with thought-provoking concert programming. Contact us if you want to discuss collaborations between September and May.