Chachi's Drumbot
My first song written for a vertical acoustic drum machine I created this year. Percussion composed by Stephen Slater, with melodic accompaniment on Tenori-On and TB-303 by Chachi Jones.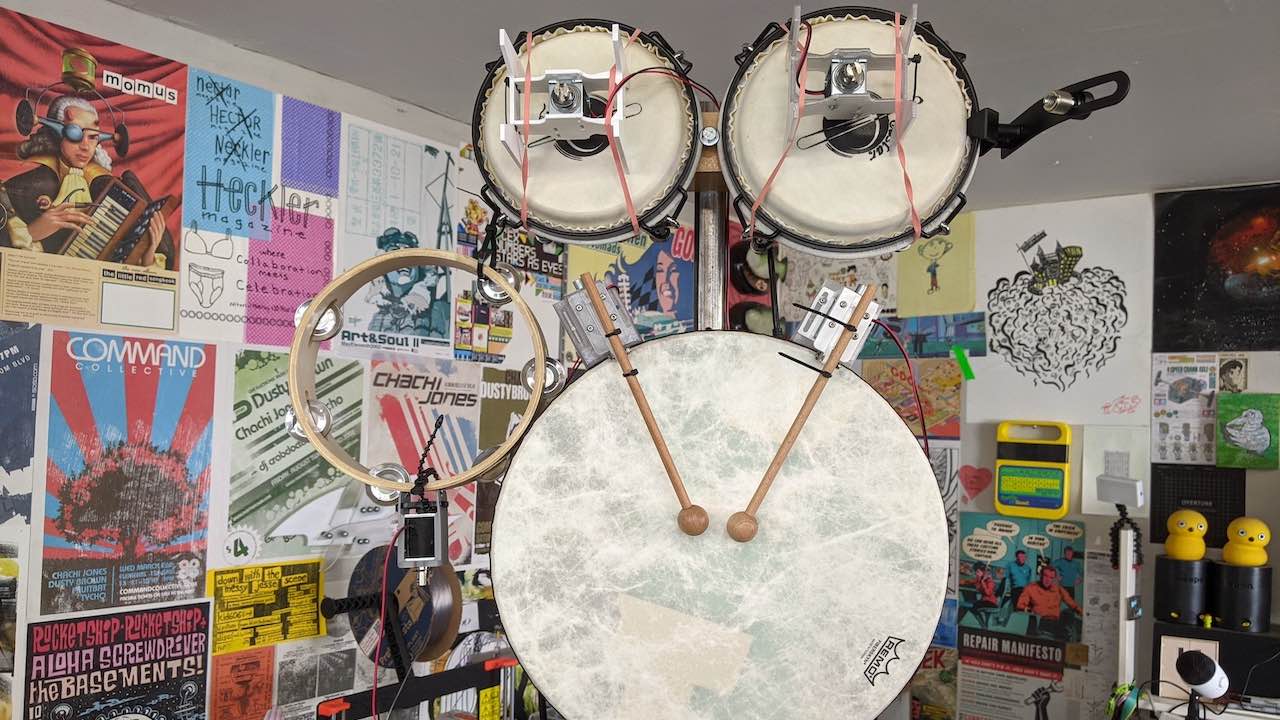 The acoustic drum machine stands around 6 feet tall, with a custom welded steel frame that serves as its backbone. The electronics are built around a circuit design by Liz Clark published on Adafruit (
https://learn.adafruit.com/midi-solenoid-drum-kit
), which I've adapted for additional outputs, half of which use high-powered drivers for moving the motors mounted on the snare drum.
It's still a work in progress and eventually the idea is to create a live lounge act around it. For the purpose of getting something together for MMF, I dusted off my electronic music alter ego, polished up a song I composed a few years back, and enlisted the help of my friend Stephen Slater to compose some MIDI percussion I could feed my drumbot. Steve actually composed the MIDI percussion on an electronic drum kit, and I did my best to preserve the improvised feel of his work.
Ultimately, everything landed in my Ableton Live recording software, which I used to synchronize the drumbot, my Yamaha Tenori-On sequencer (seen in the upper right corner) and my old Roland TB-303 bassline synth (seen in the bottom right) which has been modified for MIDI input and output.
Side story
I started out playing in garage bands when I was a teenager.
Then, with no one left to play with, I got into making electronic music.
Electronic music started to get boring so I started a band with my old friends from high school.
After COVID made it impossible to rehearse or play shows, I've started a new thing that combines my friends, my electronic music skills, and my love of making machines and robots.
Frequently Asked Questions
What inspired you to do this?
My bandmate Stephen Slater is an outstanding drummer, but he's also a great vibraphone player. For years we've played together in a group where he plays drums, but I wanted to take it in a new direction where he plays vibraphone. So it occurred to me that if I replaced him with a robot, not only would he be free to play vibes, but it would be a great gimmick for the band too.
How long did it take to make it?
About 4 months. I started in on it in December of 2020. I suppose I would characterize it as my COVID lockdown project.
How long have you been doing things like this?
Oh, I've been making and hacking electronic music instruments since I got into the circuit bending scene around 2001. But for proper robotics and mechanical projects like this specifically, really only the last 4 years.
How much did this cost to do?
Around $100 for the electronics, $80 for the motors and solenoids, another $100 for the percussion, and $40 in steel to weld the frame. Throw in some nuts and bolts and zip ties and 3D printed parts and I'd put the grand total at about $400.
Have you done other things like this?
My big project last year was making a cocktail machine called the VK-01 (https://www.instructables.com/VK-01-Off-World-Bartender/). In many ways I was dealing with some of the same problems -- low voltage micro controllers, higher voltage motors, and timing everything together.
What did you wish you knew before you started this?
How much fun it is to have an excuse to order up a bunch of cheap percussion. Bongos and frame drums and tambourines and shakers -- they're all pretty cheap and tons of fun to play with. Building this was a great excuse to order up silly sound makers that I otherwise would have felt silly buying.
Are there plans available to make this? Do you sell this?
Not yet. I'm still working out some kinks, but once I settle on something I like I'll likely put the details in an Instructables guide like I did with my cocktail machine.
What's next?
There's still a lot of work to do to get this ready to play nice with my new group. I need to make a rugged enclosure for all the electronics. I want to incorporate some cymbals and a shaker. I've also deliberately made it so that the top half of the frame (holding all the percussion) can come out, allowing me to swap in a whole other arrangement of instruments. One day I hope to have a bunch of different options I can drop in, either for lounge, or rock, or electronic pieces like this one.
Resoures?
I started with this Adafruit guide by the Ruiz brothers and Liz Clark: https://learn.adafruit.com/midi-solenoid-drum-kit

Liz also has a great guide on creating a MIDI triggered Xylophone that communicates wirelessly over Bluetooth: https://learn.adafruit.com/wireless-ble-midi-robot-xylophone

I also found a ton of inspiration in the works and videos of Moritz Simon Geist. https://www.moritzsimongeist.com/
Chachi Jones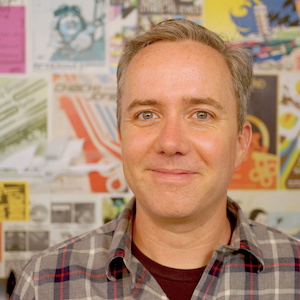 Donald Bell has been making experimental electronic music under the pseudonym Chachi Jones since 1996. His work incorporates hacked sound toys with software instruments. His latest creation is a custom-built, 6-foot tall mechanical drum machine.
Connect with Chachi Jones
How I can help you:
I run a weekly show called Maker Update on Digi-Key's YouTube channel. If you have a project (not a product) you'd like to see me promote on the show, get in touch.
How you can help me:
If you like what you hear, check out some of my other recordings as Chachi Jones, available on Spotify, YouTube, and all the usual places.
If you like this project, please make a small donation to the artist.