Barney Baschet
Aprés Baschet sound sculpture created with parts scavenged from the collection of Barney Haynes.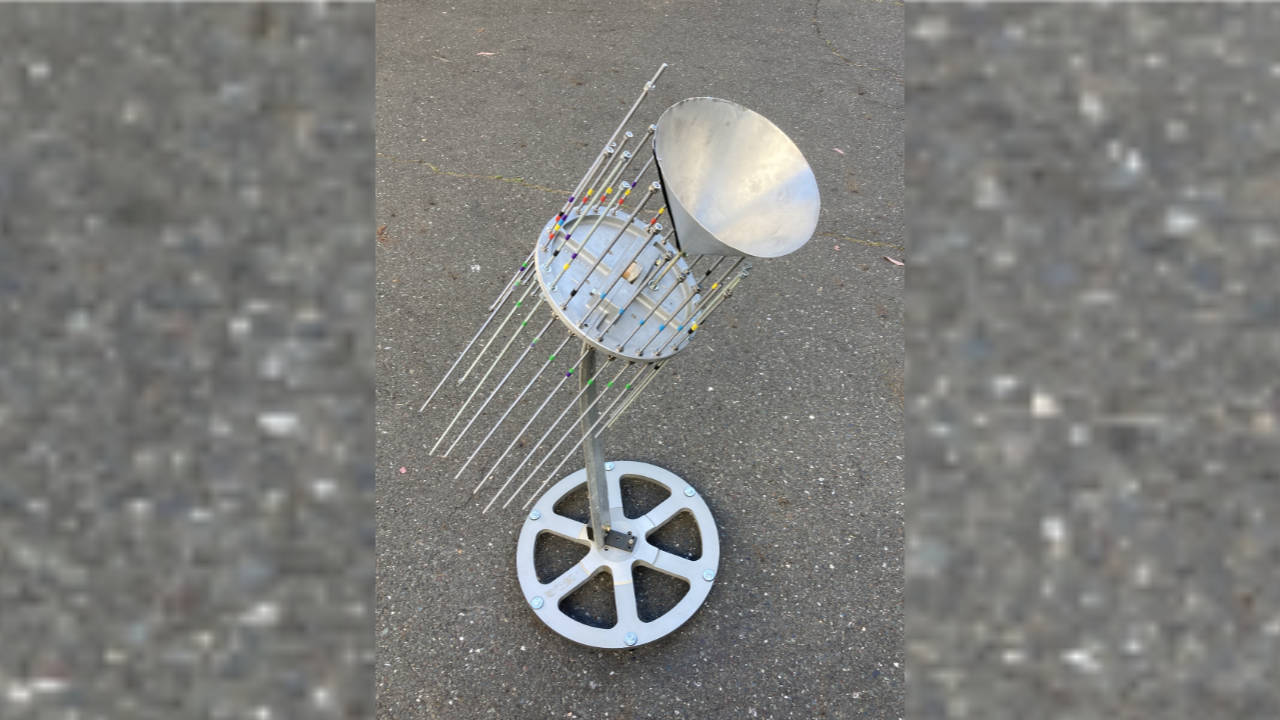 In the winter of 2018, Baschetologist Marti Ruids came to San Francisco to put together an exhibition of aprés-Baschet instruments/sound sculptures at the Center for New Music. I had the great pleasure and fortune to work with him (and instrument builder extraordinaire Daniel Schmidt) building instruments for the exhibition. Daniel and I learned from Marti a great deal about the Baschets' philosophy and acoustic theories.
Many year later, helping the illustrious Barney Haynes to move shop I collected a few large metal pieces that seemed like they'd fall easily into the structure of a rodded aprés-Baschet sound sculpture, and they did! I only had to drill a few holes and notch creatively to create a stable structure (aka gum)
For the rods (aka oscillators) I used some stainless and some mild steel all-thread to develop my empirical intuition about the sonic differences of the different materials. The total length of the rods and nuts as weights on the ends of the rods were used to tune them into groups of complimentary pitches, all manipulated "found" tunings. I took Marti's technique of using colors to show pitch groupings that fit together (by my ear).
Two sheet-metal sound radiators (aka speakers) transmit the sounds to the air: the aluminium cone provides a 'woody' tone with most of the pitch information while the larger stainless speaker floating above the player's head gives reverb and high end shimmer.
Frequently Asked Questions
What inspired you to do this?
I was initially inspired by the big aluminium pieces I found in Barney's scrap pile. I had collected a bunch of stainless all-thread to make something like this, but hadn't yet decided on the form.
How long did it take to make it?
Putting it all together took weekend. Tuning took a few more days. getting the aluminium cone speaker right took a while. My TIG welding on the thin aluminium sounded great but looked terrible so I used rivets for another cone but had to do all sorts of things to keep it from rattling.
How long have you been doing things like this?
20+ years
How much did this cost to do?
Thanks to the donation of parts, not very much! Just the cost of the all thread and hardware!
Have you done other things like this?
yes!
What did you wish you knew before you started this?
I wish I had several hundred more hours of TIG practice
Are there plans available to make this? Do you sell this?
There's information about the Baschet brothers out there on the interwebs and in books.
Get in touch with me and I can help you find out more!
Want to build a Baschet sound sculpture? Let me know! I can help!
What's next?
more instruments, more music!
Sudhu Tewari : instrument builder, sound artist, improvisor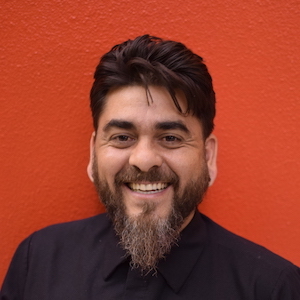 Sudhu Tewari has been described as "bricoleur", "junkyard maven", and "audio-gadgeteer". He invents, designs and builds from whatever materials are to hand—musical instruments, kinetic and sound sculpture, interactive installations, audio electronics, and wearable sound art. Along with Fred Frith, Sudhu is one half of the home-made instrument duo Normal, and has performed in this and other configurations in Europe, Japan and the USA. His visual and interactive art has been exhibited at Swarm Gallery, 21 Grand, ProArts, and FLOAT Gallery in Oakland; the Center for New Music, the Exploratorium, and the Museum of Modern Art in San Francisco; and at Montalvo Arts Center, UC Berkeley, the Tech Museum in San Jose, the Oakland Museum of California, PROGR and the Laboratoire Village Nomade in Switzerland. He has been teaching electronics and sound art to children and adults since 2009 and continues to build and perform with self-governing musical systems and self-built musical instruments. His relentless curiosity and delight in unlikely solutions to intractable problems are manifest in all of his work. Sudhu holds an MFA in Electronic Music from Mills College, and a PhD in Cultural Musicology from UC Santa Cruz. He is currently Workshop Technician in the instrument building program at Mills College and teaches art, technology, and design at California College of the Arts, the University of San Francisco, and Expression College in Emeryville.
Connect with Sudhu Tewari
If you like this project, please make a small donation to the artist.