Augmented Appalachian Banjo
Jonathan Reus' recent work focuses on the five-string banjo, a historically complex musical instrument that can be thought of as a map of material-embodied cultures. By augmenting the 5-string banjo with embedded sensing technologies and digital sound processing new techno-musical futures can be excavated from the instrument.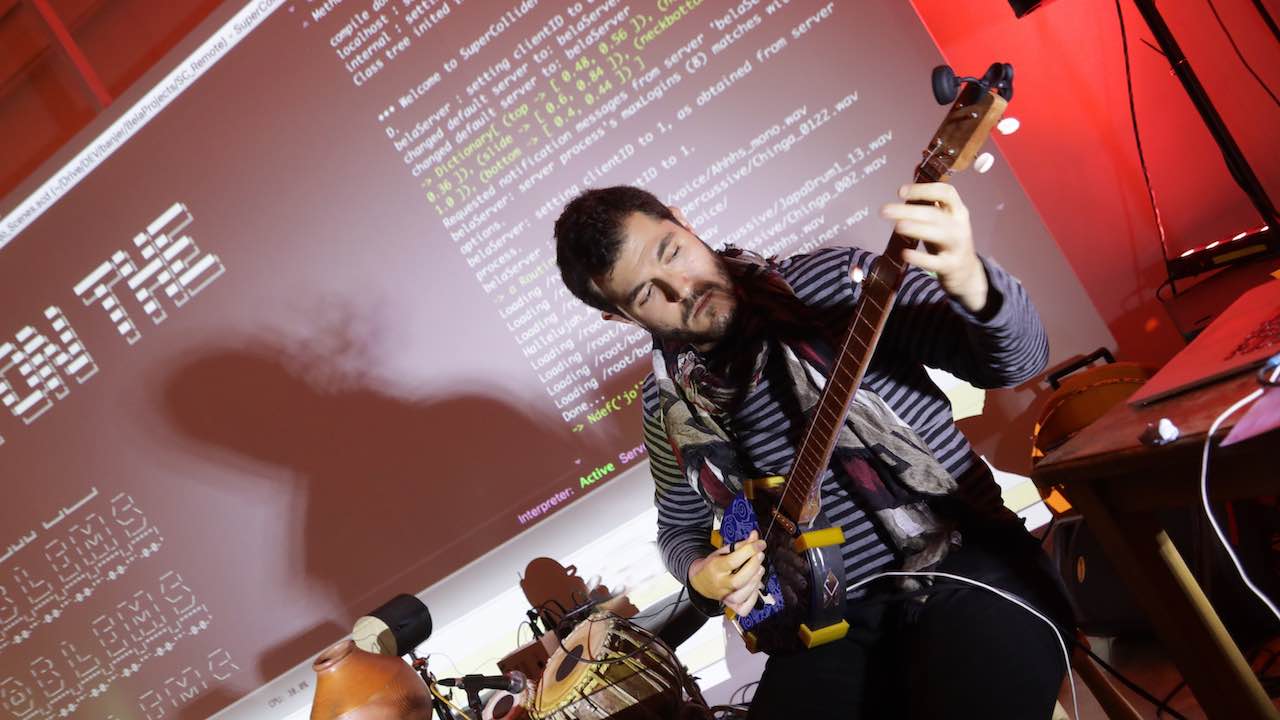 I've had a longstanding interest in "old time" American folk music since getting wrapped up in that culture a lifetime ago when I lived and worked in Northern Florida. You may have heard that Florida is the state where the farther north you go, the farther South you get.
American folk instruments and music have transformed historically through convoluted evolutionary paths; passing via different geographic enclaves and waypoints, heterogeneous mixtures of cultural attitudes towards music and playing. The 5-string banjo is an interesting example of this. It's an instrument that's the result of a confluence of cultures and is representative of a complex history with extremes of deep inequalities based on race and class at one end, and the ambitions of elites and industrialists at the other. It's one of the few musical instruments that I can really stamp as representative of American history and culture. Next to the banjo, what else? Maybe the electric guitar? The turntable?
I had started sketching out plans for a prototype hybrid/programmable mountain banjo a few months before coming to London for a residency at the Augmented Instruments Lab in 2019. I was mainly interested in exploring how to build digital extended techniques that could expand on "stroke" styles. "Stroke" styles are a stringed instrument playing technique where the player strokes down with the back of their fingernails on to a melody string and then pulls up with the thumb on another string (usually tuned as a drone). English speakers colloquially refer to this kind of playing as "frailing" or "clawhammer", but the origins of this playing approach, much like the origins of the banjo itself, are rooted in African musical techniques on spiked-lute instruments like the Akonting (see Daniel Jatta) or the Gimbri used in Gnawa music.
The final instrument integrates capacitive sensing using the Trill touch sensors and an experimental magnetic-field sensing technique to sense the distance of the hand. All the sensor processing and audio generation is done on a Bela Mini which is running SuperCollider.
Jonathan Reus : Composer-researcher and instrument creator
Jonathan Reus is a Dutch-American composer-researcher, born in Manhattan NY and thereafter raised in Amsterdam and then Florida, where he became involved in the American folk-art scene. Years later he moved to the Netherlands where he worked at the adventurous performance-technology lab STEIM, developing a uniquely intimate practice cutting across the disciplines of music, performance art, science and digital culture. His work uses collages of technologies past and present to reflect the simultaneous times and histories we inhabit.

He has received commissions as a composer, performer and installation artist by Slagwerk Den Haag, Stedelijk Museum Amsterdam, Club Guy & Roni and Asko-Schönberg ensemble. Most recently he composed the music for and built a large-scale tape machine instrument for the nationally-touring production Brave New World 2.0, based on Aldous Huxley's dystopian novel.


In addition to his artistic work, Jonathan has tirelessly demonstrated his support for local, bottom-up artistic initiatives and novel artist-education formats through curation and community organization. Since 2013 he has worked as a founding member of the non-profit cultural initiative iii in The Hague. From 2015-2019 he organized and curated The Reading Room, at STROOM Den Haag. In 2017 he organized the first Berlin-based Algorave at transmediale festival, along with the performance program The Instrumental Subconscious, showcasing experimental musicians working with self-made instruments. And in 2016 he helped to design the Digital Media bachelors program at Leuphana University's Center for Digital Cultures, where he won the teaching prize for cross-disciplinary education for his courses on computational literacy through sound and body.

Jonathan is an experienced researcher in the field of electronic music instruments and sonic interaction design. He recieved the W. J. Fulbright fellowship for his work in the research of new digital instruments for music. He has also lectured on the topic of performative sound and technological mediation at academies of art and design, music conservatories and universities.
Connect with Jonathan Reus
How I can help you:
Jonathan is one of the members of the instrument inventors initiative which was formed in the Hague and supports and gives a platform to instrument makers and sound experimenters.