Accessible and Inclusive Design for Music-Making
"Accessible and Inclusive Design for Music Making" is designed for musicians, artists, and designers with beginning to intermediate level computer programming and prototyping skills. After a primer in inclusive design theory and fabrication basics, participants will design working prototypes with a specific focus on accessible and inclusive music-making. The workshop will explore the exciting and evolving landscape of accessible design with a specific focus on how these ideas can be incorporated into instrument design and music-making, including a guest lecture from accessible music practitioners. Participants will leave the workshop with both theoretical design knowledge as well as a functioning instrument prototype.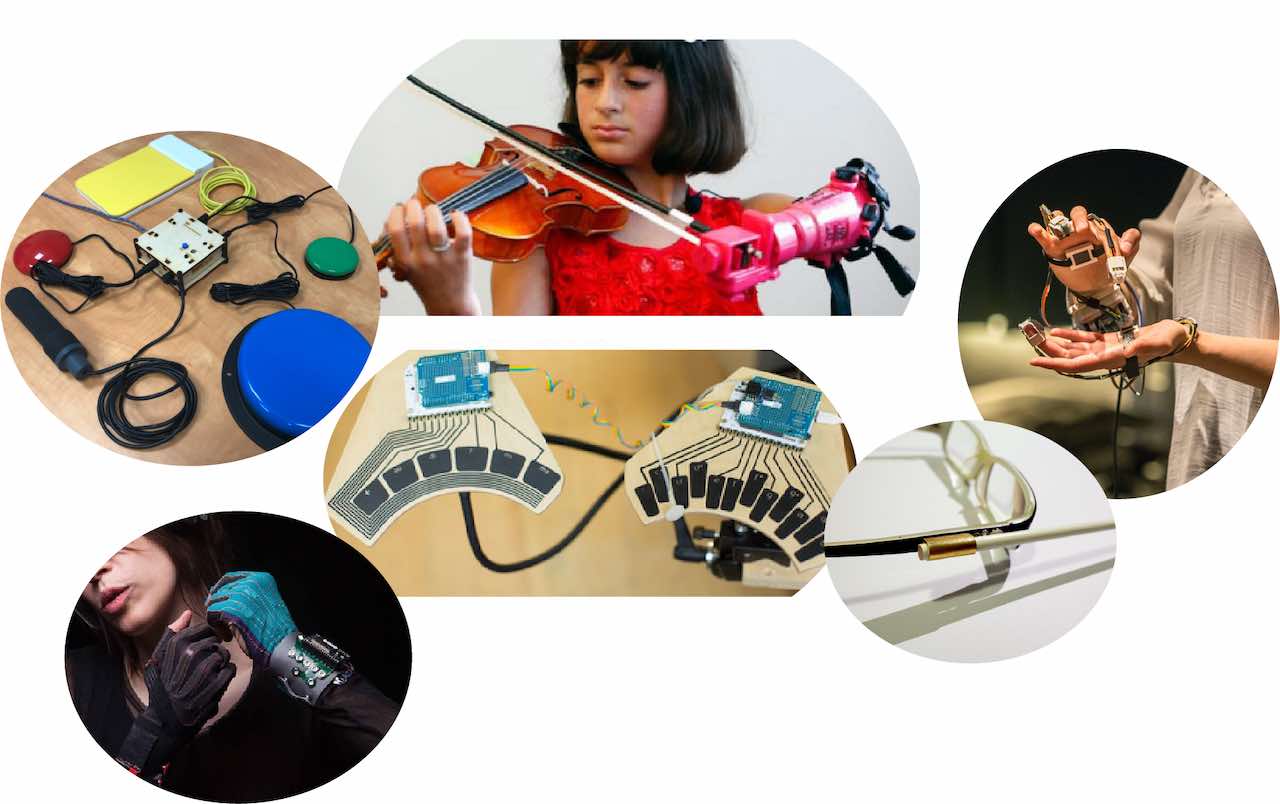 Schedule
The workshop will be offered completely online with as much asynchronous content as possible. However, consultation with instructors, office hours, and group discussions will be synchronous. The workshop will consist of a 3-day primer on accessible design, instrument design, and prototype fabrication practices (19th - 21st July), followed by two weekly prototype check-in and group feedback sessions, with a final showcase and casual concert on August 9.
19th July: Introduction to accessible design, an overview of tools & technologies, introduction to sensors
20th July: Accessible design philosophies, guest lecture from Drake Music, introduction to instrument design philosophies.
21st July: Situating your design, project idea brainstorming, finding project mentors if needed
26th July: Project milestone check-in and group feedback, accessible music industry mini-lecture
2nd August: Project milestone check-in and group feedback, group work time
9th August: Instrument showcase and causal concert
Accessibility Accommodations
We are committed to making the course accessible to all enrolled participants. If you require any accommodations or would like to make us aware of anything, please contact one of the instructors and we will be more than happy to work with you in providing accommodations that are suited to your needs.
Prerequisites & Technology
The introduction to sensors will be using Arduino microcontrollers, and you will be asked to purchase your own Elegoo Arduino Super Starter Kit ($37) before the start of the workshop. This kit includes a wide array of basic sensors and an Arduino-style microcontroller. If you already have access to a microcontroller and sensors and have a working knowledge of it, you are not required to obtain this kit.
We will be using Max/MSP as the primary computer music language in the workshop. You are welcome to use other computer music languages (Pure Data, Super Collider, Chuck etc.), but the instructors are optimally equipped to support projects that use Max/MSP. If you have never used Max, the trial version is free for 30 days. A background in programming is helpful but by no means required.
If any of these technological requirements are causing problems, please contact either of the instructors and we will happily work with you to find a solution.
Registration
The cost of the workshop is $250 ($210 fee + $40 Arduino kit). We are offering a limited number of Diversity in Computer Music Scholarships, please fill out the form (to be announced) if you are interested or reach out to us.
About the instructors
Doga Cavdir is a PhD candidate at Stanford's Center for Computer Research in Music and Acoustics. Her research integrates body movement and expression into designing new musical instruments for cross-disciplinary inclusivity, accessibility, and affordability. Doga's research and artistic practices focus on utilizing embodied interactive systems to offer shared performance spaces to people with diverse skill sets and abilities. She continues to contribute to inclusion and diversity practices within and outside of Stanford University. She has been participating in the WiMIR mentoring program and she has been most recently organizing the peer mentoring program, Peer Mentoring in Music, and the Physical Interaction Design Group (PIG) at Stanford. Her artistic work has been featured by Bay Area art centers such as Center for New Music and Temescal Arts Center. For more, check out
www.dogacavdir.com
.
Lloyd May is an engineer, designer, and composer with research interests centered on accessibility and involving neuroscience, game design, and analytical methods. Lloyd's previous projects have spanned from decoding imagined sounds using fMRI scans, to physical synthesis, to using novel nerve sensors for physically inclusive instruments. Lloyd graduated from Dartmouth College with an MA in Digital Musics (2020), and with honors in Analytical Engineering (2018). He is currently a Ph.D. student in Computer-Based Music Theory and Acoustics (CMBTA) at Stanford University's CCRMA.
CCRMA & PIG : A Collective of makers, composers, designers, and musicians
The Stanford Center for Computer Research in Music and Acoustics (CCRMA) is a multi-disciplinary facility where composers and researchers work together using computer-based technology both as an artistic medium and as a research tool.

PIG (Physical Interaction Design Group) is a student-led interdisciplinary research group at CCRMA. We build new instruments, design interactive systems, and create performances. Our research is focused on physical interaction design for music.
Connect with CCRMA & PIG
How you can help me:
Please, help us circulate and share with those who might be interested.